Wednesday, March 2, 2005
Operetta 'Die Fledermaus' to be performed March 12-20 at Goshen College; Fun-loving comedy to offer wonderful entertainment
• View photos from opera rehersal performance
• Visit the Theater department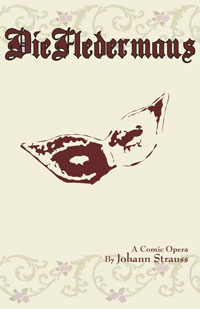 Spring operetta: "Die Fledermaus" by Johann Strauss
Dates and times: March 12, 18, 19 at 7:30 p.m., March 13, 20 at 3 p.m.
Location: Umble Center
Cost: $12 for section A and B, $8 for section C
For tickets and more information: Call the Goshen College Welcome Center at (574) 535-7566
GOSHEN, Ind. – In typical – and wonderfully entertaining – operatic fare, the 2005 Goshen College music and theater production of "Die Fledermaus" will include disguises, celebrations, mistaken identities, masks, a "pants role" and cameo appearances all set to the sparkling lilt of Johann Strauss's melodies.
The three-act production, directed by Professor of Music Debra Brubaker, will be performed in Umble Center on March 12, 18 and 19 at 7:30 p.m., March 13 and 20 at 3 p.m. The production is really a team effort and involves several campus departments, with Associate Professor of Music John Graulty directing the orchestra and Professor of Theater Doug Liechty Caskey producing the opera.
"Die Fledermaus," a German word meaning "the bat," will be sung in English. This comedic operetta showcases the extravagant life of upper-crust Vienna in the late 19th century, telling the story of exquisite revenge between good friends – the respected Dr. Falke and his friend Eisenstein – for a prank. Eisenstein had left Falke in the middle of the town square sleeping off the effects of a fancy-dress party – with Falke still dressed in a bat costume. Falke becomes a laughing-stock around town and decides to get revenge. A forthcoming party at Prince Orlofsky's villa offers the opportunity he has been waiting for. As Brubaker explains, "It is a typical opera plot – harder to explain than to watch."
She added, "Die Fledermaus doesn't have any political undertones, like many operas do. It is all about someone playing a joke on someone else and people having fun."
"Die Fledermaus" is technically referred to as an operetta instead of an opera because the dialogue is spoken rather than sung. But, "I want the singing to take primary importance," Brubaker said. Brubaker chose this operetta because the chorus is fairly active. "I like to involve a lot of people," she said.
Brubaker has observed much growth and development in the student actors as they have prepared the production. "It always amazes me that a piece of art can encapsulate so much potential and release so much energy," she said. "Opera especially stretches actors and directors. It really gives students an opportunity to go beyond what they thought they could do."
The set design for this production is "farcical and fairy taleish" to connect with the story. Brubaker said, "We hope the bold colors of the lead actors' costumes and the music really bring life to the basic backdrop of the scenery and choral costumes."
Several other notes of interest:
· "Die Fledermaus" has a tradition of cameo appearances, so this production will showcase performances by Goshen College music department and Community School of the Arts groups, like the Sherer Trio and Lavender Jazz.
· Two of the opera leads are sisters – Rachel Bontrager (Soph., Archbold, Ohio) and Andrea Bontrager Yoder (Sr., Archbold, Ohio) – and two of the leads are cousins – Brooks Gingerich (Soph., Aurora, Ore.) and Luke Gingerich (Soph., Aurora, Ore.).
· Kevin Koch, assistant in the international education department, is the costume designer, as he used to own a tailoring business.
· And Goshen College Professor Emeritus of Chemistry Art Smucker is a member of the chorus.
Strauss, born in Vienna in 1825, was the most famous and enduringly successful of 19th century light-music composers. With his waltzes, polkas, quadrilles and marches, Strauss captivated not only Vienna but also the whole of Europe and America for more than half a century. "Die Fledermaus" is based on the play "Le Réveillon" by Henri Meilhac and Ludovic Halévy and was first performed on April 5, 1874 in Vienna, Austria.
The first opera performed at Goshen College was in 1953, directed by then student Vance George, current chorus director of the San Francisco Symphony Chorus. Presently, operas are performed nearly every other year, though it was three years ago that "Carmen" was performed at Goshen College.
The cast includes Andrea Bontrager Yoder (as Adele); senior Beth Hofstetter from Dalton, Ohio (as Rosalinda) Brooks Gingerich (as Frank); junior Justin Heinz from Goshen (as Blind); senior Kyle Reinford from Goshen (as Alfred), Luke Gingerich (as Eisenstein), senior Philip Kendall of Greentown, Ind. (as Falke); Rachel Bontrager (as Orlofsky); senior Robin Wenger of Lancaster, Pa. (as Frosch); and junior Stephanie Hirschler of Goshen (as Ida).
The chorus includes Adam Roth (Sr., Akron, Pa.), Professor Emeritus of Chemistry Art Smucker, Dan Clouse (Soph., Goshen), Dan Horst (Sr., Goshen), Dan Stutzman (Sr., Goshen), Geoff Owens, Julian Gingerich, Robin Wenger, Will Velez (Jr., Santo Domingo, Dominican Republic), Adrienne Nesbitt (Soph., Goshen), Andrea Wiens (Jr., Hesston, Kan.), Cheryl Eunike (Sr., Indonesia), Jessica David (Fr., Archbold, Ohio), Joanne Gallardo (Jr., Wauseon, Ohio), Karen Graber (Fr., Hurley, S.D.), Kate Nafziger (Sr., Goshen), Katie Harnish (Jr., Colorado Springs, Colo.), Krista Ehst (Fr., Bally, Pa.), Kristin Yoder (Jr., Phoenix, Ariz.) and Sara Thögersen (Fr., Goshen).
The production staff includes, besides Brubaker, John Graulty, orchestra director; Doug Liechty Caskey, producer; Talashia Keim Yoder, choreographer; Ben Reed, set designer; Sean Kauffman (Sr., Sioux Falls, S.D.), light designer; Kevin Koch, costume designer; Cassie Greer (Jr., South Bend, Ind.), stage manager, acting coach and assistant technical director; Phil Horst, guest acting coach; Jerry Peters, technical director; Jenn Behkterev (Sr., Goshen), director's assistant; Chris Seitz and Fallon Will (Sr., Michigan City, Ind.), accompanists; Erini Shields (Soph., Yorktown, Ind.) and Rachel Sprunger (Jr., Scottdale, Pa.), assistant stage managers; Erin Sigler (Sr., Cuyahoga Falls, Ohio), make-up designer; Sarah Elizabeth Miller (Sr., Goshen), hair designer; Brian Mast, publicity; Eric Meyer (Sr., Millersburg, Ind.), program/poster designer; Adam Roth, master carpenter; Dan Horst, assistant master carpenter; Ben Friesen (Sr., Goshen), master electrician; Jessica Brubaker (Fr., Goshen), light board operator; Hillary Knox (Jr., Gibson City, Ill.), props master; Lindsay Nance (Jr., Winnipeg, Manitoba, Canada), wardrobe master; Hannah Gerig (Fr., Mishawaka, Ind.), scenic artist; Laura Reist (Sr., Jacksonville, Fl.) and Jessica Iverson (Jr., Evanston, Ill.), costume crew; Rachel Bontrager, Adrienne Nesbitt and Katrina Dyck (Jr., Thomasboro, Ill.), make-up crew; and Lucas Vachon (Jr., Fort Wayne, Ind.), Rachel Sutter (Sr., Metamora, Ill.), Stephanie Schmidt (Sr., St. Croix Falls, Wis.) and Mitch Yoder (Fr., Oskaloosa, Iowa), deck crew.
Goshen College, established in 1894, is a four-year residential Christian liberal arts college rooted in the Anabaptist-Mennonite tradition. The college's Christ-centered core values – passionate learning, global citizenship, compassionate peacemaking and servant-leadership – prepare students as leaders for the church and world. Recognized for its unique Study-Service Term program, Goshen has earned citations of excellence in Barron's Best Buys in Education, "Colleges of Distinction," "Making a Difference College Guide" and U.S.News & World Report's "America's Best Colleges" edition, which named Goshen a "least debt college." Visit https://www.goshen.edu/.
Editors: Photographers can take photos of the actors and production on Thursday, March 3 at 1 p.m. in Umble Center. For more information, contact News Bureau Director Jodi H. Beyeler at (574) 535-7572 or jodihb@goshen.edu.
###