Tuesday, February 21, 2006
Goshen College communication conference asks whether youth are tuned out to the news, March 17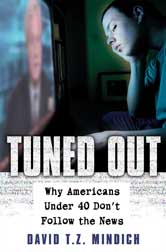 Conference: "Tuned Out? Youth and the future of news media"
Date and time: Friday, March 17, 2006 – 8:30 a.m.-4 p.m.
Location: Goshen College Church Fellowship Hall
Cost: $7 for high school and college students, $30 for teachers and media professionals, $15 for senior citizens
Event sponsor: Goshen College Communication Department
For more information: Contact Linda Rouch by calling (574) 535-7450 or e-mailing lindasr@goshen.edu
Web site: www.goshen.edu/communication/tunedout
GOSHEN, Ind. – Are youth tuned out to the news? If so, why? And what would make them want to tune in?
The Goshen College Communication Department is hosting the daylong conference, "Tuned Out? Youth and the future of news media," on March 17 from 8:30 a.m. to 4 p.m. in the Goshen College Church Fellowship Hall to focus on these questions and give high school and college students, journalists, teachers and news media folks the opportunity to explore the answers together.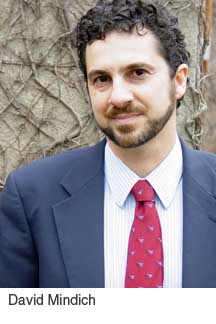 Author David Mindich, professor and chair of the journalism department at Saint Michael's College in Colchester, Vt., will give the keynote address during the conference. He explores these questions in his book "Tuned Out: Why Americans Under 40 Don't Follow the News" (Oxford University Press, 2005). Mindich interviewed scores of young Americans about how they keep up with the news. What he discovered was a group that knows less, cares less, votes less and follows the news less than their parents do and less than their parents did when they were young. The challenge, Mindich says, is to create a society in which young people feel that attending to quality journalism is worthwhile.
Before teaching, Mindich worked as an assignment editor for CNN and earned a doctorate in American Studies from New York University. He has written articles for the "Wall Street Journal," "New York Magazine" and other publications. He is also the author of "Just the Facts: How 'Objectivity' Came to Define American Journalism."
Brooke Gladstone is co-host and managing editor of National Public Radio's "On the Media," heard by nearly a million listeners across the country each week. She will also be a guest speaker during the conference, as well as giving the Yoder Public Affairs Lecture the night before the conference, on March 16 at 7:30 p.m. in the Church-Chapel.
Gladstone started out as a print reporter and editor in Washington and then moved to radio in 1987 as senior editor of NPR's "Weekend Edition with Scott Simon" before becoming senior editor at the network's daily news magazine, "All Things Considered." She became NPR's first media reporter. After six years at that post, she moved to "On the Media," produced at WNYC in New York. "On the Media" received a Peabody Award in 2005 and can be heard locally on WVPE 88.1 FM on Sundays at 6 p.m.
Cost for the conference is $7 for high school and college students, $30 for teachers and media professionals and $15 for senior citizens. For more information or to register, visit www.goshen.edu/communication/tunedout, or contact Linda Rouch by calling (574) 535-7450 or e-mailing lindasr@goshen.edu .
This conference is sponsored by the Goshen College Communication Department with generous support from Elizabeth Miller Jeschke and the Yoder Public Affairs Lecture Committee.
Editors: For more information about this release, to arrange an interview or request a photo, contact Goshen College News Bureau Director Jodi H. Beyeler at (574) 535-7572 or jodihb@goshen.edu.
###
Goshen College, established in 1894, is a four-year residential Christian liberal arts college rooted in the Anabaptist-Mennonite tradition. The college's Christ-centered core values – passionate learning, global citizenship, compassionate peacemaking and servant-leadership – prepare students as leaders for the church and world. Recognized for its unique Study-Service Term program, Goshen has earned citations of excellence in Barron's Best Buys in Education, "Colleges of Distinction," "Making a Difference College Guide" and U.S.News & World Report's "America's Best Colleges" edition, which named Goshen a "least debt college." Visit www.goshen.edu.