Tuesday, February 18, 2003
March 12 predicted as first day of spring;
Three more weeks of winter say Goshen College SAPS
GOSHEN, Ind. — There may be blizzards out East and winter may look like it is here to stay, but come March 12 spring and sun will arrive in Goshen with students in shorts as accompaniment.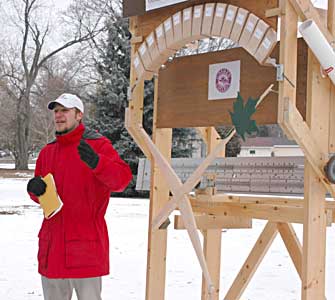 Goshen College's Scientists/Scholars Advocating Precision (SAP) gathered on Feb. 17 around the Official Maple Tree of Goshen on the college's campus to predict the scientifically derived first day of spring in the Maple City. The SAPs used a specially designed Sapometer to weigh the strength of winter – a stuffed groundhog surrounded by a representative amount of ice – against the strength of spring – a representative sample of the maple sap collected since Feb. 3.
As Head SAPs
Matt Rissler (Sr., Harrisonburg, Va.)
and
Kelcie Glick (Jr., Glenwood, N.M.)
adjusted a huge slide rule on the Sapometer for increased precision and physical plant worker Bryan Glover placed the sap bucket on the apparatus, more than 100 students, faculty, staff and reporters looked on as the Sapometer scales tipped to March 12.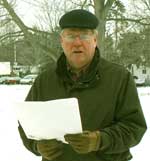 Goshen Mayor Allan Kauffman
proclaimed that the city of Goshen would recognize March 12 as the official first day of spring within the city limits. "I hereby give my official permission, to whatever extent it is determined that such permission is worth a whit, to Goshen residents to wear shorts on said day as they go about their normal routines," Kauffman declared.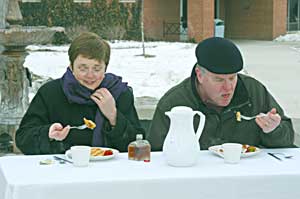 President Shirley H. Showalter
and Kauffman then sat down for a breakfast of pancakes with maple syrup in celebration of the upcoming spring.
Kauffman, himself a Goshen College graduate in natural science, said his confidence in the SAPs far outweighed any shadowy superstitions associated with ground-dwelling creatures.
Associate Professor of Bible and Religion and SAP Day emcee Paul Keim
added, Let those without recourse search the stars, consult the tea leaves, peruse the almanac, or rub the rambunctious rodent. Let scoffers scoff and scorners scorn. But as for us and our illustrious alma mater, we shall set our trust in the proven results of empirical observations of a created order endowed by its Maker with the keys to its own demystification."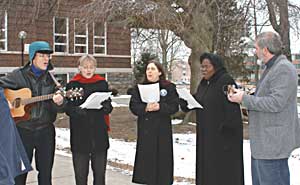 A newly formed musical group, lead by Keim and
Skip Barnett, international student adviser
, then serenaded the crowd with a little ditty, "
Oh Maple Tree, Oh Maple Tree
."
Since SAP Day's inception, spring in Goshen has been declared with amazing precision. In 2000, the Sapometer pointed to Feb. 29 as the first day of spring – a day on which the National Weather Service recorded record high temperatures of 67 degrees in nearby South Bend, Ind. and the mercury in Goshen topped 70 degrees. In 2001, the SAPs predicted a March 7 spring. Despite temperatures in the 40s, Head SAP Matt Rissler (Sr., Harrisonburg, Va.) claimed success, noting the "high number of Goshen College students and faculty wearing short pants or skirts. On a sunny Feb. 15, 2002, the Sapometer provided a direct affront to the groundhog by announcing that spring had already arrived.
It isn't just any science program that will allow itself to look like saps – but Goshen's reputation in the sciences can stand maple tree-tall. Four out of five Goshen College students applying get into medical school, and Goshen College has been named among 190 schools listed in Peterson's
Top Colleges for Sciences.
Goshen College is a national liberal arts college known for leadership in international education, service-learning and peace and justice issues in the Anabaptist-Mennonite tradition. Recognized for its unique Study-Service Term program and exceptional educational value, GC serves about 1,000 students in both traditional and nontraditional programs. The college earned citations of excellence among
U.S.News and World Report
,
Yahoo!
and
Barron's Best Buys in Higher Education
. For more information, visit
www.goshen.edu/
.
Editors: For information, contact Jodi Hochstedler at (574) 535-7572 or jodih@goshen.edu.
###