Friday, January 13, 2006
Opus 41 organ CDs by alumnus Bradley Lehman now available through Music Center


GOSHEN, Ind. – Two new CDs featuring Goshen College's new Opus 41 pipe organ, played by alumnus and Goshen native Bradley Lehman, are now available at the college's Music Center.
Joy Forever: Opus 41 at Goshen College" is a three-CD set of organ music recorded on Opus 41 and includes music by Bach, Brahms, Pachelbel, Sorge, Fischer, Erbach, Zachow, Böhm, Walther and others. It includes the complete "Ariadne musica" by JKF Fischer, a set of 20 preludes and fugues plus five ricercars, a book that directly inspired Bach's composition of the "Well-Tempered Clavier." Listeners who purchase the CD can hear these pieces in a way that young Bach may have played through them for his own study.
The CD "Playing from Bach's Fancy" features both Opus 41 and the harpsichord. It includes Bach sinfonias, preludes and fugues, and selections by other members of the Bach family. The music visits all the keys. The harpsichord Lehman played for this recording is a Franco/Flemish double by Knight Vernon modeled on 17th century Ruckers instruments.
Both CDs were released in January 2006 and co-produced by Lehman and Goshen College Central Recording. The recordings were made March 11-14, 2005, soon after the tuning/voicing of the new organ was completed.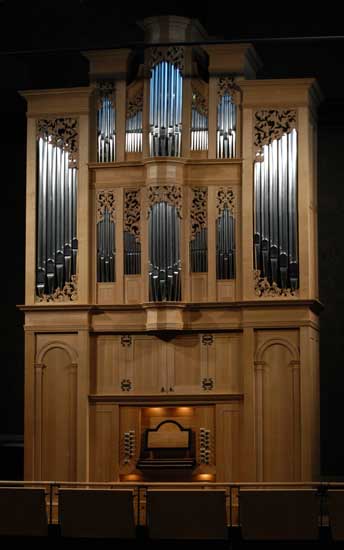 Opus 41 was designed by Taylor and Boody Organbuilders of Staunton, Va., and is based upon 18th century North German organbuilding principles. It features more than 1,600 pipes, and a case of carved solid white oak. The key and stop action are mechanical (tracker), with two manuals and a flat pedalboard. The temperament is Johann Sebastian Bach's preferred system, as specified on the title page of the "Well-Tempered Clavier," 1722. This tuning method was re-discovered by Lehman, a 1986 Goshen College graduate, in 2004 and published in the February and May 2005 issues of "Early Music" magazine. Opus 41 is the first organ since the 18th century to employ Bach's previously lost tuning in its construction. The organ was dedicated in a series of concerts and events May 1 through May 8, 2005.
Joy Forever: Opus 41 at Goshen College" is available for $30 and "Playing from Bach's Fancy" is available for $15. Send checks or money order to: Goshen College Music Center, 1700 South Main St., Goshen, IN 46526. Add a $3 mailing fee or $5 for international orders. To pay by credit card, send VISA/Mastercard information to music@goshen.edu or call (574) 535-7361. Upon receipt of payment, orders will be mailed within 10 days.
Editors: For more information about this release, to arrange an interview or request a photo, contact Goshen College News Bureau Director Jodi H. Beyeler at (574) 535-7572 or jodihb@goshen.edu.
###
Goshen College, established in 1894, is a four-year residential Christian liberal arts college rooted in the Anabaptist-Mennonite tradition. The college's Christ-centered core values – passionate learning, global citizenship, compassionate peacemaking and servant-leadership – prepare students as leaders for the church and world. Recognized for its unique Study-Service Term program, Goshen has earned citations of excellence in Barron's Best Buys in Education, "Colleges of Distinction," "Making a Difference College Guide" and U.S.News & World Report's "America's Best Colleges" edition, which named Goshen a "least debt college." Visit www.goshen.edu/.