"When I carried home the invitation from Goshen College to lead the first SST in Costa Rica, Joy and I consulted a map," said retired Professor of Communication J. Daniel Hess, recalling the uncharted territory into which the first GC professors, their spouses and students journeyed in 1968-69, the inaugural year of Study-Service Term.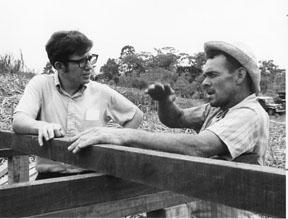 Likely the single-most influential initiative in the college's history, the creation of SST steered GC in a significant, ground-breaking direction. Although the school motto long guided GC's journey, SST, more than anything else, gave full body to the spirit of Culture for Service; President Emeritus J. Lawrence Burkholder even goes so far as to suggest that international education has become an "article of faith" for GC.
SST combines two of the college's most distinctive characteristics - commitments to international education and to producing servant leaders for the world; however, interest in international learning and service began before the turn of the century, when the then-Elkhart Institute sent three students to India for volunteer efforts.
Choosing Christian service over quiet security, subsequent GC students continued to venture into other lands. In 1920, junior Clayton Kratz, recent graduate Orie Miller and other Mennonites volunteered for relief work in Russia. Kratz disappeared from his service location behind Bolshevik lines and never returned.
Both students and faculty members became involved in international service work in the 1940s and '50s. World War II and its aftermath created an overwhelming need for rebuilding in many parts of the globe.
At the same time, GC was strengthening its student exchange programs. The 1950 Maple Leaf describes GC's philosophy: "The best way to send knowledge is to wrap it up in a person ... Although one can read about different cultures and customs, only by actual association can they be fully understood and appreciated. It is like making a new discovery to find that people who come from such vastly different cultures can have so much in common and can gain much from each other."
Edgar Metzler '52 said, "The term 'cross-cultural' was not yet in vogue, but that describes a treasured part of my student experience." Metzler would go on to serve overseas with church agencies for many years.
A season of change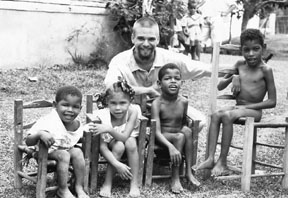 During the 1960s, the wave of change that washed over the United States swept through the Goshen campus as well. Looking for ways to plan for growth in GC's coming years, Paul Mininger, then president, organized the Committee on the Future of the College in 1965. The committee met weekly to brainstorm.
At the same time, North Central Association officials evaluated the campus and faculty as part of its re-accreditation process. In their report, they pointed out that GC was not making use of the experience of faculty members who had lived and studied in other countries. One of their suggestions, to send students abroad, resonated among committee members.
Planning a program of this type raised many difficult questions: How would this program fit into students' four-year plan? Would it be financially possible? How would credit be applied to experiential learning? What language skills would be required?
As executive secretary for the committee, and for the International Education Services Committee, Provost Emeritus Henry D. Weaver provided leadership in the search for answers. In a 1988 Bulletin article Weaver wrote of the group, "We tried to construct a model that would have at least one answer for every problem that the change would bring."
When Mininger brought the faculty meeting to order on May 18, 1967, with the intention to move for the approval of a study-service trimester, emotions ran high. Weaver said, "The faculty debates were really strong - not nasty, but vigorous." The discussion about the pros and cons of the proposals, and the negotiation that followed, demonstrated what Weaver called "academia at its best."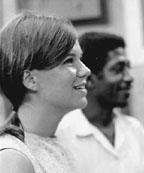 The vote was nearly unanimously in favor of SST; the single abstaining member became an SST leader within a year.
Weaver, often been called the "father of SST," credits the flexible, willing GC faculty as the primary reason for how and why the radical program was initiated. In the Bulletin Weaver wrote, "I am frequently asked how the GC faculty ever came to agree on the radical changes that came about by instituting SST. My answer is: Goshen has a great faculty. Few faculties would have the cooperation and vision to make such changes. The faculty spirit demonstrated in the process of adopting SST illustrates what makes Goshen a great school."
Mininger, in a 1988 interview, presented some of the original hopes and expectations the committee envisioned for their brain-child. "We believed it was very important that students learn through experience and participation, and not only through reading books, listening to lectures and discussions. ... The plan was that students would not just observe human need, but that they would also act to meet some of those needs."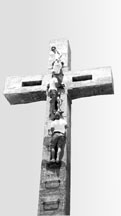 In 1967, the first GC students traveled to Haiti, Colombia and Barbados in six-week pilot units. These proto-SSTers returned home with stories, pictures and new experiences. One student wrote that the trip was a context for "meeting many new people - among them, yourself."
The 1968-69 school year marked the first official SST units. With ambitious numbers since unmatched, 281 students in 14 groups ventured to six countries under the direction of SST's first director, Arlin Hunsberger.
"When we sent out the first groups of SSTers, there was no book on how to do it," said Hunsberger. "The faculty manual was compiled as SST continued."
Faculty and students alike often had to improvise. Hess recalls the adaptive strength shown by the students in his first unit. A few days after their arrival, one student related in class his frustration with the pushy fashion in which the Costa Ricans forced their way onto buses, saying, "They were a bunch of animals last night. Whew! I was the second one on."
The first SSTers' experiences and stories changed the flavor of GC forever. Susan Fisher Miller describes the effect of SST on the average GC student in her book, Culture for Service: History of Goshen College 1894-1994: "The student who as a freshman fretted that his little Mennonite college was provincial, protected, or irrelevant might, the next September, find himself careening home through Port-au-Prince in a sweaty camion, uncertain of the Haitian Creole phrase for 'stop, please,' or of where his true 'home' was, the more he thought about it."
China and linkages with church organizations
Like many successful programs, SST would grow in new directions and spawn new initiatives. In 1979 President J. Lawrence Burkholder, who had served in China in the 1940s, was invited to lecture in China. Burkholder's trip to the Sichuan province was a success. He met with high ministry officials and, with their cooperation, arranged for a GC exchange program to begin. The following year the inaugural SST unit to China became the first American undergraduate study program in the People's Republic of China.
Building on this success, further exchanges with China followed. In the summer of 1981, GC's Professor of English Wilbur Birky was asked to lead a team of professional English as a Second Language teachers to China. As the program developed following this successful trip, GC sought the guidance of Mennonite Board of Missions. Not long after, a consortium of Mennonite colleges, MBM and Mennonite Central Committee joined with GC to form the China Educational Exchange.
GC has also worked jointly with MCC and MBM in seeking out more possibilities for international study-service opportunities. During the late '70s and early '80s, MCC individuals regularly joined SST units in Haiti for the study portion of the trip.
In the '90s, GC also teamed up with MBM to create an SST unit in Côte d'Ivoire. GC recognized and appreciated the expertise that MBM had to offer in this West African setting, and MBM valued the shared vision of world mission and education.
Future of SST
In looking to the future of SST, Dean Emeritus Carl Kreider said GC must utilize past learnings when "creating something new for the future."
Current Director of International Education Wilbur Birky and the GC administration continually evaluate and look for ways to adapt and improve the program as times change. One change that has affected SST is the increased opportunity for international study and service with other organizations. Birky said, "GC also works with students to complete the required international education component with a combination of alternate courses on campus and abroad." Additional programs of study are now available at colleges or universities in the People's Republic of China, Dominican Republic, Ecuador, Germany, France, Great Britain, Japan, Spain and Lithuania.
Enthusiasm for SST has not diminished since those very first years; in a college experience evaluation, more than half of GC alumni who participated in SST said it was one of the most important experiences of their lives. Another third considered it a great experience.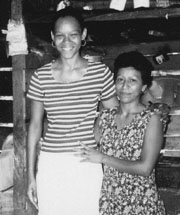 Overseas study and service continues to be foundational for GC, beginning at the highest levels of the administration. President Shirley H. Showalter, Provost and Executive Vice President John D. Yordy, VP for Finance James Histand, VP for Enrollment Rich Gerig and VP for Multicultural Education Zenebe Abebe have all led SST units. Histand, Gerig, Abebe, Academic Dean and VP for Academic Affairs Paul Keim and VP for Institutional Advancement Kent Stuckey all went on SST as students, and Keim and Stucky served overseas with church agencies.
Where will the SST program go next? Because the basic structures of home stays, study followed by service, an experiential model of education and primary commitment to a single country have been consistently effective, much will remain similar, said Birky.
As political and social circumstances have demanded, however, the SST department has made minor adjustments to meet the needs of new situations. For example, units have moved away from home stays in the former East Germany, Poland and China due to social contexts.
In the last several years, with Birky's encouragement, SST leaders have found experiential ways to extend the study of a given country to broader regional issues. Costa Rica and Dominican Republic SST units have recently explored neighboring countries to study historic, economic, and social differences and similarities.
With the increase of non-traditional students and others who often cannot travel overseas because of family or work involvement, new demands for more local cross-cultural opportunties have arisen.
"It is premature to suggest which completely new locations could be opened," said Birky, who regularly monitors political and economic situations around the globe. "We are always exploring and watching. At present China and Indonesia are on a three-year rotation, but by the year 2000 we hope to have a third special unit in this rotation."
By Austin Kaufmann
30 years of uncommon journeys by Austin Kaufmann
A turning point on the journey by Aletha D. Stahl
Learning the beat of a different drum by Austin Kaufmann
Hunsbergers live international experience by Rachel Lapp
Journeys in transformation by Keith Graber Miller
SST friendships: A promise made good by Amy Gingerich
Full circle by Paul Meyer Reimer
Going out, coming back: The rhythm of life at 1700 South Main 15 by Rachel Lapp
A turning point on the journey
"And you're not even really American!"
This indictment by my host sister during the 1987 SST in Guadeloupe concluded three months of escalating tensions between us.

Today, as a professor and leader of off-campus programs at Earlham College, I look at this remark and the context in which it emerged as pivotal in my life - but not always in ways I anticipated.
I was already a French and English major when I chose the Caribbean island of Guadeloupe as my SST site. I looked forward to an opportunity to hone language skills, learn about another culture, and serve in another country, but my expectations were surpassed and shattered as I faced uncomfortable cultural differences: tensions of gender, race, nationality, and religion I had previously been able to overlook, and definitions of service that challenged my desire to feel good by helping others.
Confronting the need to revise preconceived ideas and to create new frameworks is key to SST. But the form this confrontation takes can be profoundly personal. The scene with my "sister" made tangible to me the pain and constriction of identity boxes. It also helped trigger a series of questions. What was the American I was supposed to be? For that matter, what was the Guadeloupean I expected her to be? How did we develop these expectations of each other? And how might we reformulate expectations, listen to each other, and make our differences work in a more constructive manner?
A study of French Caribbean literature I conducted during SST reinforced these questions. Combined with group lectures that put me in contact with a local writer and with money entrusted me by the GC library to help develop its collection, this study allowed me to develop a taste for independent research and an ability to carry it out.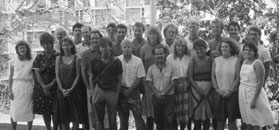 My service placement in a home for "delinquent" girls also provoked reflection. Trying to make myself useful by initiating games and teaching macramé, I observed public social workers berating and beating the girls. In my mind surfaced issues ranging from individual learning styles to culturally-determined notions of violence and, in the words of one of my leaders, the systemic nature of evil. Much as I would have liked, I could not sidestep questions about my personal complicity and potential to contribute to change, not to mention how my desire for change might stem from cultural assumptions as much as from what I still hold to be important concepts of justice. At times these issues seemed overwhelming. Yet the fact that my leaders, Tom and Rebecca Meyers, raised similar questions and shared their insights without presuming to give answers reassured me.
Since SST, I look at the relationship between literature, culture, politics and agency - the power to act - as a way of addressing the questions sparked in Guadeloupe. These questions steered me to a doctorate in comparative literature with research on Guadeloupe's twin island of Martinique, to considerations of justice and development in Haiti, to published translations, to conver-sational skills in two Creoles, and to leadership of Earlham SST equivalent in Martinique. As I build syllabi for courses in French language and African literature in English, organize annual visits by French Caribbean students and orient Earlham students for Martinique, I have a difficult time speculating what my activities would be had I neither met my host sister nor gone on SST.
By Aletha D. Stahl '89
Learning the beat of a different drum
Study-Service Term is frequently a learning laboratory for GC students, but Josh Kaufman '97 joined with Kathy Leidig '98 to take the concept a step further.
Drumming was a way of life long before SST for Kaufman, who once helped a drum and bugle corps win a world competition. Traveling to Côte d'Ivoire in 1996, the music and physics education double major was excited not only for the chance to study and serve, but for the opportunity to learn other styles of drumming.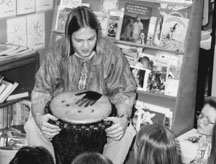 Leidig, also a music major, siezed the opportunity to not only learn new instruments, but to observe different styles of teaching and learning as well.
During Kaufman's studies in the capital city, Abidjan, he learned some of the rudiments of African drumming.
Most of his instruction, however, came during his service. "I was in the village of Guibéroua, but I met with a percussionist from Kpobrobouo, a neighboring village," said Kaufman, who would often walk the mile to Kpobrobouo with Leidig for lessons.
Kaufman spent most of his time learning the rhythms and meters of the djimbé, an African hand drum. "Their rhythms are more repetitive and harder to feel than American beats," Kaufman said. "Rhythmically, they are looser because they are based upon the speech patterns of their tribal language, Beté. It would be hard - almost impossible - to learn many of their rhythms without having more of a grasp of their language."
Learning the dôdô also required some knowledge of Beté. The "musical bow" is played by mouthing Beté proverbs and sayings across a string stretched over a bow while rhythmically tapping the string with a thin stick; the open mouth acts as a resonating chamber, controlling volume and timbre.
Leidig watched differences in pedagogical methodology. A violinist, she was particularly interested in comparing and contrasting African instruction with the Suzuki method.
The Beté instruction style was primarily one of trial and error, said Leidig. "Josh's instructor would keep playing a rhythm, while Josh tried again and again to repeat it," she said. "Occasionally, the instructor would say, 'Stop. Listen.' Then, after playing the rhythm alone a couple of times, he would expect Josh to be able to play it correctly."
Kaufman's past reliance on familiar learning styles was part of the challenge. He recalled a difficulty with one particular rhythm: "It had a very different feel, and I couldn't find where the emphasis came. If he would have explained it in a boxed-in, Western way - for example, defining where the downbeat came, or saying that the accent came on the third triplet of the second beat - I would have been able to analyze and learn it more easily."
But with time and practice, Kaufman learned to learn in a new way. "I always knew when I finally got a new rhythm, because the dozens of kids that had gathered to watch would start laughing and talking rapidly in Beté," said Kaufman, adding, "At least I think that is what their laughing meant."
The crowd of village children didn't intimidate him because "they were always so friendly it never felt uncomfortable." In fact, Josh enjoyed the presence of the kids. After playing one of the more common beats, he offered one of the youngest boys his drum, saying, "Now you play." To his surprise, the four-year-old slapped out the rhythm with almost flawless precision.
Upon returning from SST, Kaufman and Leidig led a convocation featuring the music, instruments and skills they brought back. Kaufman also taught some of the uniquely African rhythms at the campus drum circle which met each Wednesday evening last year; a regular participant, he brought with him his djimbé, a hand-crafted memento that rings with the rhythms of West Africa.
By Austin Kaufmann
Hunsbergers live international experience
Arlin and Naomi Derstine '55 Hunsberger's home is an outward reflection of the life they have created for themselves; the Haitian artwork filling the eyes with bright color, vitality and creativity reveals not just an interest in another country, but a love for another culture and life beyond the their home community. This celebration of international experience is one that also reverberates in the lives of their three children.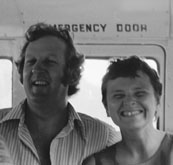 The Hunsberger siblings - Michael '84, Sally '86 and Susan '89 - all chose to attend GC and go on SST. During the past year, all three children and their spouses continued a tradition of global interests with service, work and study.
Mike was six months old when Arlin and Naomi first took an assignment in Haiti with Mennonite Central Committee. Sally was born several years later in Pennsylvania - Naomi had to leave the country for several months during a time of political unrest when MCC workers were given one hour to evacuate their village - so Arlin first saw Sally 13 weeks after her birth.
Henry Weaver, GC provost emeritus, visited the family in Haiti in 1963 while dreaming about what would become the core of GC's international education program. Weaver was interested in possible locations where students could study and serve while living with host families and becoming immersed in another culture. Five years later Arlin would be named the first director of the program.
During Arlin's tenure at the college, the Hunsbergers led five units of SSTers in the Caribbean country. Mike, Sally and Susan, who was born in Pennsylvania before the family moved to Goshen, were always enthusiastic about returning there and speaking the familiar Creole.
"We always felt it was extremely beneficial to the children," said Arlin. "We wanted them to see this as an exciting possibility; we never wanted them to get the sense that this was a sacrifice instead of a positive opportunity."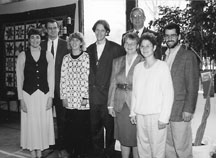 Said Naomi, "I think our children gave the students an insight into the country that they might not have had without seeing some things through the eyes of children."
The SST program in Haiti left lasting impressions on the Hunsberger's Haitian acquaintances as well. A former host family member, now the deputy minister of public health, said SST was "the best program that ever came to Haiti" and that the GC students were "good role models."
Mike chose to go back to Haiti for SST. Sally decided to go to China, but made sure her experience would be as that of other students and didn't see Arlin when he visited the unit. Susan wanted to go to a French-speaking country, having grown up with the language, but wanted to live in a less familiar setting. She began taking Spanish classes, but then a new French-language unit opened in Guadeloupe, and she opted to go there.
Their children had the advantage of living abroad and hearing about the program before going on SST, Arlin said. "They had moved in and out of Haiti, and each faculty member who led SST came to our house before and after their leadership experiences. We also had SST groups to our home," he continued. "They were exposed to other cultures, so they had some advantage. It's like a ladder - everyone goes in with different experiences, and starts at different levels. But everyone grows beyond where they were before they went."
More than three decades later, the Hunsberger children are examples of where SST can lead: Mike and his wife Susan Graber Hunsberger '86 are living and working in Sofia, Bulgaria; Sally and her husband Michael Faye are volunteering in Bangalore, India; and Susan and her husband Trevor Bechtel recently returned from a teacher exchange experience in London.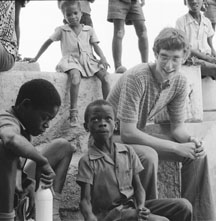 Mike, a business major at GC, received a master's degree in business from Indiana University. After working at NBD Bank, where he specialized in corporate loans, he took a position with the Bulgarian American Enterprise Fund as a financial officer. Formerly under Soviet influence, Bulgaria is working toward privatization; Mike works at financial development by matching investors with industries, traveling to other former Eastern Block countries and monitoring regional politics. He and Susan, an artist and illustrator, have a daughter Evelyn, who will see her grandparents this fall when Arlin and Naomi travel to Sofia.
A math and biology double-major at GC, Sally always had an interest in the relatively new field of biostatistics. Sally earned a doctorate in that field from Virginia Commonwealth University, and took a job at the National Institute of Health (NIH) as a researcher specializing in heart, blood and lungs. Sally and her spouse also wanted to live and work in another country. In discussions with an East Indian friend, they learned that St. John's Medical College and Hospital in Bangalore, India, needed help setting up a research program. In what would be a volunteer effort, they moved to Bangalore in January of this year with their son Paul. They are also teaching in the medical school. When they return to the U.S., Michael Faye will also work with the NIH.
After graduating from GC with an education degree, Susan taught at Chicago Mennonite Learning Center for one year; during the second year of that Mennonite Central Committee volunteer assignment, she taught in a multi-ethnic inner city public school in Chicago. Susan, a GC alumni board member, was encouraged by her Chicago principal several years later to apply to the Fulbright Scholar teacher exchange program, and after acceptance spent the past year in London teaching at a similarly culturally diverse school. It was there that a familiar dialect came to her ear: Creole, the language she spoke in Haiti. A pupil at the British school "grinned from ear to ear," Susan reported to her parents, after finding that she and her teacher could share something special. Arlin and Naomi traveled to London in April to see Susan and Trevor, who returned to Chicago in August.
Arlin resigned from directing the SST program after 20 years at GC. During a sabbatical leave in the late 1980s, he was asked by the Pan American Development Foundation to direct their programs in Haiti. PADF works in agriforestry and conservation, also interests of the Hunsbergers.
"We always said that when we returned to Haiti, we would plant trees and work with children," said Naomi, "and we got to do both."
The Hunsbergers said they will enjoy making contact again with Haitian friends when they lead an GC tour there early next year.
Janette Yoder, GC director of special events in college relations, said the tour will be "very enriching" because of the Hunsberger's many connections in Haiti. Tour participants will eat meals in Haitian homes, plant trees with farmers and learn about development issues.
"We say that we didn't choose Haiti, Haiti chose us," said Arlin, referring to he and his wife's wishes at the start of their married life to take a service assignment in Greece, where he had worked with PAX in the aftermath of World War II. "Now it's a part of us."
By Rachel Lapp
SST undoubtedly transforms our students. But it also transforms - personally, spiritually, intellectually and pedagogically - the more than half of our faculty who have led SST units. We learn to love our students through the intimacy of living alongside them in a place of disorientation. We learn to be vulnerable as we stumble through learning and relearning second languages. We learn how to teach authentically by observing our hosts.

While I was on a visit to Haiti last year with our Dominican Republic SST students, we heard from Father Roger Desir, a Haitian Episcopal priest. His lecture was the most riveting presentation I have heard in my life. He had lived through all of Haiti's turbulent history of the last several decades; he had been jailed because of his advocacy work, and he had spent 17 years translating the Bible into Creole so his people could read the text in their own language. He had been committed to a life of service, and his passion and commitment had given him a kind of character which made him believable, which made us, on that sultry Caribbean evening, want to sit at his feet. I was moved nearly to tears, and humbled when I thought of my own shabby teaching in light of his.
Through leadership of SST in Dominican Republic in 1989 as well as 1997, I have learned the significance of personal integrity for effective teaching, especially in addressing ethical and religious questions. More than ever before, I am willing to open my life to students, letting them know about personal, spiritual, and intellectual pains and struggles as well as achievements. Because we were able to witness the dramatic growth of our SST students, I can more clearly see strength and potential in students who may not be typical academics.
Because of our immersion in experiential learning, I include spaces for such experiences in my syllabi - service work in my Ethics class; an interview with a church leader who has wrestled with theological questions in Christian Faith; theological and ethical "lounging" that stimulates broad conversations on campus.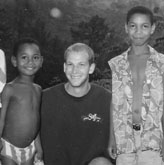 My hope is that I never forget how needful I am, how needful we all are, of passions and experiences outside the classroom: internships in schools if we teach education; time in churches or with social service agencies if we teach Bible and religion; engagement in the business world if we teach in that department; the occasional international education experience to reinvigorate our sensibilities. As teachers, we need ongoing experiential learning if we are to have anything to teach. And with such learning, we also will be able to better value such a pedagogy.
Experiential learning in inter-national settings - for GC's teachers as well as students - renews, restores, matures, provokes, transforms and educates, toward excellence and toward wholeness. We all need this stimulation from outside the class-room, fresh insights from the world beyond campus. Co-leading SST did that for me - for now, for a time.
Henri J. M. Nouwen, in Gracias!: A Latin American Journal, writes that "for those who are pulled away from their familiar surroundings and brought into a strange land where they again feel like babies, the Lord offers a unique chance not only for personal conversion but also for authentic ministry."
For all those who have such opportunities, may it be so.
By Keith Graber Miller
SST friendships: A promise made good
Inherent to Study-Service Term is the hope that seeds of knowledge and experience planted while living in another culture will grow in the lives of GC students. But what about the plantings left in their host country when SSTers return to campus?
Lynn Miller '91 found that one act of friendship multiplied beyond his imagination and knowledge when he sent a computer to a friend in the Dominican Republic.
The story began in 1991 when Miller, a computer science major, was interested in working with solar cooking during service. Unit leaders J.B. and Betty Shenk connected him with a missionary in Monte Plata, D.R., and Miller excitedly departed equipped with instructions to construct solar cookers.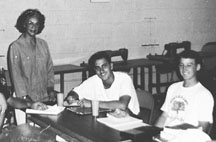 But the project wasn't to be; the rainy season soon began in the region, and Miller was left with time on his hands. Unlike most SSTers who live with host families, Miller stayed in a hotel and ate his meals at neighbor-hood colmados, or small grocery stores. Because of his unusual situation, he had free time to spend with friends, including Dominican Odalif Sanchez, who was 18 at the time.
Sanchez practiced his English language skills with Miller and watched him repair a computer and write a software program.
Before Miller left D.R., he pledged to send Sanchez a computer. Miller returned to GC and remained in contact with Sanchez, but wasn't able to make good on his promise until 1993.
Sanchez, who couldn't type at the time he received the computer by mail, said recently, "For me to get a computer was like reaching a star. I would never have been able to afford a machine like that."
Sanchez took out bank loans in order to open up a business using the computer. He opened a typing business he called Odalynn's, combining the first names of the two men.
Sanchez practiced his typing skills and borrowed a printer. His business grew and he later took computer classes in Santo Domingo.
Though there are no colleges or universities in the small town, numerous Monte Plata residents travel to the capitol city for university classes. Others take courses at a branch campus close by. Sanchez types assignments for nearly all of these students.
Six years after Sanchez and Miller first met, the story of their friendship unfolded when, in 1997, two SST students were again placed in Monte Plata. GC seniors Grant Rissler and Michael Zimmerman Freed met Sanchez and heard the story about the gift computer.
By this time, Sanchez' business had expanded to include four computers, a photocopy machine and part-time assistants. Said Rissler, "People gave him manuscripts to type, and by the time we visited he had at least one or two other people helping him. He just started typing and made enough money to buy a second, third and fourth computer."
Sanchez' business is located on the town square in Monte Plata. Rissler said, "Everybody came to him for copies and typing. He seemed to be doing really well."
Just last year, Sanchez became the director of the English programs for all of the public schools in Monte Plata. Rissler and Zimmerman Freed said Sanchez shows movies as a teaching tool; the two students once assisted Sanchez by translating an English-language film for one of his classes.
Keith Graber Miller, associate professor of Bible and religion, co-leader of that Dominican SST unit with Ann Graber Miller, assistant professor of art, said, "Sanchez has really met a need for the community in Monte Plata."
According to Zimmerman Freed, Sanchez "seems to really be an entrepreneur . . . (and) a popular man in town."
Miller - now the owner of Integrated Software Solutions in Archbold, Ohio, where he lives with his spouse, Tami - knew that Sanchez now had more computers but didn't realize the extent of the business or Sanchez's English skills. Now communicating by fax machine with Sanchez, Miller sees the importance of friendship, an outcome of SST he never expected.
By Amy Gingerich
I first went on SST as a second-grader: My parents, Gerhard and Margaret Reimer, led SST groups in Germany in 1969 and 1971, and later in Costa Rica. Because of our travels, my siblings and I learned German and Spanish while growing up. My earliest memories include the pride of getting downtown - by streetcar - by myself and teasing and getting teased by GC students. Was I a brat? Students roped me to a tree in Berlin and predicted rain, but I can't have deserved it.

My family and the GC environment instilled in me a faith in the worth of learning from other countries and peoples and a confidence that this would lead to a stronger religious faith as well. This later grew into a conviction I owned for myself as I lived in Austria, Israel, East and West Germany (and Goshen) during my college years and went on SST to Honduras. After college, I finished graduate studies in Germany and did postgraduate work in Japan.
I found myself experiencing SST in a third way while leading an SST unit in the Dominican Republic with my wife, Kathy, and our two children. It was fascinating to get to know another country anew, this time partly through the eyes of students. As a first-time leader I was pleasantly surprised and impressed with the way GC's on-campus culture prepares students in positive ways and shapes healthy expectations for their time on SST - a time that is, for many students, their first significant experience outside of North America.
In his excellent book about culture learning, Dan Hess, retired professor of communication, enumerates the personality traits of the "successful culture learner." One is not being too goal oriented - the main difference I found between being a student and a leader. While it was intriguing to get to know a new country, our experience this time was shaped by wanting to organize activities and have them work!
One tension I felt as a leader was when we talked about what attitude students should take, for example, with their host families. As leaders, Kathy and I related to our own family in English while the students were on the spot, forced to relate in another language, in another culture, intensely, to people they'd just barely met. But though we couldn't experience the same things our students did, it was invaluable that we both had SST experiences as students too. Kathy could wonder aloud, "What's the worst thing that could happen to you when meeting your families? That they don't come to get you and you have to find your way to them?" It happened to her as a student in Haiti in 1981, and she survived quite well.
I am proud of SST. Most people that I contacted, to lecture to our students, for example, resonated positively with the kind of cross-cultural learning goals we had and the kind of immersion that students did, particularly living with local families. It was also fulfilling to be a part of such a wholistic educational experience. It was great that not only lecture content and academic work, but also relations with host families, comments that people make on the street and even the state of one's bowels, were important fodder for discourse!
By Paul Meyer Reimer (left, with son Benjamin)
Going out, coming back: The rhythm of life at 1700 South Main
Tts rhythms are so much a part of Goshen College life that the impact of Study-Service Term on this "spot in Indiana" is often lost on those connected to it most intimately. The hellos and good-byes are common-place; busses are waved off and welcomed home at any time of day or night, and few bat an eye when roommates are suddenly shuffled around or a tennis player is missing from the roster. When a Pinchpenny Press book comes out with poems that resonate with Latin beats, many feel the dance. And finding a letter with a foreign stamp in the mailbag isn't at all rare.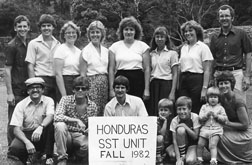 But though it has a sense of familiarity, SST is anything but unnoticed. To the contrary, SST permeates many areas of campus life and development. The impact of the program calls for a "balancing act that tilts toward the positive," said Larry Rupp (pictured above at far right, associate dean of students and director of residence hall life. "We are making conscious choices because we reap the benefits."
The campus adjusts to SST disruptions in many ways; "it affects so many programs and people," Rupp continued. "But the benefits of how SST pulls us together, strengthens us as individuals and also broadens our community to include other parts of the world, makes it worth the effort."
Reflecting on a recent reunion of SST faculty leaders, Rupp said there was a sense that everyone in attendance - from age 30 to age 80 - had common understandings of SST issues and experiences. "It felt as if we're not just working or had worked at GC, but like we were all part of the same department."
Many GC programs and courses are direct legacies of SST, including academically specific short-term study abroad opportunities, internationally focused courses and the Teaching English to Speakers of Other Languages minor - GC is one of only 30 schools in the country to offer this concentration.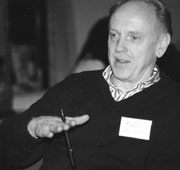 Wilbur Birky, director of international education, said that though his office directs the program, SST affects "every aspect of campus life" - from food service to residence life to work-study jobs to course scheduling.
Professor of Music Doyle Preheim said his choirs change personnel due to SST trips. Residence hall assistants and Campus Activities Council members make switches mid-year. SST experiences provide art majors with an opportunity to broaden their concept of art and its meaning, including distinctions between art and craft and folk or popular art versus "high" or "fine" art, Judy Wenig-Horswell has observed. The campus health center keeps inoculations on hand that aren't commonly stocked at other college clinics.
In an unusual example of how the campus simply adjusts to the special circumstances of SST, Dean of Students Emeritus Russ Liechty recalls a time when the campus food service provider once worked with a student on a very delicate matter. "This student was headed for a Central American country and knew she would be expected to eat white rice on a regular basis. She detested white rice because she said 'it reminded her of maggots,' and the thought of eating it made her physically ill," he said.
"With the full cooperation of the college kitchen, we set up a long-term conditioning program in which brown rice was used first, then small amounts of white rice mixed with generous quantities of other food were gradually added. She was finally able to eat and enjoy plain white rice and left for SST confident and proud of her achievement."
Liechty said he worked with many students concerning their feelings about SST. Some experienced anxiety prior to embarking on their journey abroad. "Their friends come back talking excitedly about the 'rougher' aspects of their experience," said Liechty, including primitive living, loneliness, language challenges, unfamiliar foods, lack of indoor plumbing and more. "They were excited because they had faced and conquered these things, but to one who was looking ahead to the experience, such stories were anything but comforting."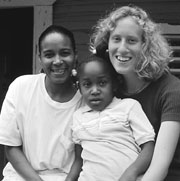 On the other side of that equation, many returning SSTers need to talk. "SST is a life-changing event for many participants because it forces them to think seriously about lifestyle issues, politics, use of resources, vocational choice, etc.," said Liechty. "They frequently need to talk with others as they process their feelings about these and other issues."
Professor of English Ervin Beck said he finds that many English students suddenly have an experience outside the norm about which they can write. "Many Pinchpenny Press books have come directly from SST experiences, or are a collection of writings from SST," he said. This includes 1991 graduate Cathleen Hockman's reprinted book Returning Home, a collection "intimately connected" with SST that Beck said is now required reading for all SST students. Pinchpenny books penned by international students also give the collection a global perspective. Noted Adam M.Y. Nafziger '98 in his Pinchpenny book God and Rhythmic Dust: An SST Journal, "We GC students sometimes forget ... how unique SST truly is. Our friends come and go from all corners of the globe, and we never think twice about it."
Director of International Education Wilbur Birky said, "SST has a ripple effect that touches not only academic life, but social life as well. Students have personal experiences in an international setting to apply to their courses; professors come back with ideas for new additions to their curriculum," he continued. "Relationships with friends change. Students involved in sports or extracurriculars have to find ways to structure their plan of study while they decide where to go on SST. We all make different choices."
Liechty said SST has also given GC, as a community, an open road to the world beyond these 135 acres in Elkhart County, Ind. "It is not uncommon to hear foreign languages being used conversationally, not simply as an academic subject. SST has certainly enhanced our awareness of cultural differences and prepared us to embrace diversity more eagerly," he said, adding, "SST gives campus a 'cosmopolitan' feeling."
Associate Director of Admissions for International Students Carl "Skip" Barnett, who also serves as international student adviser and director for the TESOL program, said that GC's high population of international students contributes to that feeling. U.S. News & World Report ranked GC 11th among all national arts colleges in the percentage of international students; 1 in 12 GC students, from more than 30 countries, are among this group. "Our international students educate our U.S. students about world cultures even as they themselves learn the skills they will need to contribute to the further development of their homelands," said Barnett.
Liechty said international students have told him that "they notice a difference in the way they are accepted at GC."
One might think that 30 years of SST has made the program commonplace; but with an ever-changing student body and a continually renewed faculty, learnings from SST are always revitalizing and surprising, observed senior Laura Oswald (pictured above right): "SST doesn't stop with SST."
By Rachel Lapp