Culture for Service:a journey, an action, a commitment, a motto
by Rachel Lapp
The description changes but the motto stays the same.
Culture for Service -- we see it flying on banners, printed on Goshen College literature and stuck on car windows. It says something about the college and its graduates in a way that few other college mottoes do.
Culture for Service
is a call to action, a call to learn, a reminder of how our Christian values affect the work we do.
Since its beginnings, the college has felt the impact of the twin harmonies of these words, "culture" and "service." It has sometimes struggled to define how the dual concepts combine into a campus ideal. Described as a "felicitous turn of phrase" by Susan Fisher Miller in Culture for Service: A History of Goshen College, 1984-1994, the motto serves not just as a theoretical challenge but as a "real world" set of instructions for the campus community to incorporate into its life and growth.
Coined in 1903, the phrase has survived nearly a century with the college, through periods of growth and change both internal and external. Once, when the motto came under scrutiny in 1943, GC faculty were asked to evaluate Culture for Service. In a description of its relevance to the campus and its students, the faculty members described the motto as "beautiful and satisfactory." "Culture for Service also has significance for past pupils," they said.
To people like Professor of History John D. Roth, the motto is quite challenging and active -- and perhaps ageless. The motto permeates campus life without being explicitly defined, he said; rather, the motto is subtle and understated, a "metronome ticking away, keeping a steady cadence" throughout the rises and swells of the college's history.
"The thing I like about Culture for Service is that all three words mean something, but at the same time the specific content of 'culture' and the specific nature of 'service' is left a little ambiguous," said Roth, also director of the Mennonite Historical Library and editor of Mennonite Quarterly Review. "The motto points to a profoundly Christian perspective -- that of life as a vocation all done under the glory of God."
New experiences can bring new interpretations to the campus motto, he continued, citing GC's Study-Service Term, challenging courses, service trips and worship experiences in other churches as examples.

Mandy Yoder, pictured at left while on SST in the Dominican Republic, is a student who has experienced Culture for Service in worship teams and on SST.
"For me, Culture for Service as it relates to GC means an education that will make me better equipped to do the work of the church in the world," said Yoder, a junior from Goshen. "It means being educated and nurtured spiritually, socially and intellectually in ways that make me more of an asset to God and to God's work in the community and the world in which I live. I know there are questions as to whether this is even valid in today's society, but I think GC is an amazing example of how valid, active and applicable such a concept still is."
First-year student Ben Hartman of Howe, Ind., a 1997 President's Leadership Award winner, is one who is not at GC simply to pursue a degree, but to learn something about his own beliefs and abilities. "I came to GC to educate myself about the realities around me and discover effective ways to fight injustice. I'm not here to waste time (just) pursuing 'credits' or 'good grades' -- that's not what liberal arts is about. (Here), it's also about service."
Junior Greg Wendling of St. Louis, Mo., said, "The motto isn't a contradiction, but it does call for a commitment." A commitment, he continued, that means "thinking about the person I want to be, beyond what profession I choose. There are a lot of different challenges here. And GC recognizes people have different strengths, and allows everyone to search for their gifts."
Keith Graber Miller, associate professor of Bible, religion and philosophy, agrees that culture goes beyond the classroom, "We don't have a motto that says, 'A B.A. or B.S. for Service' -- 'culture' encompasses more than this."
Many students look to find that "culture" -- including a bachelor of arts or science degree -- at a college where service is incorporated into the campus ethos. Prospective students eligible for the President's Leadership Award, for example, are asked to write about what Culture for Service means to them. Many respond with essays that use personal experiences, expectations for their education at GC, Scripture and observations about how Culture for Service might be used to best serve others. They often describe their own service background.
A call to serve
Students across the country are catching this spirit. According to a fall 1996 survey by the Graduate School of Education & Information Studies at the University of California, Los Angeles, freshmen entering U.S. colleges and universities are increasingly service-minded. The survey of more than 250,000 freshmen shows record numbers of students doing volunteer work and record numbers spending at least an hour a week doing service.
When they arrive at GC, all students are encouraged to engage in both the theoretical exploration of service and hands-on projects and programs. According to Lois Miller, GC community voluntary service staff director, around 400 students have given their time, energy and resources to a variety of volunteer programs in each of the past two years. This includes 65 students who respond to local service agencies that come to campus each fall to engage students; more than 150 who donate blood; around 45 individuals belonging to small groups or residence hall floors who choose a service project; and around 25 who participate in volunteer service trips. In 1996-97, students went to Florida, Kentucky and Georgia; so far in 1997-98, they have traveled to Arkansas and the Navajo Reservation in Arizona.
"Service is an important part of being at GC," said senior Karla Hernandez of Tegucigalpa, Honduras, pictured on the Service learning page, GC's student community voluntary service director who volunteers locally and arranges out-of-state projects. "Whether it is here in the community, or in another state, service means a lot to students."
Service isn't a "when I have time" affair for a large percentage of GCers. Miller said many begin working with a community program as first-year students and continue their efforts through graduation.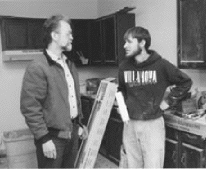 Hartman is one such student. Pictured at left with Jerry Lapp '68, Hartman said, "Without the time I spend at LaCasa of Goshen (a social service agency) and with the Big Brothers/Big Sisters program, my schedule would be incomplete." "(The college) not only permits students to work volunteerism into their schedules, but encourages it -- and the more GC does this, the better."
Roth said the "service" aspect of Culture for Service is best when it is not narrowly defined.
"Part of the challenge for the college is to keep finding ways to make sure service is an obvious, natural, inevitable expression of what we're all about," Roth said. "I hear well-intentioned adults asking students, 'What are you going to do?' when perhaps they should be asking, 'Who are you going to serve?' Service doesn't need to be defined as a specific discipline or activity."
Since 1968, students have often learned how broadly service can be defined during SST when they spend half the semester in a "service assignment." During that time, students have spent roughly 170,000 hours at varying types of service during this portion of their experience abroad. Graber Miller, who led SST groups in the Dominican Republic last year, reminded students that service "includes 'being' and 'understanding' and 'accompanying' as well as 'doing.' "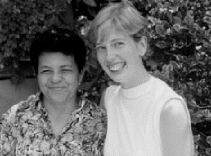 Rachel Eash, a senior from Wichita, Kan., pictured at left with SST "mom", recalls that it was during her SST experience in the Dominican Republic when she began to think about the meaning of Culture for Service.
At first, Eash said, she approached the second half of her semester as a time to 'serve' the Dominicans in a small mountain village clinic. But she quickly learned that her definition of service had to be modified.
"I was not in a position of power: I barely knew the language, had to ask for help almost constantly and didn't know how to help in a clinic that didn't even have access to cotton balls. So, I discovered that 'service' could also mean that I allowed myself to be served," reflected Eash. "I learned to graciously accept the help that others gave me, which gave both the giver and the recipient feelings of service. When I returned to the U.S. and continued my campus life in northern Indiana, I realized that Culture for Service was exactly what I'd experienced. 'Culture' became the catalyst for reinterpreting and defining my ideas of service."
It was during his SST in China that Jeff Bontrager, a junior from Lakewood, Colo., realized that Culture for Service is important in the "global village" age. "Broadening our world views," he said, is part of what Culture for Service means to him.
Other students experience this broadening simply by coming to the U.S. to study.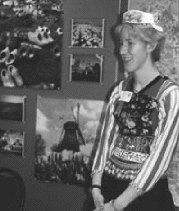 Annemee Siersma, a senior from Amsterdam, Netherlands, pictured at right during the Ethnic Festival, is one of 74 international students on campus. She said when she first heard about the GC motto, she reflected on the "culture" aspect. As a Dutch Mennonite studying in America, she was constantly learning -- not just academic lessons, but social and cross-cultural lessons as well. She wondered which she would "serve."
"I'm glad for my experience here at GC. I have seen that cultures are different, and one is not better than the other. I learned that there are different ways of seeing things. I learned the values which are part of the Mennonite, Dutch and American cultures," said Siersma. "I hope that it has extended my horizons. I hope that I will be able to listen, understand and help people better. I hope that my experience here will keep enlightening my life, and the lives of others I meet on my way. Is this what the founders of GC meant?"
Through students like Siersma, Yoder and others, Roth's example of the metronome, ticking away as a steady influence during a student's time at GC, is apparent. "My education here, including classroom study and significant SST learnings, is something that is going to influence all of my future choices in every realm of my life -- all of them," Yoder said.