... Lift up your voice and with us sing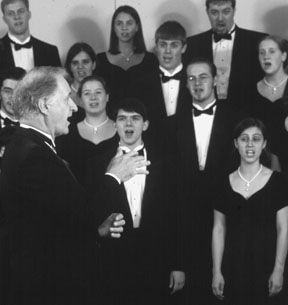 Chapel service hymn sings are a blending of harmony and chaos. Before the final chord of one song completely dies, another chorus begins - this one decidedly unhar- monious - as participants shout out the number of their favorite song.
This time "64" wins out, and the student songleader asks the crowd to turn to "Asithi: Amen," number 64 in Hymnal: A Worship Book. Soon to follow will be many others - "All things bright and beautiful" to "Come, thou fount of ev'ry blessing." With piano accompaniment or without, from memory or reading note by note, the crowd of several hundred students, staff and current and former faculty members sings its parts without reservation.
Music is essential to GC's timeless - though continuously evolving - sense of unity and collective spirit. For some, it is part of religious memory; for others, a new tradition. Music brings us together in worship, allows us to explore a range of skills and emotions, reminds us of our heritage, gives voice to our praise and concerns and allows us to "make a joyful noise."
One of the most joyous moments in his 25-year history in music at GC happened to Professor of Music Doyle Preheim on Palm Sunday as he watched the faces of 41 Chamber Choir members preparing to debut in front of 1,000 guests at Carnegie Hall: of all the music that weekend, the choir's solo concert was the most moving to him.
"Seeing the kids walk out on stage at Carnegie Hall and watching their faces as we started the first number was immensely satisfying," said Preheim. "Their eyes widened as they realized, 'This place sounds wonderful.' And it inspired them to give their best concert of the year."
Nearly 200 alumni, parents and friends attended that concert. The applause for the choir - especially after they sang "Praise God From Whom All Blessings Flow," better known as "606" in the Mennonite Hymnal - was "thunderous" according to President Shirley H. Showalter.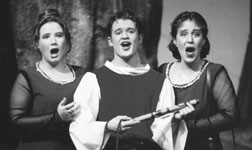 Senior alto Anne Horst said the concert was an emotional one, in part because of an unexpected sense of community in the world-famous performance hall. "When we left the stage, there were lots of hugs; we felt a lot of support from the audience, especially from the GC people who were there - that added something more."
Music is so much a part of GC life and interest that 50 people boarded a bus in Indiana and Ohio to make the New York trip; many others made special trips as well, hinting at the cultural and spiritual nature of music and GC.
About a month later, "606" would again provide a moment for exploring GC's deep and dynamic connection to music when nearly 1,400 campus and community members gathered to hear the mesmerizing female a cappella group Sweet Honey in the Rock perform in the Union.
During the first half, the performers said they felt the energy of and appreciation from audience members through vigorous and sustained applause. Then, after intermission, came an offering in kind: Professor Emerita of Music Mary K. Oyer was cheered to the stage, and then lifted her arms to indicate that the audience should stand to sing. What was unsurprising to the audience - that "606" would be performed powerfully, with all the parts in perfect harmony - was unexpected by Sweet Honey. Said Bernice Johnson Reagon, the group's esteemed founder, "I learned to sing in church, and I want to say how utterly moving it was to hear this a capella tradition. I'm so grateful you made this offering to us."
Here in this place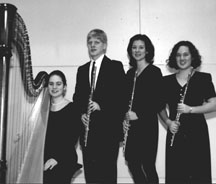 The word "community" is often used to describe small campuses or church institutions where familiarity is valued; but here, that music supports and enhances corporate life - creates community - cannot be understated. Where would Goshen College, "ever singing," be without music?
Chair of the music department and a faculty member since 1972, Preheim has had more than 25 years to observe the role of music at the college. "At GC we often speak of community, and one of the ways we experience community most deeply is in our singing together, whether it be singing in a choir or hymn singing in chapel," he said.
"Community is also experienced in playing in the orchestra or in a wind ensemble," Preheim continued. "As long as we view ourselves as a community, music will always be an important expression of that 'togetherness.' By its nature, music requires us to 'harmonize' as fellow human beings."
Music students and faculty regularly incorporate their study and their spiritual life as a means of worship, either on a very personal level or in group settings through their participation in chapel, All-Campus Worship and the Evening Song & Prayer, the TaizŽ-style worship service.
Over the past year and a half, attendance at chapel hymn sings has swelled; students, music department personnel, retired music professors and campus guests have led 500 to 700 campus members in rousing ren-ditions of their favorite church songs.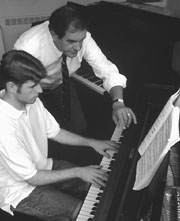 Last year, two students initiated a hymn sing with a twist: in shifts, a group would sing through the entire hymnal. In 36 hours over four days, they sang every song in Hymnal: A Worship Book. The spirit continued during the fall of this school year when a Kulp Hall balcony was the site of weekly sing-alongs, weather permitting.
Each year, 200 students - music and nonmusic majors alike, making up about one-fifth of the student body - participate in music-related activities; music classes and applied music opportunities have expanded with participation from nonmusic majors, and students have added music minors to every major from business to art to Bible and religion.
"It is important that the department serves the wider campus by providing opportunities for all students to improve their skills through private lessons and to participate in campus ensembles," said Preheim. "We are extremely pleased at the number of nonmusic students who elect to be involved in the various classes and applied music opportunities we offer."
A new instrumental group was also initiated last fall by the music department; Michael Harley, assistant professor of music, directs the campus' Wind Ensemble. Like the GC Orchestra, both music majors and minors as well as instrumentalists across many disciplines joined the group.
"In the history of the Mennonite Church, instrumental music has played a smaller role than vocal music," said Harley, who hopes to add to the solid reputation of instrumental music on campus by offering this genre of music. Himself a 1994 GC graduate who played in numerous ensembles, Harley was pleased with the size of the group in its first year, having recruited "closet" wind players to fill out the group.
Throughout the history of the college, music has also provided a vehicle for bridging GC to the broader Mennonite Church. Vocal ensembles have often been the most visible student representatives of Goshen College, from the Rambler Quartet of the second decade of the century to the a capella groups Red Earth and Random Silence that toured churches throughout the country five years ago.
In the latter half the 1970s and throughout the '80s, the GC Jazz Band also drew large crowds on campus and traveled for performances in churches and schools, where they were well received.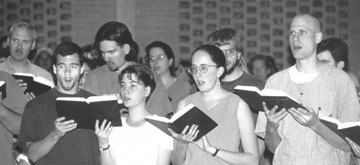 Music is a friendly aspect of the college's relationship with the surrounding community. Between 60 and 70 public performances are held each year, including orchestra, jazz, wind and chamber ensembles, choir concerts and instrumental and vocal recitals.
In November, more than 800 campus and community members heard the orchestra with Professor of Music Marvin Blickenstaff perform Beethoven's "Concert No. 5" or "Eroica," as part of the 1998-99 Performing Arts Series. A popular campus program that drew 400 season ticket holders this year, the Performing Arts Series is a revival of the spirit of the Lecture-Music Series GC sponsored under various names for nearly 80 years, a series that brought musicians such as Marion Anderson, the Mitchell Trio, Doc Watson, the Vienna Boys Choir, the Trapp Family Singers, the Robert Shaw Chorale and many other headliners to campus.
The piano and strings preparatory programs of the music department have also been an important link to the local community. Currently, 85 precollege students are part of the piano preparatory program, and 70 precollege students are enrolled in the strings preparatory program. Twelve GC students currently give piano lessons in the program and four are involved in the strings program, providing practical experience and preparation for studying pedagogy in graduate school or for private teaching after graduation.
How firm a foundation
This year, 70 students are enrolled in a music-related degree program. Music majors may specify an empha-sis in music education, performance, music history/theory or piano pedagogy as their chosen area of concentration.
Said Harley, "There's a tremen-dous amount of excitement in the music department now; we have the largest enrollment in years." A strong combination of specialized teaching faculty are "bringing fresh energy and ideas both to the department and campus."
"The music department is very much aware of the fact that we function at various levels," said Preheim. "As a department, we believe one of our first obligations is to help music majors and minors develop the skills necessary to become good teachers of music or good performers, preparing them for the workplace or for graduate school."
For many GC graduates, the workplace has included churches and church schools, but other alumni have also been musical leaders in the church. GC music faculty and students make contributions to congregational life through writing songs and editing hymnals. Music graduates also contribute to their geographical communities and broader society as elementary and secondary school teachers, college and university professors, professional performers, conductors of professional and amateur choirs and orchestras, church choir directors and song leaders.
— Rachel Lapp
Lift up your voice and with us sing - Rachel Lapp
Profiles:
... excellence in performance - John D. Yoder
... excellence in pedagogy - John D. Yoder
... excellence in scholarship - John D. Yoder
... a human manifestation of the divine creative impulse - John D. Yoder
... a means of corporate religious experience - John D. Yoder
... a window into the individual soul - Rachel Lapp
... a bridge between human beings - Lyle Miller
Facilities would address most pressing need - Lyle Miller
... excellence in performance ...
Nicole Frances Lerch '81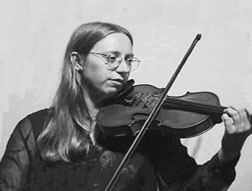 Like many musicians, Nicole Frances Lerch combines performance with teaching. Unlike most musicians, her performance is in a leadership position with a national symphony.
Since 1985 she has played with the Brazilian Symphony Orchestra and is currently assistant principal of the second violins and adjunct professor of violin at the Federal University of Rio de Janeiro. "In the second violin section there are two principals and two assistants," she said. "We trade off so as not to always be in the hot seat."
In her role, Lerch is often called upon to serve as a substitute principal when a principal has a conflicting performance. That teamwork is emblematic of the entire orchestra, she said. "I am part of the second violin section, which has its own particular function in the string group, which in turn has its function as part of the orchestra as a whole."
She met her husband, José, while studying for her master's degree in violin at Boston University, got married and decided to live in Brazil. "When I first came to Brazil I spoke very little Portuguese, but after one month I started playing in the Brazilian Symphony Orchestra," she said. She played with the symphony for a year and a half before tendonitis forced her to quit. After recovering, she played in the Municipal Theater Orchestra for a time, left Brazil and then returned. She reauditioned and joined the Brazilian Symphony in 1994.
While her tendonitis healed, Lerch studied Portuguese and read about Shinichi Suzuki, the Japanese violin teacher. "I love his philosophy about teaching and about life."
She also started to teach violin to children. After two years she had 45 private students, mostly children, of all nationalities: Japanese, American, English and Brazilian. "Music really is an international language that can cross cultural boundaries," she said.
How does she know if she's performed well? "I know I have given an excellent performance when I was so well prepared technically and musically that I was able to let myself go and enjoy it and share it with my audience," she said. "The technical and musical part has to be studied and prepared beforehand so it can be automatic, otherwise the letting go can't happen."
The butterflies that come with anticipating a concert are normal - even helpful. "If I am a little nervous it is the best," she said, "because I can convert it to a positive force to jump to a level where my concentration is better and I am more alive."
Before a performance, she uses relaxation exercises to improve her concentration, but a mistake-free concert is not necessarily an excellent performance, she said. "An excellent performance has to have life, a spark, you could say something divine." The result is a feeling that "has something to do with love and beauty, some-thing that gives meaning to life, that makes life worth living and music worth playing. Maybe it is God letting me know He's there."
— John D. Yoder
..... excellence in pedagogy ...
Monica Hochstedler '93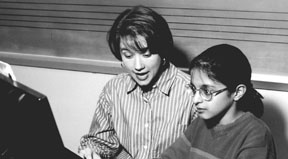 Monica Hochstedler is quick to point out that what she learned about teaching piano at GC is the basis for her present pedagogy. But her development didn't stop when she walked across the commencement stage. Rather, from that foundation, her thinking about teaching has continued to evolve.
"I have come to realize more and more that pedagogy is learning the art of teaching," she said. "There is much more to teaching music and piano than delivery and interaction with a student, though these elements are important. Diagnosing learning styles, brainstorming, creating, evaluating both yourself and the student, critiquing gracefully, listening objectively and empowering the student are but a few elements necessary to be a good teacher."
Hochstedler juggles teaching and administration as associate director of the Piano Preparatory Department at Southern Methodist University in Dallas, where she also lectures in piano pedagogy. She teaches pre-college group piano classes and private lessons, mentors and supervises pedagogy graduate students in their teaching internship in the preparatory department and teaches undergraduate class piano to nonkeyboard music majors. Next year she will assume the director- ship of the SMU program.
The most recent stimulus to her teaching was a Dalcroze Workshop at SMU last summer. "Dalcroze is a method of teaching music through eurhythmics (movement), solfége (using do, re, mi, etc.) and improv-isation," she explained.
After graduating from GC, Hochstedler taught music in grades K-3 in Elkhart, Ind. In 1984 she was interim director of GC's Piano Preparatory Department. From 1995 to 1997, she taught piano at the New School for Music Study, Princeton, N.J., as part of her graduate school assistantship. She was assistant music director at Montgomery United Methodist Church in Belle Meade, N.J., in 1996-97 and received her master's degree in piano perform-ance and piano pedagogy from Westminster Choir College of Rider University in 1997.
Each of these building blocks helped shape her teaching style, said Hochstedler. "I now spend more time and energy preparing concepts and new elements in music before introducing them, especially in rhythm," she said. "Movement activities are especially important. Embodying sound and rhythm allows students to internalize musical elements before reading them. Through careful preparation, the introduction of notation and musical symbols becomes linked with a sound and bodily feel."
— John D. Yoder
... excellence in scholarship ...
David Breckbill '79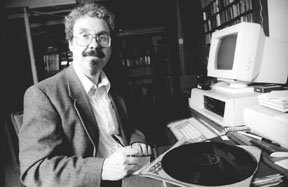 Sometimes scholarship can seem far removed from the practical world, or even the college classroom. That's not the case in the work of David Breckbill, visiting assistant professor at Doane College in Crete, Neb.
Earlier this year Breckbill brought his scholarship, teaching and faith experience together in a class called Sacred Texts, Changing Times. The course examined the Bible, the U.S. Constitution and Beethoven's 9th Symphony "for underlying hermeneutical principles that people apply or invoke in using sacred texts to determine their beliefs and actions," he said.
The impetus for the class was his long-standing interest in the way in which performances of what are presumably fixed musical texts vary widely in different contexts. "It suddenly struck me that what I've learned about interpretive ap-proaches, historical settings, and the fact that the text can only say so much transfers significantly to other contexts, particularly Christian ones, in which the Bible is venerated but involuntarily and inevitably manipu-lated by everyone who uses it."
Breckbill's scholarship focuses on studying recordings to understand performance styles of the past. He has written chapters in Wagner in Performance, The Wagner Compendium, and a forthcoming Cambridge Opera Handbook on Wagner's The Flying Dutchman, and reviews recordings monthly for BBC Music Magazine and weekly for the Lincoln Journal Star newspaper. Breckbill's work has appeared in numerous scholarly journals, and he has presented papers at conferences of several national and international scholarly societies, including the American Musicological Society (AMS), the Association for Recorded Sound Collections (ARSC) and the 1997 London meeting of the International Musicological Society.
Breckbill received an M.A. in musicology from The University of Iowa in 1983 and a Ph.D. in music history and literature from the University of California-Berkeley in 1991. In the summer of 1993, he was chosen to be a participant in a National Endowment for the Humanities Summer Seminar for College Teachers at Columbia University in New York on the topic "Time and Music." He taught a class for the Nebraska Public Radio Network in the fall of 1997 and was Honorary Research Fellow in the music department at the University of Wales at Bangor in the first half of 1998.
— John D. Yoder
... a human manifestation of the divine creative impulse ...
Brent Weaver '79
For Brent Weaver, composing has always fulfilled a need to communi-cate his experience, emotions and faith with other people. "So many of my compositions are about faith," he said. "I try to share the reasons for that faith."
He traces his satisfaction with composing to faith as well. "One of the main ways that we are created in the image of God is in our ability to create," he said.
When not composing, Weaver serves as a music theorist, voice and composition teacher and technology guru at Clayton College and State University, Morrow, Ga. An associate professor of music and director of composition and theory, he is in charge of the theory program and teaches upper-level courses such as counterpoint and orchestration. In the studio, he teaches 12 composition majors and several voice students. For variety, he teaches music technology and serves as webmaster and technology mentor for other faculty. Last year he developed a Web-based music appreciation course for all students that has become a statewide model for distance learning.
And in the midst of teaching, Weaver also carves out time to compose. To date he has done seven large works, 13 chamber and keyboard works, 10 choral works, nine works for solo voice and seven arrangements. His most recent compositions are Singing at the Fire for solo organ (recently released by Faith & Life Press); Snapshots for piano and woodwind quintet, commissioned by Michiko Otaki (receiving its New York premiere this April and broadcast over WQXR, New York City's main classical station); Between Mother and Son for pianist Jeannine Morrison and organist Alan Morrison; and Songs Without Words, a cycle of four wordless pieces for soprano and piano.
Other commissioned works include Witness: A Symphony for the 1994 GC centennial and Teach Me Thy Truth (1997), a festive anthem based on the hymn by Edith Witmer and Walter Yoder for the inauguration of Shirley H. Showalter as president of GC.
After graduating from GC in 1979, Weaver worked as a writer in GC's information services office for two years before graduate school at the University of Oregon. There he received his master's degree in composition in 1984 and his doctorate in composition and vocal perform-ance in 1991. He was an instructor at Lane Community College, Eugene, Ore., from 1986 to 1987 before joining the faculty at Clayton College and State University in 1987.
He performed with Helmut Rilling's Oregon Bach Festival chorus from 1982 to 1994 and with Rilling's Gūchinger Kantorei at its Lincoln Center American premiere performance of Messa per Rossini by Verdi et al. in 1989.
— John D. Yoder
... a means of corporate religious experience
Debra Detwiler Brubaker '79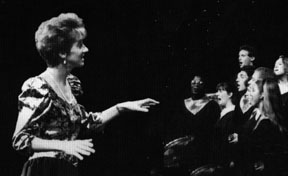 Debra Brubaker is both passionate and thoughtful when she talks about music in worship. "I believe with all my heart that there is a Spirit within music that uses our energy of musical creation to create an even larger space of sound and sense within which all of our spirits can dance together as we journey toward a closer realization of God."
It's not your everyday statement of what makes music in worship important.
This spring, Brubaker completed course work for a doctoral degree at the University of Kansas and has accepted a position as associate professor of music at GC beginning this fall. While her primary duties will be voice instruction, she will also direct the Chorale, assist in directing operas and musicals, teach a vocal pedagogy course and occasionally teach church music and conducting.
Church music and conducting are a natural for Brubaker. "I believe that choral performance is one of the strongest proclaimers of our faith - one of the places where we can meet God and discern God's face."
Since graduating from GC in 1979, Brubaker has taught in public schools in both Indiana and Colorado. She completed a master's degree in choral conducting and vocal performance from the University of Northern Colorado in Greeley in 1985. From 1987 to 1997, she was assistant professor of music at Bluffton (Ohio) College. Along the way she has been a guest vocalist and clinician in many church and worship settings.
How does music enhance the corporate worship experience? "The important thing about music is that its very existence requires a response from the listener," she said. "Somewhere, somehow, deep in our souls, there is a 'something' that music touches. It is inherent in our makeup, in our creation."
The hymn singing of Mennonites, Brubaker said, "lifts us beyond our everyday laments and pettiness to a ground that is full of beauty and energy, comfort and hope. Above all, hope, because music's beauty reminds us of a better place. And fortunately, every time we make music in worship, that place is accessible to us all."
Seeking that accessibility has made teaching at Bluffton and now GC a logical choice. She values teaching at a Christian college because of the "incredible quality of a Christian learning environment, where the core content of disciplines is taught unashamedly within a value system of beliefs by faculty who care first and foremost about their students' education. There is quality and caring and challenge in such a place, and I choose to be a part of that."
— John D. Yoder
... a window into the individual soul ...
Philip Clemens '63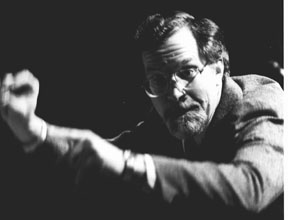 Philip Clemens' interests in music and church service are part of bridging a gap, providing opportunities to speak to the individual soul.
During the early 1980s, Tilman Smith, president emeritus of Hesston (Kan.) College, approached Clemens, then a music department faculty member and director of GC's jazz band. Smith didn't connect with the style of music, he said, but came to concerts to enjoy the student per-formers' enthusiasm. Curious, but not critical, Smith asked, "How do you play Bach on the organ and direct the jazz band?"
The answer is in Clemens' philosophy of music. "It's like having a child. When you have that child you love it with all your heart," he said. "When your second child comes along, you love that child just as much while, at the same time, your love for the first child is not diminished - in fact, it is enhanced: your love takes on another dimension."
So went his own journey. A feeling early in life that studying both music and ministry was "God's call" to him was underscored by two events at GC. The first was at a conference on music and worship in 1962. "It was obvious that the theologians and musicians didn't understand each other," Clemens said. "I grew determined to study both and bridge the gap." Soon after, he recalls, a guest lecturer with degrees in physics and theology told a GC audience: " 'If you're going to bridge two communities, you've got to have a foot firmly planted in each one.' "
He went on to earn a master's degree in theology from Goshen Biblical Seminary and a master's in sacred music with an emphasis in organ playing at Union Theological Seminary.
He joined GC's music department in 1971, the year the organ was installed in the Church-Chapel. Soon after, Clemens began praying about an important church and societal issue: race relations; he again felt the need to bridge communities. When Clemens was asked to create one of the first-year student colloquium courses, he developed the Black Music in America class. During a student discussion, Clemens was asked why the college didn't sponsor a jazz band.
Two years later, it did. "The jazz band was started out of an intention to bridge races, cultures, ethnic backgrounds - it wasn't started just to have a jazz band," said Clemens, who also finished doctoral work in church music at Northwestern University around that time. "I felt that was part of my Christian responsibility."
During its zenith, 1,200 people would crowd into the Union to hear the jazz band perform. Clemens directed the group for 10 years, then decided to take a position as half-time pastor of worship and music at College Mennonite Church. "Someone said to me, 'I'm so glad you're coming to CMC, but does this mean you won't be directing the jazz band anymore?' I felt privileged to be asked that. There had been questions on campus as to whether the college should even have a jazz band, but it really found a following here."
Clemens later took on full-time duties at CMC and then in 1995, took a position as minister of Beaverdam Mennonite Church, Corry, Pa. He said, "Just as I have been a teacher, so here can I continue to be an encourager of music and the arts as a way to bridge the connection between individuals and Christ - a window to the soul."
— Rachel Lapp
... a bridge between human beings ...
Bill Crofut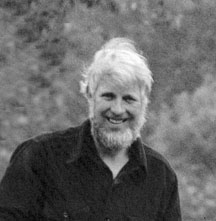 "God gave man the gift of singing; it's one of his joys. It's a gift from heaven, what a glorious sound. Sing it from the mountaintops and out to the sea. Music makes the world go round." — Dave Brubeck and Bill Crofut
Goshen College was more than just another stop with the tour bus for Bill Crofut, a folksinger who performed in every state and more than 50 countries before his death Jan. 25, 1999. After all, it's not just any site that has a song written especially for the venue.
"Knowing in advance about the great singers at Goshen, we wrote our first collaboration, 'The Music Makes the World Go Round' as the ultimate 'sing-along' challenge. They rose to the occasion and were not shy about singing whenever asked," says the liner notes to Red, White & Blues, an album Crofut recorded at GC with Chris Brubeck, Joel Brown and Peter "Madcat" Ruth.
By that time in 1991, Crofut was already a veteran on the GC scene, having performed on campus about a dozen times, several times as part of recording projects. "You ask them to sing and you get unexpected, bizarre, wonderful four-part harmony," Crofut said in an interview with the Associated Press. "'Twinkle, Twinkle Little Star' sounds like a Bach chorale."
But for the son of jazz great Dave Brubeck, the singing GC Red, White and Blues audience was a new experience. "When we were preparing for this album," Chris said recently, "Bill kept saying, 'you won't believe this place.' Even today I'll play the tapes and people will say, 'who's the choir?' I'll say, 'It's not a choir.'"
"Goshen was a special place in Bill's heart. I think it was like he felt there were a bunch of clones of him there."
Crofut shared similar thoughts in a letter to Rich Gerig, then director of alumni relations and executive secretary for the college's artists series and now vice president for enrollment. Following the recording of what was to become The Goshen Concert album in 1981, Crofut wrote, "I have been carrying around a key in my pocket inscribed 'Goshen College,' mistakenly carried away following our visit there. It is somehow symbolic, that key, to a lingering feeling on my part that all of you are in fact pulling something off in today's world that I find incredibly wonderful. É No matter what it is, I have always felt on my visits there a presence of a spirit missing in my normal existence.
"I cannot imagine a nicer way to be introduced to a tradition and a spirit in a community," he continued, "than by walking in, as a total stranger hired to play a concert and somewhere along the way saying to the audience something like, 'why don't you join me,' and suddenly having this wondrous sound coming back at you. It is a gift from an audience to a performer. I cannot thank you enough - all of you, and you can be sure that I shall be back and back again for a shot of your vitality."
Most special of all the songs on the 1981 album, he wrote on the liner notes, was the singing of "Amazing Grace" and the hymn, "Old Hundredth," the second verse of which is known as "The Doxology."
"'The Doxology' was in 20 years of performing in over 50 countries the most moving thing that has ever happened to me," Crofut wrote. "You all take it for granted - that sound - but it is something unusual, hard to pin down. I shall never forget it."
That song also concluded Crofut's February memorial service in Sandisfield, Mass., a service which opened with the audience singing "The Garden Song," the song which also opens The Goshen Concert album.
"For Bill, music was another language when we didn't have a common spoken one," said Brubeck. "He was an upshining optimist who had the courage to tackle anything. He wasn't afraid of taking risks (with that language), and his risk-taking drug me into places I wouldn't have been otherwise, and I appreciate that."
— Lyle Miller
Facility would address 'most pressing need'
Music was among the original disciplines taught at GC's forerunner, the Elkhart Institute of Science, Industry and the Arts. GC music faculty such as Walter Yoder, J.D. Brunk and Mary Oyer have always been musical leaders in the Mennonite Church, and many hymns in Hymnal: A Worship Book, the hymnal used by several denomin-ations, are composed by GC music faculty and graduates. Throughout its history, including up to the present day, GC choirs and worship teams have regularly led services in congre-gations throughout the country.

But despite this coming together of singing, the GC music department and the broader church, the college has never had spaces designed specifically for music and dedicated to musical use.
Music department activities are currently scattered across campus, with teaching, practicing or performing happening in more than half of the campus' academic buildings, none designed with music as its primary purpose. Most perfor-mances are scheduled in three different areas, none of which provides acoustics to adequately match the quality of the performances. Ensemble practices and string and piano preparatory program lessons offered to community school-age children occur in still different facilities in spaces shared by other academic and student life departments.
While the quality of the music department's faculty and curriculum continues to attract talented and motivated students - music and non-music majors alike - these students have greater expectations in regard to teaching, practice and performance facilities than in the past. Many had access to better practice and performance facilities in their high school, and significant growth in music enrollment has led to a severe shortage of teaching and rehearsal space, said Doyle Preheim, professor of music and chair of the department.
As a result of these and other factors, the college defined a new music facility as its most pressing building need in a thorough campus planning process that began in 1994 and was approved by the faculty and Board of Overseers in 1995. During the past year, a campus committee headed by Provost and Executive Vice President John D. Yordy, has begun the planning process for such a facility.
Meeting weekly throughout the 1998-99 school year, an on-campus building committee began with questions about current and future programming for the music depart-ment, preparatory music school and community. After programming analysis, two architectural firms, Schmidt and Mathes, developed schematic drawings of a facility in accompaniment with The Talaske Group, an acoustics consulting firm with experience in music education facilities at Oberlin (Ohio) College and the College of Wooster (Ohio).
"The music department is very excited," said department chair and Professor of Music Doyle Preheim. "Our students have deserved much better than what we've had.
"A new building will provide the music department a centralized location to house all teaching, practicing and performing spaces," said Preheim. "These spaces will be designed for sound isolation and for proper acoustics. Also, the number of practice rooms and teaching spaces will be adequate to accommodate continued growth in the number of music students in future years."
Included in schematic drawings for a new facility are a large concert hall with seating for approximately 900, a smaller recital hall with seating for 200, instrumental and choral rehearsal halls, teaching spaces, faculty offices and studios and individual practice rooms. One wing of the facility would provide a home to an expanded preparatory music program currently limited, in part by space, to focusing on selected instruments. The facility would also offer opportunities for exhibits of visual arts.
"In particular, the concert and recital halls will benefit the campus and the broader Goshen community by providing an aesthetically and acoustically pleasing venue for public concerts," said Preheim. These halls will be available to high school ensembles, community choirs and orchestras as well as GC music department ensembles.
"The building is clearly designed to address GC's current and future needs and, hopefully, will address community needs as well," Preheim said. "Visiting artists will enjoy presenting concerts to our community in these newly created performance venues."
"Part of that enjoyment will come as the result of the attention given to sound quality," said Preheim. "The most critical feature is the acoustical quality of this building. When the space in which you work diminishes the level of talent you have, it is very discouraging."
Thus, perhaps as important as what is heard is what isn't. The facility, to be located on the northeast corner of campus, would not force musicians to fight the noise of passing trains and ambulances using State Road 15 to and from nearby Goshen General Hospital.
In contrast, said Preheim, good acoustics "encourage the performers because the sounds bloom rather than die."
— Lyle Miller