"In Excelsis Deo" Pursuing academic excellence
Many good schools, colleges and universities make claims about excellence – academic, professional, artistic, athletic. GC is no different in this respect. We are proud of our record, and are committed to the high standards of academic achievement which have come to be associated with the college. But as with all truths, this one, too, needs to be examined and not simply accepted at face value, even by those of us working for and dedicated to the institution.
What does excellence mean? The word itself is of Latin derivation and is based on a word for "high, lofty, eminent." We are all familiar with its cognate in the beloved line taken from the "Gloria" of the mass and adapted in the French carol which adorns our hymnbooks, gloria in excelsis Deo - "glory to God in the highest."
The word "excellence" suggests a point of comparison, a standard of measure against which one might be seen to have done more than was expected, or more than minimally required. But high, or lofty, or eminent, "in relation to what?" we might ask.
The measure of excellence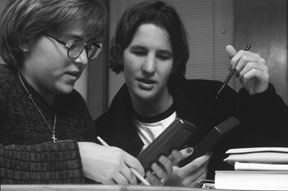 As a member of the fraternity of academic institutions of higher education, with our faculty trained in the great graduate institutions, we measure ourselves by the standards shared by all others in our guild.
Furthermore, the college and some of its programs in particular are subject to accreditation and certification, standards we have been happy to meet and exceed. You may remember reading in Al Keim's biography of Harold S. Bender about the joy that erupted on campus when GC first received its accreditation from the North Central Association in March of 1941: "A student parade through downtown Goshen ended on campus with a huge celebratory bonfire" (page 242).
Our faculty also see themselves, in part, as representatives of the particular disciplines in which they received their academic training. Part of the socialization into the academic guild is the internalization of standards of rigor and excellence used as points of reference for our own work as teachers, and how we evaluate the learning of our students.
A further way in which "external" standards of measure are brought to bear on our work is our church-relatedness. The Gideon Project, a recent Mennonite Board of Education study of perceptions of Mennonite colleges in the church, informed us that much of our constituency affirms our excellent academic preparation. At the same time some questions were raised about the spiritual atmosphere of our campus. These concerns have been addressed in ways which suggest that this particular standard of measure is an important part of the way we assess our effectiveness or excellence. Viewed in these terms, our faculty are excellent and our students are excellent.
But at GC, there are additional internal standards of excellence we apply to ourselves to satisfy ourselves that we maintain high standards. Classroom learning is linked to student life in a wholistic manner. We periodically assess our general education curriculum and the quality of our other course offerings. Faculty are evaluated and faculty development initiatives are intended to continually improve teaching and learning.
A quest for truth
But quality is not just teaching facts. Excellence in teaching has come to be measured in the quality of learning. Excellence is measured differently here in some respects than it is at other schools, both state and private: Our Study-Service Term program, celebrating its 30th anniversary this year, put service into learning long before it was fashionable. Internships and practical experiences in pre-professional or service assignments undergird and enrich the learning process. The advising process is intended to help students discern their own gifts, talents, and intelligences.
Our revised general education curriculum also attempts to put our vision of excellence into practice. At the core is the international education experience. Whether this means studying abroad as almost 80 percent of our students do, or engaging in language study and significant cross-cultural experiences closer to home, our students are encouraged to see the world from the perspective of the other, to come to fully appreciate one's own beliefs and commitments while at the same time developing skills to engage others in conversation.
The general education curriculum is not an end in itself, but is an instrument, or strategy, or method whereby the salient features of the liberal arts philosophy of higher education are made available to our students. At the heart of this philosophy is an idea, an aggressive assertion, an a priori commitment, that only an educated individual, i.e., one aware of self and of the other, one capable of independent discernment, analysis and judgment, one open to testing and being tested by the Unknown, one gripped by an insatiable quest for truth, can be truly free.
A solid foundation: liberal arts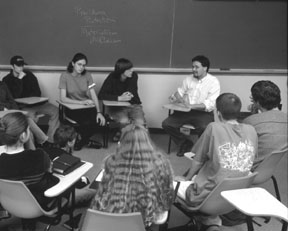 It is our belief, expressed in the opening sentence of our mission, that education, training, and socialization into the liberal arts tradition is at the very center of all we do at GC. We are "dedicated to the development of informed, articulate, sensitive, responsible Christians." All disciplines, programs, departments, major and minor fields of study, practical experience, activities and initiatives, must be measured against this primary commitment. Whatever falls short of, or detracts us from this fundamental commitment, must be removed, replaced, renewed or transformed.
The liberal arts tradition in a Christian context is characterized by a greater, not lesser commitment to the liberation which proceeds from the pursuit of truth. It accepts fewer, not more, restraints in the quest for knowledge of beauty and virtue. It provides a framework of faith, which liberates the individual from the fears and limitations inherent in the human consciousness of mortality. It models a liberation which affirms acceptance of self, makes commitment to others possible, lifts the principle of loving the neighbor, the other, even one's enemy, to a normative standard of measuring human acts, and celebrates life in all facets of its awesome mystery.
We live as if we will never die; we live as if we can trust others; we live as if there were order and meaning and purpose in the universe, in nature and culture. And somehow that "as if" enhances and enriches our lives, as individuals and communities; allows us to love and be loved, allows us to find hope in the midst of suffering; allows us to shake our fists at the heavens, cry into the tempest; gives us courage to take the consequences and to die with dignity.
Learning together
In an educational community committed to the liberal arts, all learn together. No one ceases to learn, develop and grow. All are encouraged to make forays out of one's comfort zone into the world of another. No one person or group of people has exclusive claims to truth. Knowledge, experience, insight, wisdom, erudition, articulate expression, proficiency, achievement – all these are valued characteristics. The gifts and intelligences of each individual are valued, encouraged, and celebrated.
The pursuit of truth in the Christian liberal arts tradition is a path of peace and must reject any action, which threatens, devalues or destroys human life or degrades our ecological home. It affirms life in all its aspects, accepts mortality as a natural part of life, and believes in a reality stronger than death.
The faculty of a liberal arts institution are full members of a noble profession, but they also have a special calling. They must be equipped to address the challenges and issues of the human condition beyond the narrow confines of their particular tradition and the exclusivity of their specialized training. They need to be concerned with and committed to the total well-being of their students, learning as they teach, sharing their wisdom, listening, mentoring, always ready to be transformed by new insights, reinvigorated by ongoing study, nurtured by the interlocking communities of which they are members. They need the time and resources to think as well as teach, to write and produce as well as lecture, to debate and discuss as well as grade.
We must begin to ask ourselves how to educate our students not in ways which simply correspond to our training, but as part of an educational community which prepares students for the world they will fully encounter when they graduate. This will draw deeply on our professional knowledge and experience, but even more so on our character.
We must cultivate an environment of learning which holds in creative tension the experiential and practical as well as theoretical and abstract. The modeling we do for students will have increased significance in this regard. We are to represent and personify lives devoted to scholarship and to Culture for Service.
Learning for life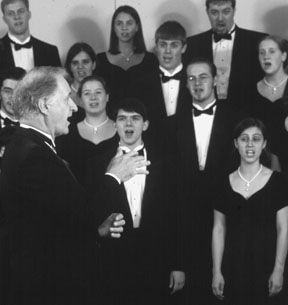 What is the kind of world graduates will enter? It is a multicultural and multilingual world. It can be competitive and depersonalizing. It is a world served by technology, where computer and communication skills are prerequisites for survival rather than enhancements of privilege. It is a world of almost unlimited information in the context of which the ability to make discriminating choices about meaning will separate leaders from followers, those with a voice in the determination of their own destiny from those who have no choices. It is a world which flings the sons and daughters of traditional communities into a mobile labor market as isolated souls. It cares less for the have-nots, allows higher concentrations of wealth in the hands of fewer of its citizens, allows more families to slip beneath the poverty line, is quicker to use military force to solve its problems and uses religion to legitimize its grip on privilege.
What will our students need to meet the challenges - to live and work in the world, to thrive in the world, to compete in the world, to speak to the world, to transform the world, to become citizens of such a world? What follows are some thoughts about how some of the knowledge and skills required to achieve one's goals in such a world of the early 21st century might inform us at GC.
Yes, excellence has both objective and subjective aspects. Ultimately, we must satisfy ourselves that we are fulfilling the mission of GC and doing so to the best of our ability. We aspire to excellence by objective standards established by the academy and the professional standards of our academic disciplines. But we also set our own standards - some of which have analogues in the university and some of which do not. As a church-affiliated institution, dedicated to the vision of Christian higher education, we recognize additional commitments to the building of character and faith as well as knowledge and erudition. But the former may never substitute for the latter. Excellence in our context and in our time means meeting or surpassing the standards of our peers in the university and adding to that the completeness of a learning experience for life. It strives to be an education devoted to those things which affirm life in the fullness of its physical and spiritual and communal aspects, which leads from death to life.
Thus, I believe it's appropriate to paraphrase the familiar refrain from the "Gloria" - we strive for an excellence prescribed by a commitment to faith and insight, an application of our gifts and intelligences, the pursuit of excellence by offering our utmost to God - in excelsis Deo.
By Paul Keim, academic dean and vice president for academic affairs
Profiles in academic excellence:
Survey ranks GC in top sixth in doctoral production Lyle Miller
GC gathers forces for violence transformation Rachel Lapp
"My time at Goshen College provided the impetus for my subsequent engagement as a historian of 16th century Anabaptism. At the same time it also lastingly influenced my understanding of a liberal arts education that seeks to merge the Christian faith and culture." –Hans J. Hillerbrand

Name: Hans J. Hillerbrand
Current position: Professor of Religion and History, Duke University. Co-editor of Church History: Studies in Christianity and Culture, journal of religious history, institution and cultural intersection, published quarterly; the journal recently broadened its focus and will include a wider range of religious research.
Home: Durham, N.C. Married to Bonnie (Yoder) Hillerbrand '55, educator. They have three grown sons and seven grandchildren.
Maple Leaf ties: Studied at GC from 1951-53 as an exchange student from Germany; in 1952 he won the Interstate Oratorical Contest representing GC.
Post-graduate education: Ph.D. in religion and history, University of Erlangen, Germany, dissertation on the political ethics of South German Anabaptists.
Career path: Instructor of History, Goshen College, 1957-59; under the tutelage of John Oyer, was responsible for sections of Western Civilization course, taught one course on Shakespeare. Religion and history department faculty member, Duke University, 1959-70. Provost, City University of New York, 1970-81. Provost, Southern Methodist University, 1981-88. Also served as dean of faculty at Duke University. Visiting professor at Union Theological Seminary, Rice University, University of Munich, University of Muenster. Chair of Duke University religion department from 1988-97.
Most notably: Specialist in the Reformation of the 16th century. Member of several scholarly societies, including the American Society for Church History, Society for the History of Ideas and the American Academy of Religion, Chief Academic Officers. Editorial board member for Journal for Medieval and Renaissance Studies, Church History, Zeischrift f. Religions und Geistesgeschichte and Mennonite Quarterly Review.
"A broad liberal arts background and a strong teacher education program served to give me both breadth and depth in my academic knowledge. Small classes and personal contact with professors provided important demonstrations that the way in which we are taught is as important as what we are taught. I also took away a strong belief in the value of community. GC challenged me to consider new possibilities for my life and work and gave me the confidence to pursue my goals." –Kathy G. Short

Name: Kathy (Gnagey) Short
Current position: Associate Professor of Reading, Language and Culture, University of Arizona (faculty member since 1988).
Home: Tucson, Ariz. Married to Jerry J. Short '73, Merrill Lynch financial consultant
Maple Leaf ties: Class of 1975
Post-graduate education: M.A. in elementary education, Ball State University; Ph.D. in language education, Indiana University, dissertation on "Literacy as a Collaborative Experience."
Career path: Post-doctorate research fellow, Ohio State University; taught graduate course in Children's Literature, directed research on the Ohio Reading Recovery Project and trained as a Reading Recovery teacher leader. Goshen College education department faculty member, 1980-83, 1984-85, 1986-89.
Most notably: Winner, Outstanding Faculty Award in Research, University of Arizona College of Education, 1992 and 1996. Recipient of Outstanding Leadership in Literacy Research award, International Reading Association, 1992. Co-editor of The New Advocate, a national journal of children's literature and its use in schools. Member of, past elementary section chair, National Council of Teachers of English. Author of 10 books, nearly 30 textbook chapters/monographs and more than 60 scholarly articles; professional conference presenter, chair for multiple children's literature conferences.
"The education and cross-cultural experiences I had at Goshen College have been invaluable to me both in my work and personal life. The education I received at GC was superior in many ways; the social work program with the emphasis on service allowed me to experience various types of environments and situations that prepared me for future employment." –Luanne Yoder Southern

Name: Luanne Yoder Southern
Current position: Division Director, Children's Services, Austin Travis County Mental Health Mental Retardation Center.
Home: Austin, Texas; married to Mark Southern, video producer for Texas Parks and Wildlife Department. They have a son, Zachary, 8.
Maple Leaf ties: Class of 1984 Post-graduate education: M.A. in social work, University of Texas at Austin.
Career path: Caseworker I-Medical & Surgical Unit (1984-85), Clinical Social Worker I-Children's Unit (1985-88) and Clinical Social Worker II-Geriatric Unit (1988), Austin State Hospital. Children's Liaison (1988-90), Program Director for Home- and School-Based Services (1990-94) and Associate Director of Children's Services (1994-95), Austin Travis County Mental Health Mental Retardation Center (ATCMHMR). Project Director, Travis County Children's Mental Health Partnership, 1994-95. Division Director for Children's Services, ATCMHMR 95-present.
Most notably: Recently received notice from the United States Substance Abuse and Mental Health Services Administration that a grant proposal, written with a colleague, had the highest ranking among all proposals in the country requesting similar federal funding. The grant will provide $7 million over five years to Austin, Travis County, Texas, for the creation of family-driven, strength-based, culturally competent services to children with mental health needs and their families. The grant will serve as a catalyst for reforming public child-serving systems - currently, 297 children per day are placed outside of their homes due to lack of community-based alternatives - enabling parents of children with mental health needs to work in partnership with the community of care at all levels, from policy development to service system design. Parent support and advocacy systems are being formed, and finds pooled from public juvenile justice, child welfare, education, mental health and health and human services and jointly funding services. Remaining funds will be used to create and provide mental health services that emphasize the importance of preserving families.
"Intellectually and academically, my liberal arts education at Goshen College was the key to subsequent learning. I had the chance to integrate aspects of different subjects, to take the French Novel, Philosophy and Quantum Mechanics all in the same semester and see the interrelatedness of human thinking and discovery. And at GC you are challenged to make your faith a mature one, to flesh out the faith of a young adult."–Samuel Gameda
Name: Samuel Gameda
Current position: Research scientist, Agriculture Canada Research Branch; doing research in the application of information technology support systems in the evaluation of sustainable land management.
Home: Ottawa, Canada; married to Roman Habtu. They have a daughter, Seble, 8.
Maple Leaf ties: Class of 1975
Post-graduate education: B.S., M.S. and Ph.D. in agricultural engineering, McGill University.
Career path: Research associate, McGill University, specializing in agricultural resource management; post-doctorate fellow with the same branch of Agriculture/Agri-Food Canada prior to taking his current position in 1992.
Most notably: Consultant, researcher and lecturer in various Canadian organizations. More than 20 publications and more than 40 professional presentations/publications prepared for World Bank, World Congress on Expert Systems, World Congress of Soil Science, Canadian Department of Energy Mines and Resources, International Conference on Soil Dynamics, Geo-Information for Planning of Sustainable Land Management Conference, International Conference on Multiple Objective Decision Support Systems, International Soil Tillage Research Organization, among others - topics include review of subsoil compaction and crop response; relationship between soil structure and compactibility; integration of land resource information, scientific research and farmer knowledge into a decision support system for sustainable land management; relationship between soil compaction and particular vehicle models, snow compaction, etc. Returned to GC in October 1996 as part of Alumni Scholar Forum and gave a convocation address "To Be An Alien: Experiences of Being Between Cultures."
"I learned to write at Goshen College. That's what most of my career has involved, and it's been wonderfully helpful." – J. Mark Ramseyer
Name: J. Mark Ramseyer
Current position: Mitsubishi Professor of Japanese Legal Studies, Harvard University. Co-editor, Studies in Law & Economics, University of Chicago Press. Editorial board member, Journal of Japanese & International Economies. Board of directors, American Law & Economics Association. Chair, Japan Foundation, American Advisory Committee for Japanese Studies.
Home: Lexington, Mass.; married to Norma E. Wyse, M.D. '75. They have two children, Jennifer, 5, and Geoffry, 3.
Maple Leaf ties: Class of 1976 Post-graduate education: M.A. in Japanese studies, University of Michigan; J.D., Harvard University.
Career path: John M. Olin Distinguished Visiting Professor, University of Virginia, fall 1996. Acting Professor of Law, University of California-Los Angeles, 1986-89; Professor of Law, UCLA, 1989-92; Visiting Professor, University of Tokyo, 1992; Adjunct Instructor, Hitotsubashi University, spring 1992; Adjunct Instructor, Tohoku University, fall 1992; Professor of Law (1992-97), J. and Marion F. Green Professor of International Legal Studies, University of Chicago, 1997-98.
Most notably: Board of editors, Harvard Law Review, 1980-82. Fulbright Fellowship, 1985-86; Suntory Cultural Foundation Prize for Scholarship in Political Economy, awarded for Law and Economics: The Economic Analysis of Japanese Law, published in Japanese, 1990. Luebbert Award for Best Book in Comparative Politics, American Political Science Association, awarded for The Politics of Oligarchy: Institutional Choice in Imperial Japan (co-authored with Frances Rosenbluth), 1997. Co-editor, Journal of Legal Studies, 1995-98. Chair (1995), Section on Law and Economics, Association of American Law Schools. Social Science Research Council and American Council of Learned Societies, Joint Council on Japanese Studies, 1993-96. Executive committee, Section on Business Associations, Association of American Law Schools, 1992-95.
Survey ranks GC in nation's top sixth in doctoral production
Considering getting your doctorate?
Consider GC.
That's the word from Franklin and Marshall College, which recently ranked GC in the top sixth of all liberal arts colleges in America and third in Indiana in the last decade in its "Baccalaureate Origins of Doctoral Recipients" survey. In the survey, GC ranked 75th of more than 500 schools as the undergraduate college of students who went on to receive doctoral degrees in all non-professional programs between 1986 and 1995. With 137 graduates receiving doctorates between 1986 and 1995, GC trails only DePauw University's 226 and Earlham College's 224 among Indiana schools, and is first among schools in the Council of Mennonite Colleges.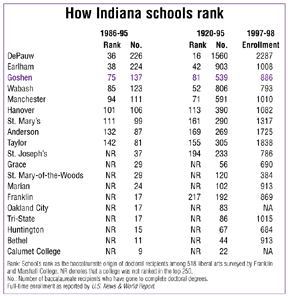 GC has always had a strong ranking in Ph.D. production. From 1920 to 1995, GC produced 539 Ph.D. recipients. Said GC President Shirley H. Showalter, "I was delighted to note that our ranking in the last decade moved up from 81st to 75th. Our goal is to move up in these rankings again in the next decade."
In the 1920-95 time span, GC is fifth among schools in Indiana and first among schools in the Council of Mennonite Colleges.
GC is ranked among a total of 518 schools classified as "baccalaureate" colleges by the Carnegie Foundation in its "Classification of Institutions of Higher Education," where baccalaureate degrees account for at least 10 percent of degrees awarded by the institution in 1995. The survey also lists rankings by discipline, and Goshen joins DePauw, Earlham, Hanover, Kalamazoo and Wabash as the only schools in Indiana and Michigan to be ranked in the top half of at least 18 of the 21 groupings.
The survey does not take typical enrollment into account, an adjustment which would likely place GC even higher if "per capita" rankings were compiled. For example, though the college has produced about 60 percent of the number of doctorates as DePauw, GC's 1997-98 enrollment was less than 40 percent of DePauw's.
"This type of ranking should have high credibility for prospective students and their parents searching for measures of quality," said Provost and Executive Vice President John D. Yordy. "Unlike many other 'rankings,' these are not subjective - they are objective. We invite students hoping to earn doctorates to compare our performance to our tuition, room and board costs, which is approximately $7,000 less than either Indiana school ranked above us and nearly $1,700 less than the average of the Indiana schools in our category.
"We are also one of the few schools in the rankings which have maintained a vibrant commitment to our Christian faith. This survey again shows that GC has demonstrated that it is possible to provide academic excellence in an affordable Christian environment."
In the latter time period, GC ranked nearly equally in the non-science and science subgroupings, ranking 64th in non-sciences and 79th among all sciences. In individual disciplines, Goshen scored particularly well in education (36th), engineering (38th), history (44th), physics (45th) and anthropology/sociology (51st). The top 52 schools represent the top tenth of schools in the survey.
"When I look at this data, there are two things in particular that please me," said Academic Dean and Vice President for Academic Affairs Paul Keim. "First, we are represented throughout the academic spectrum. This speaks to the strength of our academic program in all disciplines. Second, we are ranked higher in the more recent time period. This shows me that Goshen College has not rested on its past successes. Excellent students have attended here in the past and continue to do so. That 1 in 5 of our incoming students scored 1300 or better on the SAT indicates to me that we will continue to maintain our high academic standards."
By Lyle Miller
GC gathers forces for violence transformation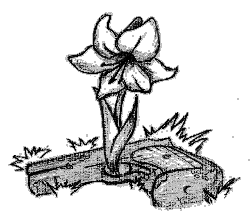 Peace education project conference set for April
Violence is the number one public health problem in America. Every day in the United States, 100,000 students take a gun to school; 14 children under age 20 are killed, and many more are wounded. By the age of 18, young people will have viewed an estimated 200,000 acts of violence on television.
These are only a few of the statistics that reveal the depth of the culture of violence that has become all too prevalent in the United States. GC- operated by the Mennonite Church, which believes that faith must be expressed in daily living through love, service and nonviolence - is an obvious place to bring together national and international experts, students, faculty and alumni, local and regional professionals and the broader Christian church to work at turning at the tide of youth violence.
Rather than dwell on the statistics, a conference sponsored by Lilly Endowment Inc., "Replacing Fear with Hope: Violence Prevention in Our Communities," slated for April 15-17, at GC, will focus on violence prevention and conflict transformation.
Conference planners are hoping to draw an audience of several hundred people from diverse communities and professions, and integrate GC students into this event so that they can build relationships with others who are already working on the problem of violence in local and regional communities. Several GC professors have already incorporated the conference into the schedules of their spring semester courses.
Beyond recognizing the problem, speakers working at violence prevention on local, national and international levels will address a variety of issues surrounding the creation of violence-free schools and communities. Presenters include school administrators and conflict mediation specialists; experts in education, health-related issues, youth violence, law enforcement, and creating anti-violence programs; and speakers working at reducing violence on national and international levels. A book signing session, resource and book recommendations and a drama presentation are also part of the conference.

Thursday, April 15, Oscar Arias Sanchez -Arias is the former president of Costa Rica who received the Nobel Peace Prize for initiating peace negotiations in Central America. In 1988 he created the Arias Founda-tion for Peace and Human Progress with his Nobel Prize money; the foundation is not-for-profit and its mission is to build peaceful societies in Central America. The foundation brings scholars and practitioners from around the world to Costa Rica. Arias is a member of the International Negotiation Network. To find out more about the Arias Foundation, visit its home on the World Wide Web at www.arias.or.cr/.

Friday, April 16, Deborah Prothrow-Stith - Prothrow-Stith is considered to be the foremost authority on violence in society. A faculty member and dean of the School of Public Health at Harvard University, she works with anti-violence efforts at inner-city hospitals and serves as Massachusetts State Commissioner of Public Health and on President Clinton's Commission on Crime Control and Prevention. She is developing a guide to establishing neighborhood anti-violence programs and is featured in the nationally broadcast video conference "Partnerships for Preventing Violence." Prothrow-Stith wrote Deadly Consequences, a book about violence in society. See the Preventing Violence website, with many links to resources, at www.hsph.harvard.edu/Organizations/php/violence.html.

Saturday, April 17, David Grossman - Grossman is the author of On Killing: The Psychological Cost of Learning to Kill in War and Society and an army lieutenant colonel. An observer of the desensitizing techniques used to train soldiers, he has written about the parallel effects of mass media that similarly condition children. Grossman was involved in debriefing the Jonesboro, Ark., school murders. He is a professor of military science at Arkansas State University. His article titled "Trained to Kill: A military expert on the psychology of killing explains how today's media condition kids to pull the trigger," was published in the August issue of Christianity Today.
Conference seminar topics include:
The current youth violence epidemic: What it is and what other communities are doing to counter this social reality.
Racially motivated violence: How this violence manifests itself, and what can be done to prevent it from erupting.
Strengthening local and regional community institutions and structures to further violence prevention efforts.
Violent episodes within public and private schools
Guidance for professionals who wish to establish peer mediation programs in schools or other institutions.
The spectrum of violence, from individuals to nations.
Involvement of parents in violence prevention/conflict transformation programs.
Healing the pain of violence in individuals and within communities.
By Rachel Lapp