Senior Jakyra Green Wins Indianapolis Press Club Foundation Award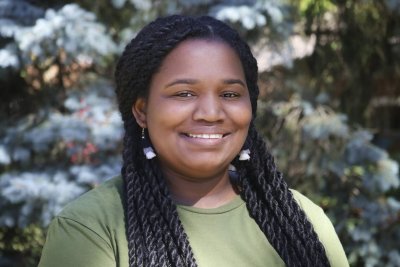 Jakyra Green, who served as co-executive editor of The Record in the spring semester, received the Indianapolis Press Club Foundation scholarship for deadline news coverage earlier this month.
Green, who won for "Hardware's absence leaves a void on campus" and "'Education Matters': Proposed bill raises controversy," is a rising senior majoring in English and secondary education. She is from Elkhart.
Green is the third executive editor at Goshen College to receive the highly competitive scholarship in the past three years. Sierra Ross Richer '22 and Mackenzie Miller '21 previously won in the deadline news category.
"As executive editor, Jakyra delivered a series of powerful editorials, challenging Goshen College to be a place of opportunity and community for everyone, including all students of color," said Duane Stoltzfus, the faculty adviser to The Record and chair of the communication department. "With this award, she reminded us that she also excels in the fundamentals of journalism, where solid reporting meets graceful writing in service of news that matters."
The awards are open to schools of all sizes across Indiana. Each year, the press club foundation selects statewide winners in three categories: deadline news, features and sports writing. Students can submit two samples of their best work in any one of the categories.
The awards are officially named the Last Row Party Scholarships, in recognition of the Indianapolis Motor Speedway, which sponsors the scholarships. The awards – in the amounts of $1,031, $1,032 and $1,033, for deadline news, features and sports writing, respectively  –  mirror the checks distributed to the last row drivers in the Indianapolis 500 (the drivers get checks for 31, 32 and 33 cents).