Goshen College announces new embodied mascot
Goshen College has announced plans for a physical mascot to represent the Maple Leafs at sporting and community events next year.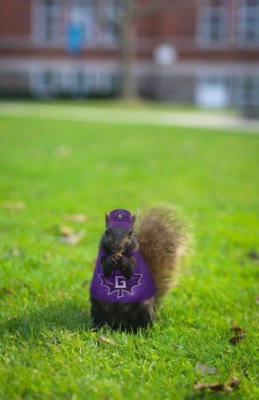 The college unveiled the black squirrel as the new embodiment of the Maple Leafs, which will remain the moniker by which the college knows and promotes athletic teams.
The black squirrel was chosen after input from students, alumni and employees in a fall survey, with an overwhelming 75 percent in support for a squirrel as the mascot.
"Over the years, we have been hearing repeated calls — from athletes, students, employees and alumni — to create a lasting mascot," said Erica Albertin, athletic director. "Our campus already loves our squirrels and the black squirrels are quite common residents of our campus. It represents our institutional and athletic personality well; fun, energetic, friendly, confident, enthusiastic, strong, clever, quick, and small but mighty."
The college is in the initial stages of working with a mascot design company to design and fabricate the mascot. The name of the squirrel hasn't been decided yet, and the mascot committee anticipates further involvement and input from the campus community for that.
Plans are being made for an official unveiling of the new mascot during Homecoming Weekend next fall.
The Maple Leafs name was adopted in 1957 from suggestions submitted when GC first began competing in intercollegiate athletics.