Goshen College earns bronze award for educational advertising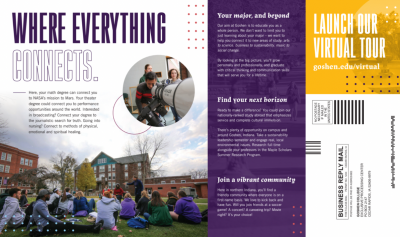 Goshen College has received a bronze award in the Integrated Marketing Campaign category at the 37th Annual Educational Advertising Awards, the largest and oldest educational advertising awards competition in the country.
Goshen's campaign was in partnership with Ruffalo Noel Levitz, a leading provider of higher education fundraising, enrollment, and student success solutions.
In 2019, Goshen College unveiled a refresh to its brand, including a new website, new design elements, and language centered around the concept, "where everything connects."
Goshen College collaborated with SimpsonScarborough, a leading higher education research, marketing and branding agency, to survey alumni, current students, employees, prospective students and community members to identify current perceptions; and then to develop creative concepts for the brand revitalization.
"This brand refresh highlights what we do differently and better through contrasting points of parity," said Dominique Burgunder-Johnson, vice president for marketing and enrollment. "Our top-notch academic programs provide hands-on, real-world learning and career preparation with a focus on creating positive change in our world."
This year, more than 2,000 entries were received from over one-thousand colleges, universities and secondary schools from all 50 states and several countries.
Judges for the Educational Advertising Awards consisted of a national panel of higher education marketers, advertising creative directors, marketing and advertising professionals.