Artist, author Greg Constantine to speak as visiting artist
Visiting Artist: Greg Constantine, Eric Yake Kenagy Visiting Artist
Public Lecture: Sunday, Jan. 23, 3 p.m., with a reception to follow
Location: Rieth Recital Hall, Music Center
Cost: Free and open to the public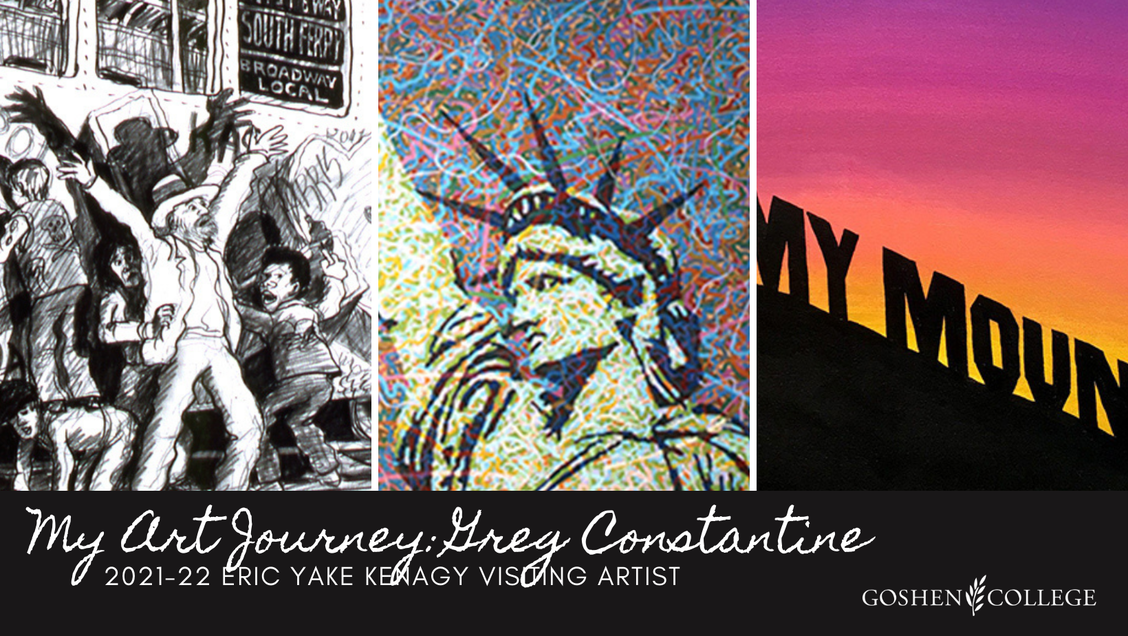 Internationally recognized artist and author Greg Constantine will speak about his work during a public artists talk Sunday, Jan. 23, 3 p.m., in the Music Center's Rieth Recital Hall, followed by a reception. These events are free and open to the public.
Constantine is the 2021 Eric Yake Kenagy Visiting Artist at Goshen College.
Constantine has exhibited nationally for more than 50 years, beginning in 1969, and since 1975, internationally in nine European and South American countries. Most of these have been one-person shows, including 22 in premier New York City galleries. In 1986, he was the recipient of a Michigan Creative Artists Grant. After offering painting, drawing and art history classes at Andrews University for 43 years, he retired from teaching in 2006 but continues to create and exhibit his art. Because of his outstanding exhibition activities and publications, he has held the rank of Artist-in-Residence and Research Professor of Art since 1996.
Constantine has published eleven widely acclaimed books, beginning with "Vincent van Gogh Visits New York" in 1983. Born in Windsor, Canada to Romanian Immigrant parents, he earned a bachelor's degree in art from Andrews University in 1960 and a Master of Fine Arts from Michigan State University in 1968. He became a naturalized U.S. citizen in 1976.
He enjoys his identity as an artist and is fully aware that there are artists throughout history who felt as he does. With no less or more "talent" than each other; but with an amazing variety of discoveries and views about life.
"Objects from art history as well as nature and things imagined have become the subject of my work," he said. "The enlisted images are not merely references to the original, but the meaning of the original work is converted or subverted, but always enhanced. The process becomes my own personal statement in my own time and place. Art about art (and artists) alters our relationship to the final work and heightens our awareness of its illusion."
The Hershberger Art Gallery is located in the north lobby of the Goshen College Music Center at College Avenue and 12th Street in Goshen, Indiana and is open on weekdays from 9 a.m. – 4:30 p.m.
The Eric Yake Kenagy Visiting Artist Program honors the late Eric Yake Kenagy, who was a gifted ceramics student at Goshen College from 1984 until his death in 1986.