ECoSistema to present community concert with Thalea String Quartet Nov. 10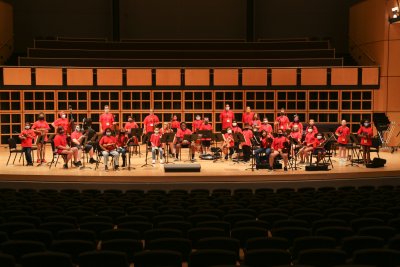 Concert: ECoSistema Community Concert with Fischoff Alumni, Thalea String Quartet
Date & Time: Wednesday, Nov. 10 at 7:30 p.m.
Location: Sauder Concert Hall, Goshen College Music Center
Free & open to the public
ECoSistema, a community music and youth development program in Elkhart County, has partnered with The Fischoff National Chamber Music Association, the host of the nation's largest and longest running chamber music competition, to present a community concert as part of Fischoff's Arts-in Education residency, featuring the award-winning Thalea String Quartet, on Wednesday, Nov. 10 at 7:30 p.m. in the Music Center's Sauder Concert Hall.
Thalea String Quartet will join members of ECoSistema's Crescendo, Presto and Teen Orchestras, along with percussion students from Roosevelt STEAM Academy. These student musicians will have the opportunity to spend the afternoon in workshops with the Thalea String Quartet. Here the students will have the opportunity to get to know and work with these professional chamber musicians prior to their public performance.
The concert will feature an original composition by Roosevelt STEAM Academy music teacher, Harold Walt, where the ECoSistema students will perform side-by-side with the Thalea String Quartet. Titled "Rhythm Rondeaview," Mr. Walt constructed a piece inclusive of the varied levels of string, wind, brass and percussion student musicians at Roosevelt STEAM Academy and Goshen Boys & Girls Club. Above these sonic layers Mr. Walt gives the Thalea String Quartet the freedom to improvise. The Thalea String Quartet will continue on with a lively program of chamber music exploring the impact of American musical influences on chamber music – spirituals, hip hop, folk song and rock-n-roll.
The Thalea String Quartet, based out of Maryland, is the winner of the Fischoff 2021 Ann Divine Educator Award. This national award recognizes the educational outreach work of Fischoff Competition alumni who have demonstrated outstanding and imaginative programming for children and youth in the United States. It honors musicians who have established professional careers in chamber music, and have proven their ability to successfully build a career in both chamber music performance and outreach education.
Fueled by the belief that chamber music is a powerful force for building community and human connection, the Thalea String Quartet brings their signature vibrancy and emotional commitment to dynamic performances that reflect the past, present, and future of string quartet repertoire.
ECoSistema stands for Elkhart County El Sistema, and is Elkhart County's very own El Sistema-inspired program. El Sistema is a music education model that promotes community- building, empowerment, excellence, and access. Since 2009, community partners have been working together to bring the mission of community-building, access, and excellence through music to Elkhart County, serving approximately 500 students a year.
"On behalf of ECoSistema and the Goshen College Community School of the Arts, a warm welcome is extended to all who support the arts in our county to join us for this concert celebrating the power of music to inspire and empower young people," ECoSistema Program Director, Hillary Harder, said. "We are grateful for Fischoff's leadership in this area and their partnership with our program."
As the official reunion of the ECoSistema campuses at Roosevelt and the Boys & Girls Club, this concert will mark the first time these groups have been on the same stage since before the pandemic. This event is free and open to the public. Masks required. Donations will be accepted to support the work of ECoSistema.
About ECoSistema
El Sistema is a community music and youth development program that began in Venezuela in 1975. It was founded by Dr. Jose Antonio Abreu to become the national model of music education in Venezuela, granting millions of young people access to quality music programming. Since then, the El Sistema philosophy of music education has spread
throughout the world as a music education model that promotes community-building,
empowerment, excellence, and access – in the words of Dr. Abreu, El Sistema is about
"music for social change."
About Fischoff National Chamber Music Association
Founded in 1973 in South Bend, Indiana, the Fischoff National Chamber Music Competition has grown to become the largest chamber music competition in the United States, and one of the most prestigious classical music prizes attainable today. Since its founding, more than 7,600 musicians have participated, many of whom have gone on to distinguished careers in music performance and education.
This unique arts organization has secured its place as the nation's premier educational chamber music competition because of the caliber of its jurors, performance venues and well- known alumni. It is also known for extensive outreach programming during the competition and throughout the year. The Fischoff uniquely partners with competition alumni to bring free, innovative music programs directly to children of all ages in their own schools and community centers. Since 1995, these programs have served more than 90,500 community children, reaching more than 4,000 underserved and at-risk youth annually.
Fischoff's Educator Award Residency is generously made possible by The Community Foundation of Elkhart County, Miller Poultry, Goshen College of Music, 1st Source Bank, Cressy & Everett Real Estate, Gail English & Nels Leininger, Horizon Education Alliance, Indiana Arts Commission, Pat & Bob Kill, Old National Bank, Teresa Roberts, Jeny & John Sejdinaj.