Goshen artist Cindy Cooper to display coral reef-inspired clay work at Goshen College
Art Gallery Exhibit: Cindy Cooper, "One Piece at a Time"
Reception: Sunday, Nov. 7 at 1 p.m., followed by an artist talk
On display: Nov. 7, 2021 – Dec. 16, 2021
Location: Hershberger Art Gallery, Music Center
Cost: Free and open to the public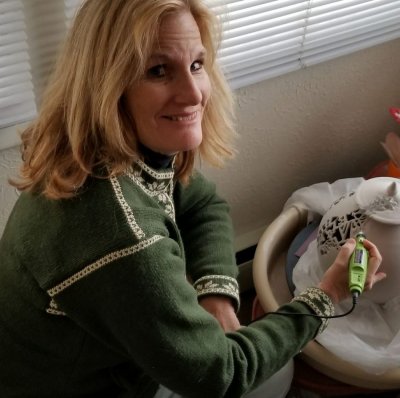 Local potter Cindy Cooper will show a collection of her pottery in an exhibit in the Hershberger Art Gallery from Nov. 7, 2021 to Dec. 16, 2021, with a reception on Sunday Nov. 7 at 1 p.m., followed by an artist talk.
Cindy Cooper is a professional clay artist who has worked in Goshen since 1992. She graduated from the University of Evansville in 1980 with degrees in art, science, art education K-12 and art therapy. Cooper graduated from the University of St. Francis in 2003 with a master of arts in ceramics.
Cooper is a founding member of the Goshen Clay Artist's Guild, formed in 1999, part of the Goshen Arts Council. She helped organize and run the "The Empty Bowl," annual fundraiser, which sells handmade bowls to raise funds for Goshen Interfaith Hospitality Network.
Cooper taught at Goshen High School from 1994 to 2019 and was the head of the art department. After retiring, she devoted more time to pottery. She teaches 12-week pottery classes for adults.
Cooper's work has won several awards, including two from the Elkhart Museum of Modern American Art in Elkhart, Indiana in 2020, and from the "Carving Clay" Workshop in Marathon, Florida.
"Working in Goshen has been such a blessing for me. To be able to be a part of this community and see the arts grow, it's something I do not want to take for granted," said Cooper. "There's something about being here, and being surrounded by nature, that drives my creativity."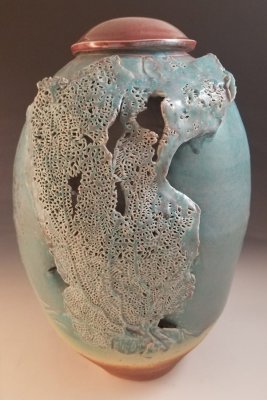 Several of Cooper's pieces are inspired by her passions for ocean preservation.
"Reefs survive if they are left untouched by man. As soon as they are kicked by a fin or hit by a boat, they begin to die," said Cooper. "It is painful to see what man has ignorantly done to harm the reef system. Unfortunately, the coral reefs are in decline worldwide. This is due to climate change, which leads to coral bleaching, overfishing, blast fishing, digging of canals and bays, coral mining and pollution."
Cooper received a Lilly Grant for a project called, "Dive Down to Change the Coral Reefs through Art." Inspired by her underwater photography of the coral reefs, the high fired bas-reliefs on large jars give the viewer an experience of environmental awareness and the unique beauty of the reefs.
"You hear about it and you read about it, but when you see a piece of artwork, that really makes a difference."
The Hershberger Art Gallery is located inside the Goshen College Music Center. The Gallery is generally open from 9 a.m. to 4 p.m. business days and Saturdays, and from 2 p.m. to 4 p.m. on Sundays during the academic year. The gallery will be closed during academic holidays.