Goshen College envisions return to new normal for Fall 2021
With the widespread availability of highly effective vaccines in the U.S., Goshen College is excited to envision a more normal year as GC emerges from the current phase of the pandemic.
Here are the key elements of the operational plans for the fall semester:
Vaccinations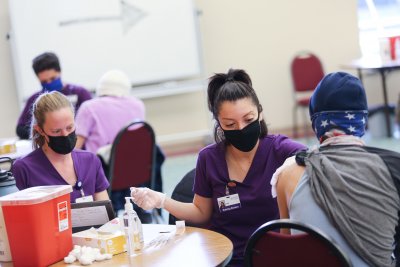 A COVID-19 vaccination is required for all students enrolling in Fall 2021, following full approval from the U.S. Food and Drug Administration (FDA) for the vaccine.
Like other required vaccinations for students, medical and religious exemptions are allowed. International students who receive a vaccination in their home country will meet the vaccination requirement.
Preventing the spread
Beginning Friday, August 6, 2021, masks were again required for all individuals in indoor public spaces on campus, regardless of vaccination status. Private offices, meeting spaces and residences, including dormitory floors and apartments, are not public spaces and use of masks in these spaces is left to personal judgment. This requirement will remain in effect UNTIL 90 percent of students and employees are vaccinated OR Elkhart County is no longer considered to have "substantial community transmission" of the virus by the CDC.
Physical distancing is strongly recommended for persons who are not vaccinated and optional for those who are fully vaccinated on campus. Classroom seating will be spaced three feet apart.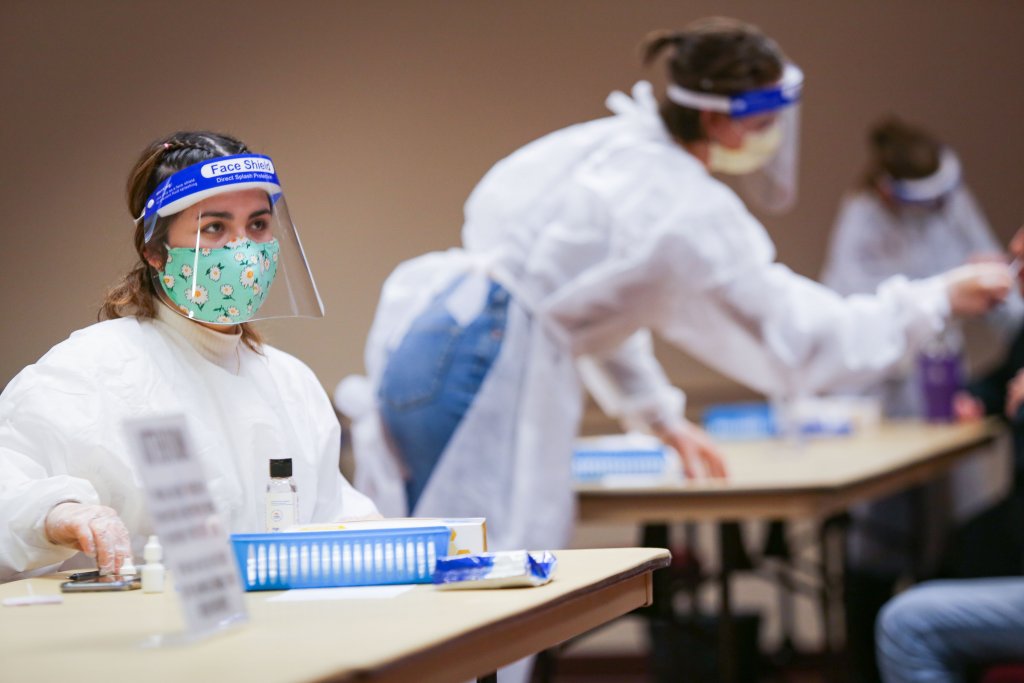 Testing
Goshen College conducted a COVID screening test of all students upon arrival or check-in. Weekly COVID testing will continue to be required for unvaccinated students and employees who are studying or working on campus.
Isolation and quarantine protocols will be followed as before with the CDC-approved exception that vaccinated individuals who are asymptomatic after exposure to someone who tests positive for COVID will not need to quarantine.
Classes
Goshen College will conduct fall semester classes in the delivery mode as before the pandemic.
Remote learning will only be offered for a full semester to students who cannot reach campus due to visa or travel restrictions.
Remote learning will be offered temporarily to students while in COVID-19 quarantine or isolation.
Classroom seating distancing will be 3 feet.
Program directors in online, graduate and non-credit programs will inform their students of any specialized approaches or policies for their programs before the fall semester begins.
The college is planning to move forward with many global education offerings, while continuing to carefully monitor conditions in host countries. Vaccinations are already required for all participants in our off-campus programs.
Residence life, extracurriculars and public events
Goshen College is planning for a return to normal residential living and community building for undergraduate students. Single rooms are available if desired, at the listed rate.
The college is planning for a full return to extra-curricular activities, including athletics, fine arts events, service opportunities and other student life programming with appropriate COVID-19 protocol guidelines to be determined.
GC will continue to follow local, state and federal guidance, and make adjustments if needed. For more information, visit goshen.edu/coronavirus.