Restored 18th century portrait returns to Mennonite Historical Library
By Patrick Webb '21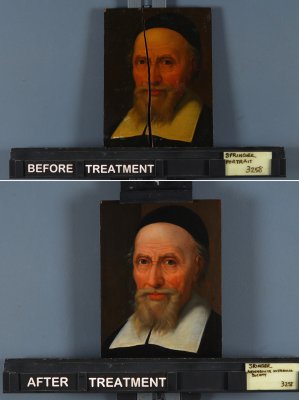 An 18th century portrait of Gerrit Roosen (1612-1711), a historical Mennonite leader, has returned to the Mennonite Historical Library (MHL) after being professionally restored. The painting is part of the current "Paintings from the Mennonite Historical Library Collection" exhibit in the Good Library Gallery.  The exhibit is open to the public through Nov. 14, whenever the building is open.
The Roosen oil painting portrait was restored by South Bend art conservator Monica Radecki of Radecki Fine Art Conservation, LLC.
Roosen was a leading Mennonite preacher and businessman in Hamburg-Altona, Germany.  The portrait, painted on a wood panel, is a copy of the head and shoulder from a larger, seated portrait by T. de Vlieger from 1705 that hangs in the Hamburg-Altona Mennonite Church.
The Roosen portrait was given to the MHL by Debra Wells from Windsor, Ontario, in 2010. The portrait had been split into two pieces since 1956. Wells donated the piece on behalf of her mother, Virginia Covey.
Covey received the portrait as a gift from Anna Willard Amidon (1886-1955), mother of Virginia's first husband John Amidon (1917-1943). Covey believed Anna purchased the painting at an antique store in an unknown location.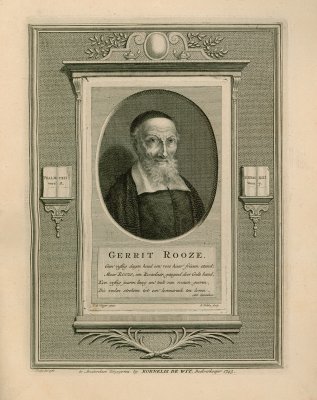 Joe Springer, MHL curator, believes this smaller portrait may have been copied from the larger portrait in the early 1740s to provide the model for an engraved portrait of Roosen by Dutch artist Simon Fokke. Fokke's engraving appeared in several works published in Amsterdam in the 1740s.
"The previous restoration had been done properly with a hide glue, but over time, and perhaps because of storage issues, the adhesive had failed," said Radecki. "The painting also had a protective varnish which had discolored a deep yellow from age. The treatment required that the panel be cleaned and the old adhesive be removed or reduced at the break."
Radecki put the broken portrait together using clamps and hide glue. She then removed the varnish layer, repainted parts making the crack less obvious and reapplied varnish. A new frame was made for the painting.
"The most challenging part in any treatment is the structural integrity and choosing materials to help maintain that integrity with the added need for reversibility in case of future treatments," Radecki said.
"This portrait is very well done and a sensitive rendering of the sitter. We should remember that people actually sat for portraits when this portrait of Roosen was done. That was not always a treat for the person sitting for a long time," said Radecki. "For me it makes this portrait even more impressive that the artist made Roosen appear vital and want perhaps to engage in a conversation. This is an important portrait for Goshen College and I am very glad that I was able to help with the conservation and bring it back to a more original version."