College adding new entrance on College Avenue in first of two phases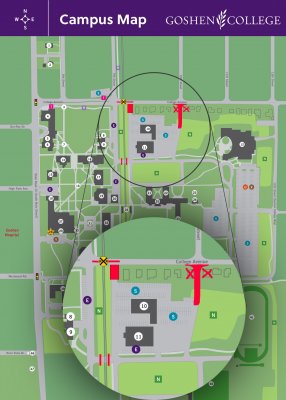 The first phase of a new entrance project to the Goshen College campus is underway at College Avenue and 10th Street. Construction work has begun, requiring the removal of one house with plans to remove a second house next year.
The new road entrance at 10th Street and College Avenue will connect to the parking area behind the Physical Plant to the interior campus road that passes the Music Center, with additional curbs and sidewalks.
The creation of a new more prominent entrance from College Avenue is part of the college's long-term campus master plan and will provide easier access to the Music Center, home to the Community School for the Arts and numerous public performances. In addition, the initial work this summer is in response to the development by the city of a quiet zone (where trains won't sound their horns as they approach crossings) along 9th Street, which includes installing a delineator on College Avenue and requires the college to close the entrance to campus just east of the train tracks. The railroad crossing on campus that is currently accessible to all traffic will be converted into a pedestrian/utility vehicle crossing for safety reasons.
The future second phase of this entrance project will involve landscaping, signage and further road development to make this the primary campus entrance from College Avenue, in addition to the Welcome Center entrance from Main Street. Final work on both entrances are pending  further design planning and fundraising.