Students develop sensory trail app
By Patrick Webb '21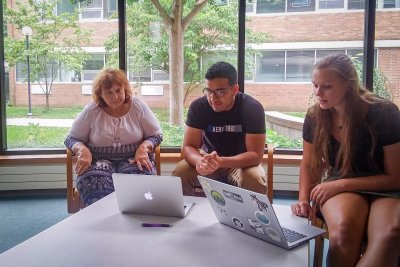 Goshen College students have teamed up with the City of Goshen and ADEC Inc. to create an app as part of a sensory trail initiative to help connect individuals with disabilities to the health benefits and wonder of nature.
The sensory trail will consist of two-mile stretches on both the Millrace and Abshire Park trails. The app will have several features, such as identifying sounds on the trail. The app will help to guide people along the trail using all the senses, said Jeanette Shown, associate professor of computing science and advisor on the project. Shown has a background in accessibility programming.
Shown was excited to work on the project. "It is very proactive," she said, "very forward thinking, and is cool in thinking that we can make public spaces accessible for everybody."
Shown is currently testing the app's coding. Once the app is complete, the team will do user testing with volunteers before it is released online. The goal is for the app to be done by the end of summer.
The sensory trail project is a collaboration between Goshen College, the City of Goshen and ADEC, local Bristol, Indiana nonprofit that advocates for and serves people with intellectual and developmental disabilities in Elkhart and St. Joseph.
Gabrielle Vogeler, a senior computer science major from Rolling Prairie, Indiana, is the lead programmer in charge of documentation and invited Kevin Mazariegos-Perez, a senior computer science major with a minor in game design, from Elkhart, Indiana, to join.
"What excites me the most is to see the public's response to this project once it is complete," Vogeler said. "This project is very cool in that it introduces a new view of the trails to the community. Working on this project is very satisfying to me because it allows me to connect my interests as well as give back to the Goshen community."
"I get to learn more about the community, especially in Goshen," Mazariegos-Perez said. "It shows me how important it is to know your community in app and web development."
Shown hopes others will create similar apps across the country to make other parks more accessible.
The Community Connections for People with Disabilities Grant Program awarded the city of Goshen a $155,322 grant in 2021 to help pay for part time personnel and supplies, such as 24-hour live stream cameras and ADEC Inc. services. Goshen was one of 11 Indiana cities to receive the grant.