President Stoltzfus speaks at national HACU conference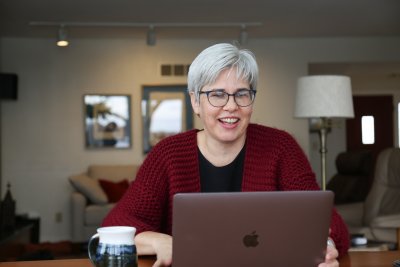 Goshen College President Rebecca Stoltzfus participated as a virtual panelist on Tuesday, April 13, during the Hispanic Association of Colleges and Universities (HACU) 26th Annual National Capitol Forum, along with other prominent university leaders from around the country.
Stoltzfus spoke on a panel exploring the impact of COVID-19 on Hispanic-Serving Institutions (HSI) and the congressional response. She emphasized two messages to congressional leaders: allow federal relief funds to benefit DACA and undocumented students, and increase federal Pell grant funding for low-income students.
During the pandemic, Goshen College used designated Coronavirus Aid, Relief and Economic Security (CARES) Act funding to retain employees, cover deficits and provide students with aid. However, Deferred Action for Childhood Arrivals (DACA) students and non-U.S. citizens were not eligible to receive this funding.
"We have a significant number of DACA and undocumented students who have great needs," Stoltzfus said. "Out of principle, we decided that they would be treated equally and we bore that cost on our operating budget and with help of generous donors. This was based on our commitments to equity in our student body and social justice."
Stoltzfus also noted two positive accomplishments in GC's experience through the pandemic. "First, we are observing high resilience amongst our Latino students," Stoltzfus said. "The Latino Student Union is among the most active clubs on campus, engaging and supporting their peers throughout the student body."
This shows up in higher retention rates. GC's retention rate of Latino students in fall 2020 exceeded that of the student body as a whole.
"Second, as an emerging HSI, Goshen College has played an important role in leading the pandemic response in the local Latino community," she said. "The Elkhart County Health Department asked us to work with them to create and lead a Latino Pandemic Response Initiative in July 2020 that continues to present, staffed by GC Hispanic leaders."
As an emerging Hispanic-Serving Institution, about 26 percent of GC's student population identifies as Hispanic or Latino/a, and the college is nearing eligibility to apply for the federal designation.
Other panelists included Dr. Garnett Stokes, president of the University of New Mexico, and Hector Batista, executive vice chancellor and chief operating officer at the City University of New York. Dr. Sue Henderson, president of New Jersey City University, moderated the session.
About HACU
The Hispanic Association of Colleges and Universities, founded in 1986, represents more than 500 colleges and universities in the United States, Latin America, Spain and school districts throughout the U.S. HACU is the only national association representing existing and emerging Hispanic-Serving Institutions (HSIs). The Association's headquarters are located in San Antonio, Texas, with regional offices in Sacramento, California and Washington D.C.