Eight art majors to show work in senior shows
Exhibit I: Senior Art Exhibit I
Dates: March 21 through April 9, 2021
Exhibit II: Senior Art Exhibit II
Dates: April 11 through May 1, 2021.
Location: Hershberger Art Gallery, Music Center
Cost: Free
Due to current campus health precautions, off-campus visitors must schedule visits in advance.  To do so, contact the Art Administrative Assistant 574) 535-7400 or vberkey@goshen.edu  
---
Eight Goshen College senior art majors will show their work during two exhibits in the Music Center's Hershberger Art Gallery, the first from March 21 through April 9, and the second from April 11 through May 1, 2021.
The artists include:
Senior Art Exhibit I (March 21 through April 9, 2021)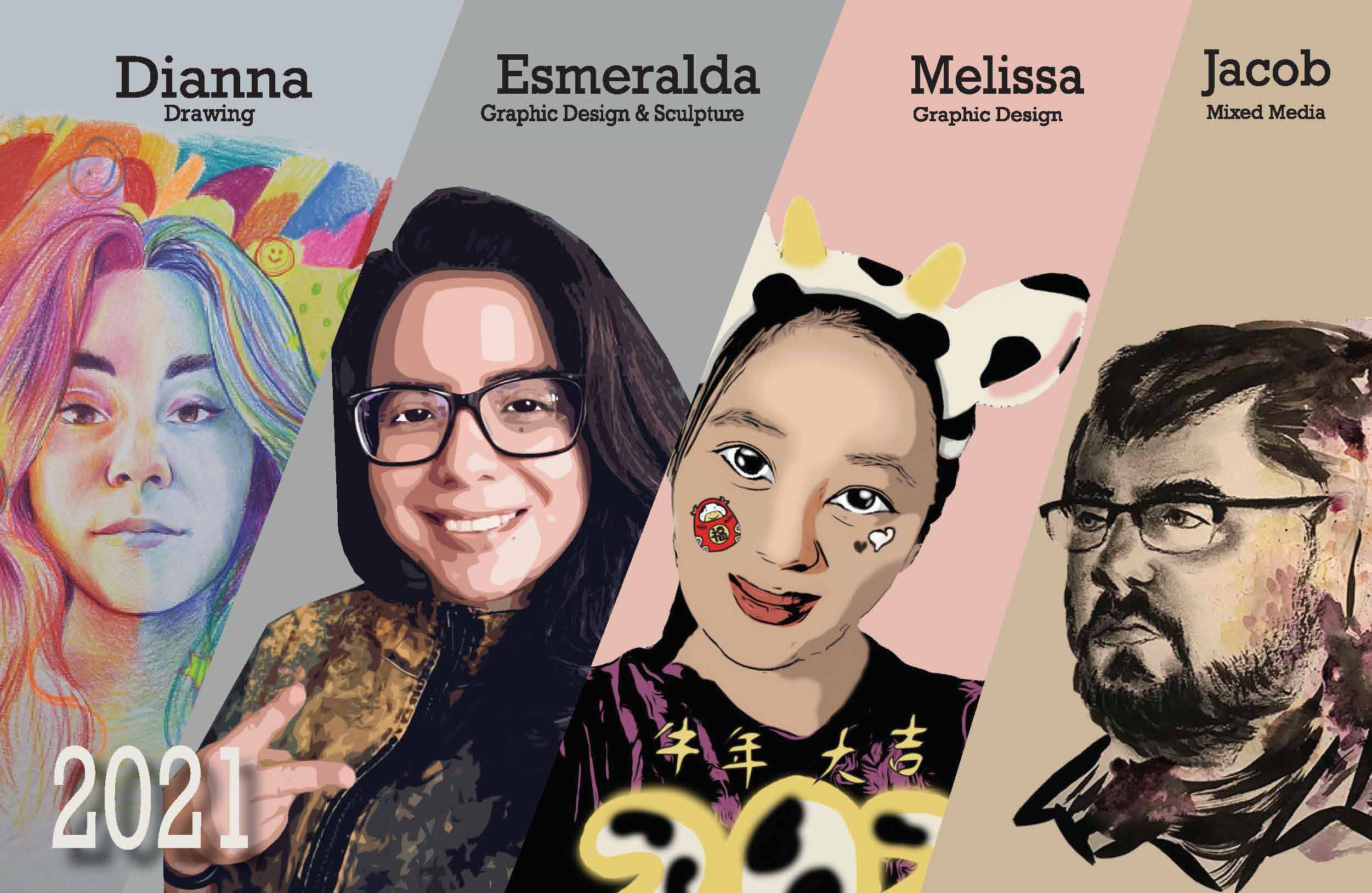 Esmeralda Bucio is a graphic design major, with a minor in marketing, from Elkhart, Indiana. Esmeralda's senior show is a series of posters and sculptures that show her art style progression while a student at Goshen College. Each piece is a refined, polished and improved poster with its matching sculpture inspired by her early work. Esmeralda spends her free time with a variety of hobbies, including painting, drawing, sculpting, crafting and jewelry making.
Dianna Campos, an art and communication double major from Goshen, has a focus on studio art and multimedia communication. Her work examines the connection between childhood and the foundation of family and how they ultimately affect our identities and relationships with others once we grow older. Following graduation, she will continue to work on her portfolio and has plans to enroll in a program to further pursue her interest in animation and visual storytelling.
Chuanmeizi (Melissa) Ma, a graphic design major from Saint Albans, Missouri, will be exhibiting a set of travel posters, created using Adobe Illustrator and InDesign. She says,"I think the world is too big, and there is still so much we have not seen. I hope my posters can motivate people to travel, to explore."
Jacob Sheppard is an art major from Fort Wayne, Indiana. His work includes a mixed media series of self-portraits. His work attempts to explore the relationships between thoughts and dreams and how they connect to memory and identity.
Senior Art Exhibit II (April 11 – May 1)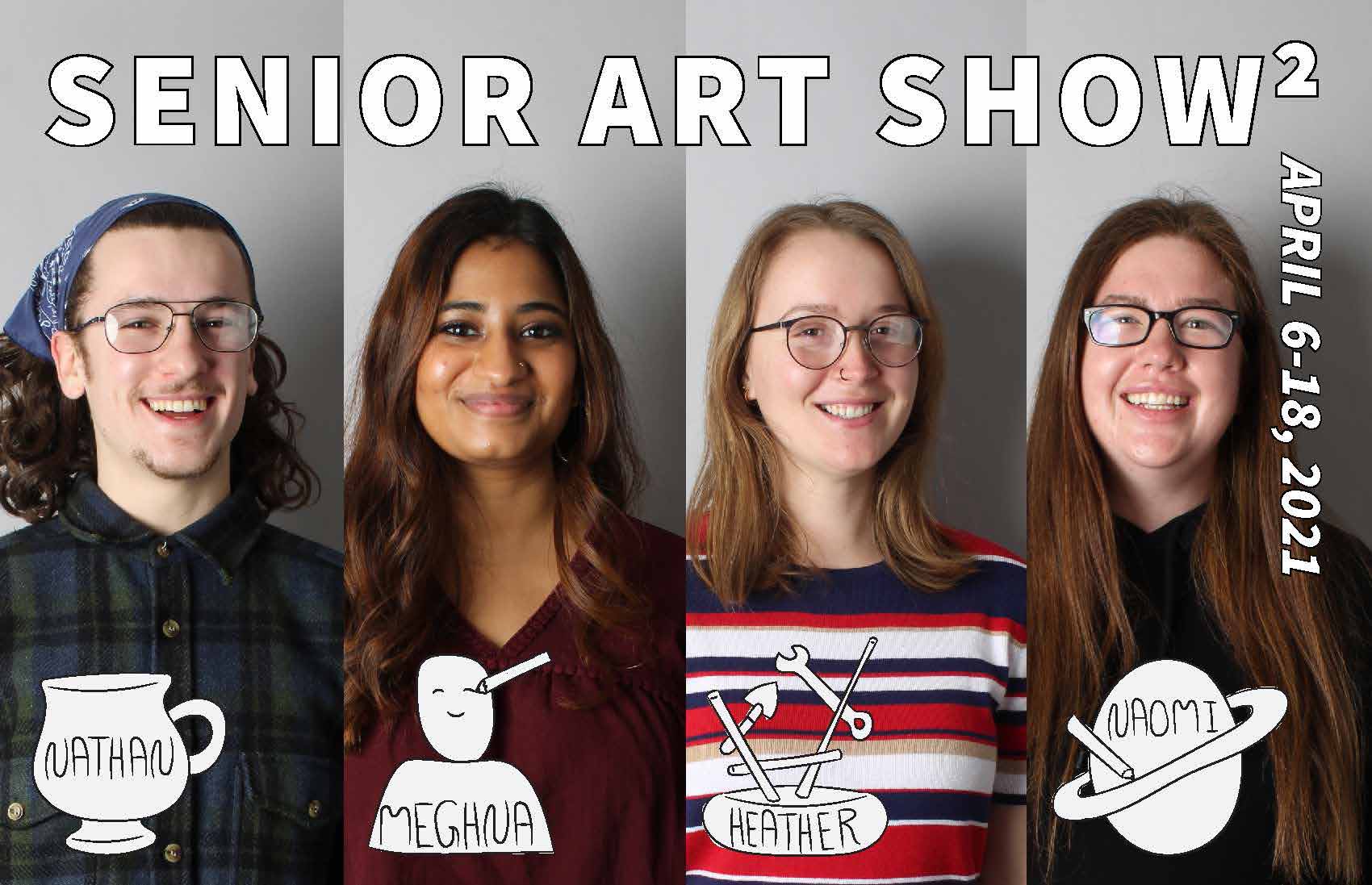 Meghna Das is an art and secondary education major from Mussoorie, India. She attended a private international school and had the opportunity to grow up among many different cultures and religions. Her passion for art began in the ninth grade and she has developed a focus on faces. She says, "There is so much beauty and so many emotions that a face carries and my goal with the pieces I make is to be able to capture even a fraction of that." Some of Meghna's pieces touch on the subject's culture, as well, which is incorporated into the background or their costumes.
Heather Gabel is an art and sustainable food systems double major from Orange City, Iowa. Her sculptures are made from found and reclaimed steel, including recognizable industrial equipment. They are brightly colored forms that invite the viewer to interact with them. She enjoys hiking, gardening and crafting.
Naomi Tolmachoff is an art major from Goodyear, Arizona. Tolmachoff encourages visitors to not think too much about what her art means, but to simply sit back and enjoy it. Her work for this show is mostly things that she liked or found interesting.
Nathan Pauls is an art and communication major from Kinzers, Pennsylvania, who loves to make people laugh and smile. His senior exhibit features ceramics, primarily tableware, mugs, cups, pitchers and plates. When not working on ceramics or drawing, he loves to watch Star Trek, go on walks with friends and spend time seeing the supernatural in nature.
Located inside the Goshen College Music Center, the Hershberger Art Gallery is open from 9 a.m. to 4:30 p.m. weekdays, and from 2 to 4 p.m. weekends when the campus is open. The Gallery is closed during academic holidays, or when the campus is closed for any reason. Ample parking is available nearby in the Music Center parking lot.