Philip Metres, poet, translator and scholar, to speak about peace, justice in Palestine and Israel March 9
S.A. Yoder Lecture & GC Talks: Philip Metres, poet, translator and scholar
Date and time: Tuesday, March 9, 7 p.m. EST
Location: Virtual: Webinar link | goshen.edu/livestream | facebook.com/goshencollege
Cost: Free and open to the public
---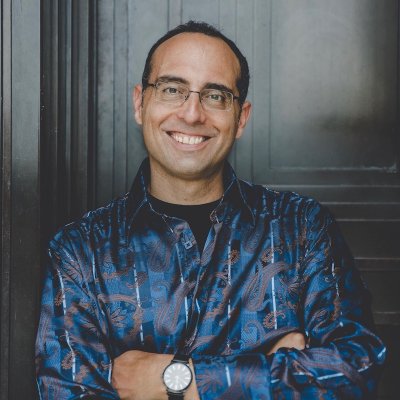 Philip Metres, a poet, translator, scholar and Guggenheim Fellowship winner and author of "Shrapnel Maps," will present a virtual GC Talk, sponsored by the S.A. Yoder Lecture Series, titled "The Place Where Peace and Justice Meet in Palestine/Israel" on Tuesday, March 9, at 7 p.m.
Featured on On Being's Poetry Unbound project, Metres is the author of ten books, including "Shrapnel Maps" (Copper Canyon, 2020), "The Sound of Listening: Poetry as Refuge and Resistance" (University of Michigan, 2018), "Pictures at an Exhibition" (University of Akron, 2016), "Sand Opera" (Alice James, 2015), and "I Burned at the Feast: Selected Poems of Arseny Tarkovsky" (Cleveland State, 2015).
His work—including poetry, translation, essays, fiction, criticism, and scholarship—has garnered a Lannan fellowship, two NEA fellowships, six Ohio Arts Council Grants, the Hunt Prize, the Adrienne Rich Award, three Arab American Book Awards, the Watson Fellowship, the Lyric Poetry Prize, and the Cleveland Arts Prize. Metres has been called "one of the essential poets of our time," whose work is "beautiful, powerful, magnetically original." His poems have been translated into Arabic, Farsi, Polish, Russian, and Tamil.
He is professor of English and director of the Peace, Justice, and Human Rights program at John Carroll University. He lives with his family in Cleveland, Ohio. For more information, check out his website and follow him on Twitter and Instagram @PhilipMetres.
The S.A. Yoder Lecture Series honors Dr. Samuel A. Yoder, a professor at Goshen College from 1930 to 1935 and again from 1946 until his death in 1970. During his career, he was a Fulbright lecturer at Anatolia College in Greece, Smith-Mundt lecturer at the University of Hue in Vietnam, visiting professor at Taiwan University in Formosa, welfare officer under the United Nations in Egypt and GC Study-Service Term leader in Jamaica. Gifts to the series by his students, friends, and family have made the endowed lecture possible.