Survey shows Goshen College students positive about in-person learning during pandemic
Goshen College students expressed higher satisfaction than their peers at other similar colleges regarding their experience in the fall semester during the COVID-19 pandemic, according to a recent national survey.
The survey of 28 small, mostly liberal arts colleges, developed by the Higher Education Data Sharing Consortium (HEDS), sought to measure student experiences in the classroom and on campus in an unusual semester.
"Despite the challenges this year, our student survey results show that students found it easy to follow the public health guidelines put at place at GC, and also were especially satisfied with campus life services," said Justin Heinzekehr, director of institutional research and assessment. "These results are encouraging and reflect the great effort that everyone at GC has made to create a vibrant and safe campus environment in the middle of a pandemic. Compared with similar schools across the country, GC students expressed much more satisfaction with their ability to participate on campus."
Campus life
Those students who were on campus in the fall had relatively positive experiences of campus life, despite the challenges of the pandemic. Seventy-four percent of students found it easy or very easy to wear masks in public areas of the campus, and 77 percent found it easy or very easy to follow requirements for COVID-19 testing.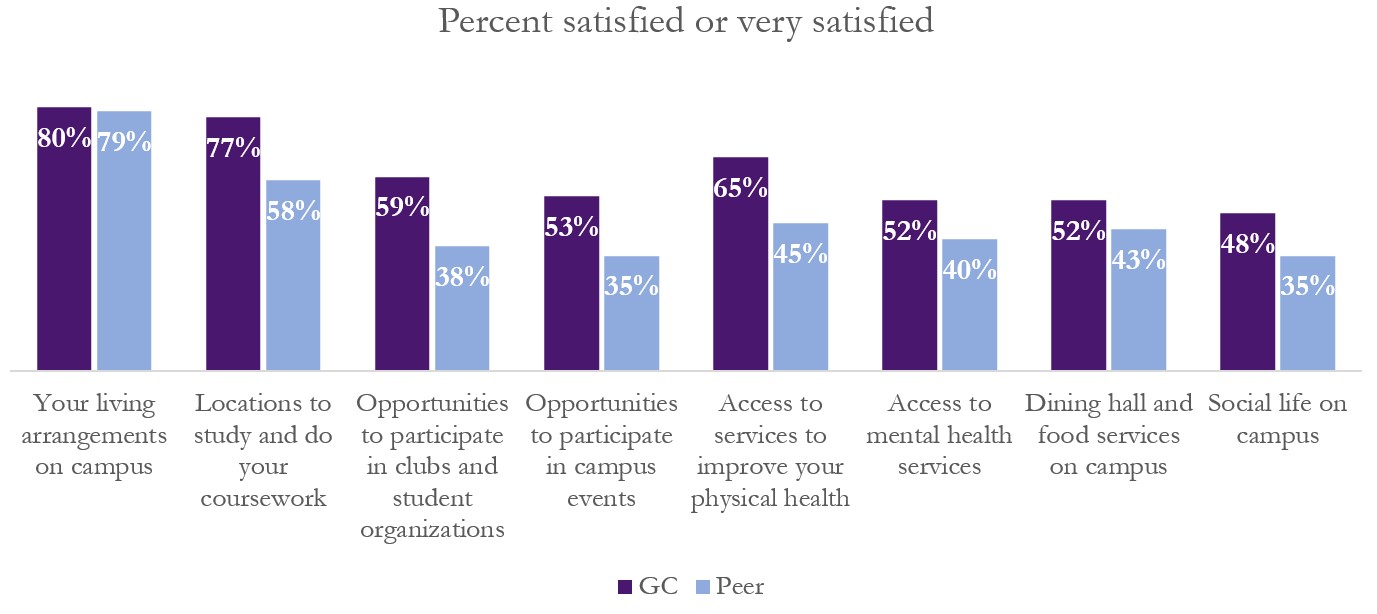 GC students were especially satisfied with services and experiences related to campus life, reporting higher levels of satisfaction than their peers on every item of this section of the survey.
The pandemic has made some areas of campus life inherently challenging, such as social life, and has increased demand for mental health services. However, relative to other institutions, GC students express significantly more satisfaction with campus life than students at similar colleges, in some cases by a margin of 20 percent.
Student context and learning environment 
Among residential students, 68 percent said that they were "happy" or "very happy" to be on campus this term, with 81 percent of residential students reporting that they feel safe on campus.
In general, students chose to live and take courses on campus. More than half (54 percent) of GC respondents were residential students, compared to an average of 44 percent at other institutions. Only two percent of GC students were studying remotely from a distance, compared to 11% at peer institutions. Seventy-six percent of GC students took at least some courses face to face, compared to 40 percent at other institutions. Most GC students experienced a mix of face-to-face and online courses. Only six percent of GC students took entirely online courses, compared to 36 percent at peer institutions.
Students taking primarily face-to-face courses said they felt more connection to GC – with 33 percent feeling a very strong connection – than those taking primarily online courses (22 percent strong connection).
Remote vs. on-campus academic experience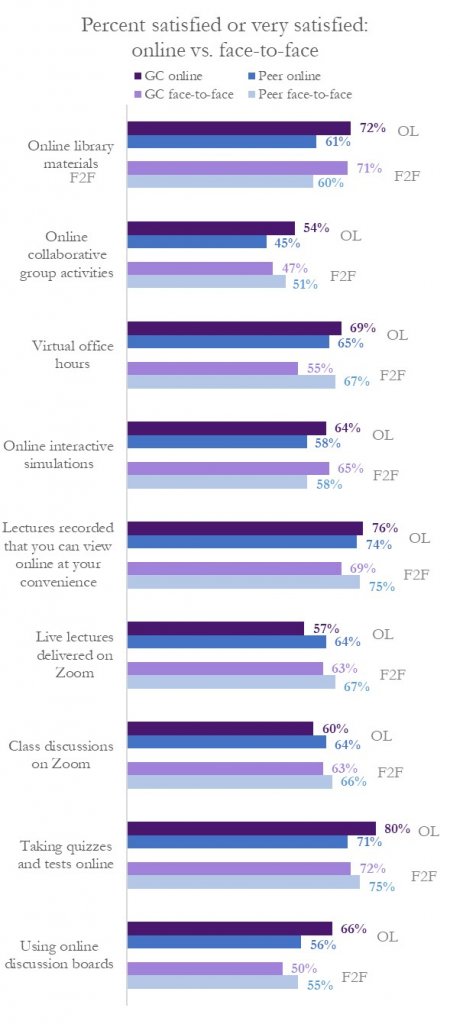 GC students generally reported similar or slightly higher levels of satisfaction with their courses this fall than students at peer institutions, but responses differed based on the format of the courses. Overall, GC remote students tended to be more satisfied with their online class activities than remote students at peer institutions.
The largest gap was in overall satisfaction, with 63 percent of primarily online students satisfied or very satisfied with what they were learning, compared to 78 percent of primarily face-to-face students. There was a similar difference at peer institutions (62 percent online, 74 percent face-to face).
All GC students were much more satisfied with the availability of online library resources than their peers, with 72 percent satisfied or very satisfied, versus 61 percent of their peers.
About the survey
GC administered the HEDS survey in September 2020, beginning during the fourth week of classes. It is a follow-up survey to one administered during the 2020 spring semester, shortly after the outbreak of the pandemic. Nationally, 28 schools participated with more than 21,000 student respondents.
HEDS is a community of colleges and universities committed to sharing data, knowledge, and expertise to advance undergraduate liberal arts education, inclusive excellence and student success.