Professor Jason Samuel given key to the city following disc golf fundraiser
By Sierra Richer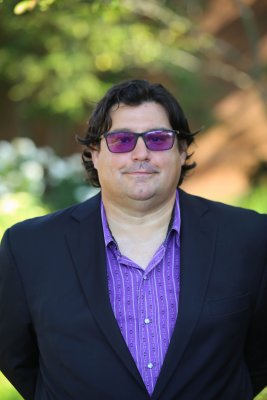 Goshen College Professor Jason Samuel was awarded a key to the city of Goshen recently for his contribution to improving the city of Goshen.
Samuel, assistant professor of communications and manager of the college's radio station, 91.1 FM (WGCS) The Globe, raised nearly $20,000 dollars for a local food bank, The Window, at the disc golf tournament he organized on January 9.
In addition to the checks, Goshen Mayor Jeremy Stutsman presented Samuel with an honorary key to the City of Goshen, an award recognizing Samuel's ongoing involvement in the community.
The wooden plaque to which the key is attached reads: "To Jason Samuel, in recognition of his tireless work and energy to make Goshen a better place by helping to inform and entertain others."
"To be presented a key to the city by the mayor, it's humbling," Samuel said. "I don't want to say that it validates all the work I've done, but let me say this: it's really nice to know that others see how much I care about our community."
Samuel's original plan was to gather a dozen or so friends, play some disc golf and raise a few hundred dollars for charity.
"It far exceeded that," Samuel said. "It ballooned into this massive thing." In the end, 83 players gathered to play in the Maple City Ice Bowl at the Oxbow Flying Disc Sanctuary that Saturday morning.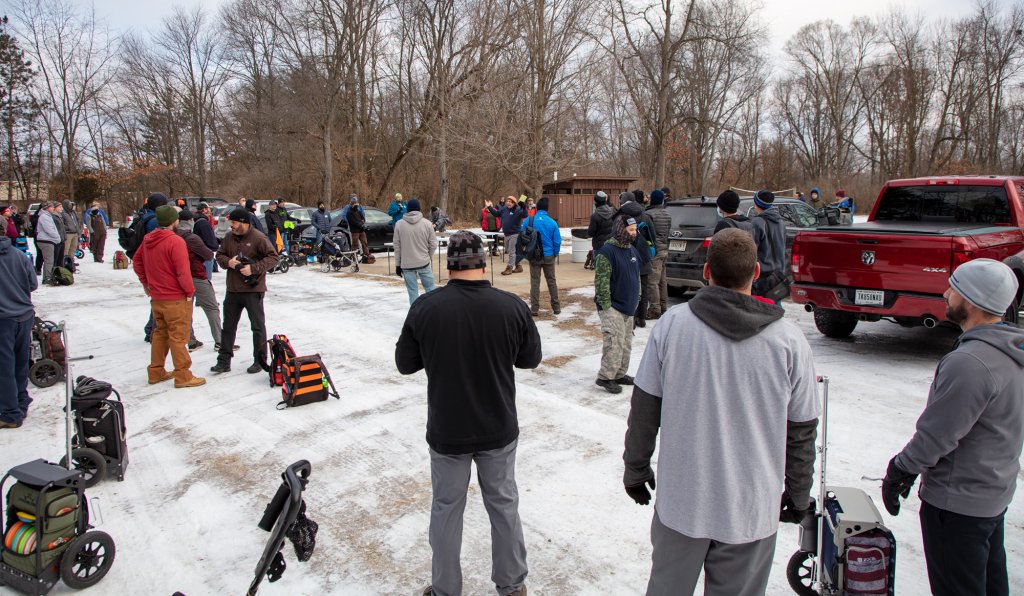 Samuel has always had a heart for people experiencing food insecurity.
"Growing up, I experienced what it was like," he said. "There was a time when our family received public assistance; I was able to get free lunches; people brought boxes of food to our home on Saturday morning."
So when Samuel heard that the need at the local food bank had quadrupled during the pandemic, he wanted to do something to help.
"How do you do a fundraiser with a lot of people in the midst of a pandemic?" Samuel asked himself. A recently-revived hobby proved to be the perfect answer.
Samuel was an avid disc golfer before graduate school and this spring Samuel picked the hobby back up after a 20-year hiatus.
"Because of the pandemic and not being able to socialize in the traditional ways, I was looking for an alternative way to still get some fun, joy, distraction, entertainment and exercise in my life," Samuel said.
Samuel registered his event with Ice Bowl, a national nonprofit organization dedicated to combating food insecurity with disc golf fundraisers. The organization, whose motto is "no wimps or whiners," requires that tournaments be held in the winter months. No matter how frigid the weather, the website states, "There are no excuses for not attending. Either be there or be called out as a wimp."
In addition to entrance fees, monetary donations were collected for The Window.
Before the playing began, the mayor of Goshen, Jeremy Stutsman, presented Samuel with an envelope of checks from donors throughout the community.
"I was dumbfounded," Samuel said. "I cried."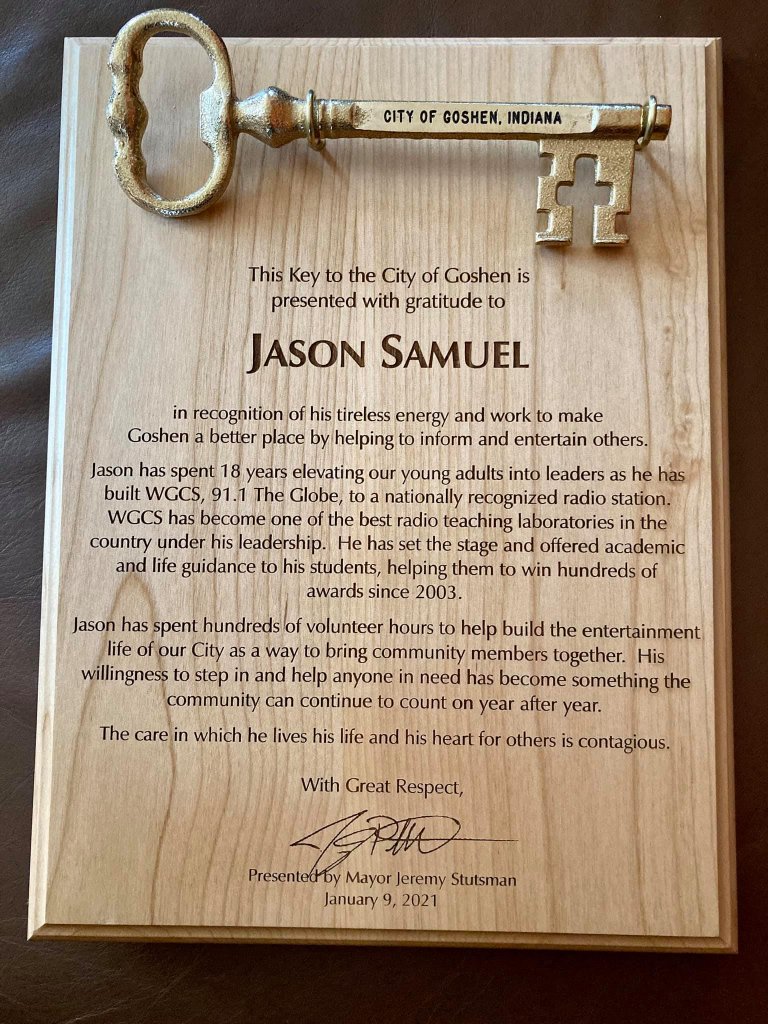 Samuel is awaiting the final sum, but he believes the fundraiser generated close to $20,000. "It's not going to solve the problem of food insecurity, but that money is going to feed a lot of people for a few weeks," he said.Ed Swartley, executive director of The Window, said that the food bank currently distributes more than 1,000 boxes of food per month to Goshen community members and the money raised will help stock their kitchen and food pantry. The organization relies fully on donations from local businesses, churches and residents.
"Goshen has been generous before and they still are," he said. "They have really come through this year."
Samuel has been a resident of Goshen since he moved to the area to attend Goshen College more than 30 years ago. He has been involved in the community not just through his work at the college's radio station, but also as part of the First Friday organizing team and in other capacities.
"I love my town," he said. "I love my friends, my neighbors, my church, my job. All of that is here in Goshen."