From Appalachia to the Andes: Che Apalache brings unique 'Latingrass' sound
This event has been cancelled.
Because the safety of our students, patrons, and employees are of utmost importance to us, it is with regret that we announce the cancellation of Friday's Performing Arts Series concert by Che Apalache. At this time the Performing Arts Series Committee has no plans to reschedule or replace this concert, although we hope to bring Che Apalache to Goshen in the near future. We make this decision based on state and local recommendations to help prevent the spread of COVID-19 in our community (you can read more about Goshen College's COVID-19 response here). 
You have 2 options for your tickets: refund or donation
If you would like a refund, please contact the Box Office either in person or by phone (574.535.7566) between 9 a.m. and 1 p.m. Monday through Friday, or email the box office at boxoffice@goshen.edu.
If you would like to donate your tickets to support the arts, call or email the Box Office to let them know. If you are able to make such a donation, we will be grateful and use it to continue to keep events like this happening in our community in the future when we can again safely gather.  Patrons who do not request a ticket refund by Wednesday, April 1 will have their ticket converted into a donation. 
We thank you for your continued patronage and support for live arts events at Goshen College and appreciate your understanding as we all navigate this difficult time together as a community.
---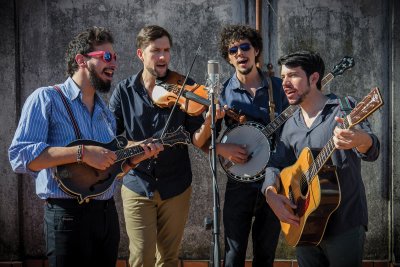 Argentina-based four-man string band Che Apalache will perform at Goshen College on Friday, March 13 at 7:30 p.m. for a Performing Arts Series concert in the Music Center's Sauder Concert Hall.
Che Apalache combines instrumental prowess with tight vocal harmonies to create an authentic blend of bluegrass and Latin American genres, evoking images from Appalachia to the Andes. Their debut album, "Latingrass," is a testament to a powerful cultural and musical exchange.
With members from Argentina, Mexico and the United States, the group's founder Joe Troop (fiddle) is a North Carolinian multi-instrumentalist, singer-songwriter and composer who has been playing bluegrass since he was 15. In 2010, he moved to Argentina where he would meet his future compatriots — Pau Barjau (banjo), Franco Martino (guitar) and Martin Bobrik (mandolin) who make up Che Apalache. They quickly clicked as a collective and in 2013 decided to hit the stage.
In their beginning, Che Apalache was strictly a bluegrass band, but eventually they incorporated Latin American styles into their repertoire to create their widely-acclaimed sound.
In 2017, the band received grants from the North Carolina Humanities Council and the Virginia Foundation for the Humanities to tour the United States, and were awarded first place in the Neo-Traditional band competition at the Appalachian String Band Music Festival in Clifftop, West Virginia. Their second album will be produced by 16-time Grammy Award winning banjoist Béla Fleck.
Tickets are $30, $25 or $20 and are available online or at the Box Office (boxoffice@goshen.edu, 574.535.7566).