Exhibit: David Kendall and Dave Nofsinger
Reception and Artist Talk: David Kendall and Dave Nofsinger
Time & Date: Sunday, Jan. 26, 3 p.m.
Location: Hershberger Art Gallery, Music Center
An exhibit featuring work from David Kendall, a mixed media artist, and Dave Nofsinger, a scene designer, will be on display in the Music Center's Hershberger Art Gallery through March 15, 2020.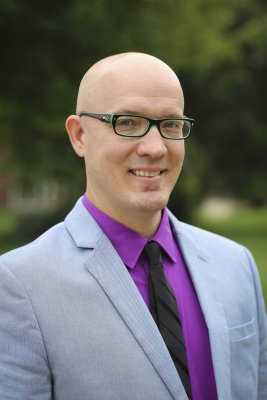 David Kendall is the coordinator for career networks at Goshen College, and an award-winning visual artist, filmmaker and educator. He earned a bachelor's degree in art education from Ball State University and won the prestigious Educator's Scholarship from the Savannah College of Art and Design, where he holds an MFA in film and television.
Over the last twenty-five years, Kendall has worked as an artist, writer and arts educator. Throughout this time, he's developed and taught curriculum for painting, drawing, photography, media arts, broadcasting and filmmaking. His devotion to education is driven by a desire to share skills and experiences with students and community.
He sees art as a powerful way of communicating both ideas and emotions. Whether it's visual art or story telling in its various forms, he often keeps a sense of humor at the core of his art. Currently, he's working on a large-scale portrait series and illustrating children's books out of his studio in downtown Goshen. Kendall also enjoys teaching summer camps at Goshen Community Arts and working for the River Bend Film Festival.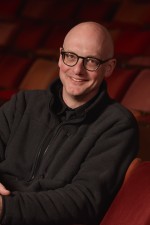 Dave Nofsinger is a professional scenery designer, scenic artist and educator in Kalamazoo, Michigan, where he works as an assistant professor of scene design at Western Michigan University.
Nofsinger is a 1990 Goshen College graduate with a degree in art education, and earned his MFA in scene design in 2000 from University of Arizona.
His teaching specialties are in the areas of scenic design, drafting, rendering, properties and scenic painting. Nofsinger has worked professionally with the Pacific Conservatory of the Performing Arts, Florida Studio Theatre, Denver Center Theatre Company, San Jose Repertory Theatre and others. Nofsinger's many design credits include The Seagull, The Winter's Tale, Hello Dolly, Hamlet, Crazy For You, Bullshot Crummond and Fiddler on the Roof.
He is an active member of the United States Institute of Theatre Technology.