Goshen College workshop appears on PBS Frontline episode about AI and the future of work
Scenes from a workshop held at Goshen College and hosted by New America's ShiftLabs last year have appeared on the most recent episode of PBS' Frontline, which aired Nov. 5. The workshop — a ShiftLab conversation — took place on Dec. 11, 2018, and focused on how artificial intelligence and automation might change work and opportunity in cities like South Bend, Elkhart and Goshen.
→ Watch the Frontline episode (Goshen College appears at the 59:40 mark)
In addition to Goshen College President Rebecca Stoltzfus and members of her leadership team, participants in the event included South Bend Mayor Pete Buttigieg, Elkhart County Commissioner Mike Yoder and Goshen Mayor Jeremy Stutsman, along with other local leaders in education, business and community-based organizations.
"I hope that we as a region and as a community can have the necessary conversations to understand the shared future that we want to create, and to collaborate to create that future together," said Stoltzfus. "When the external forces of change seem overwhelming, how can we do that? Through conversations with each other. Through groups of people coming together to say what matters to them. Through listening. Through relationships."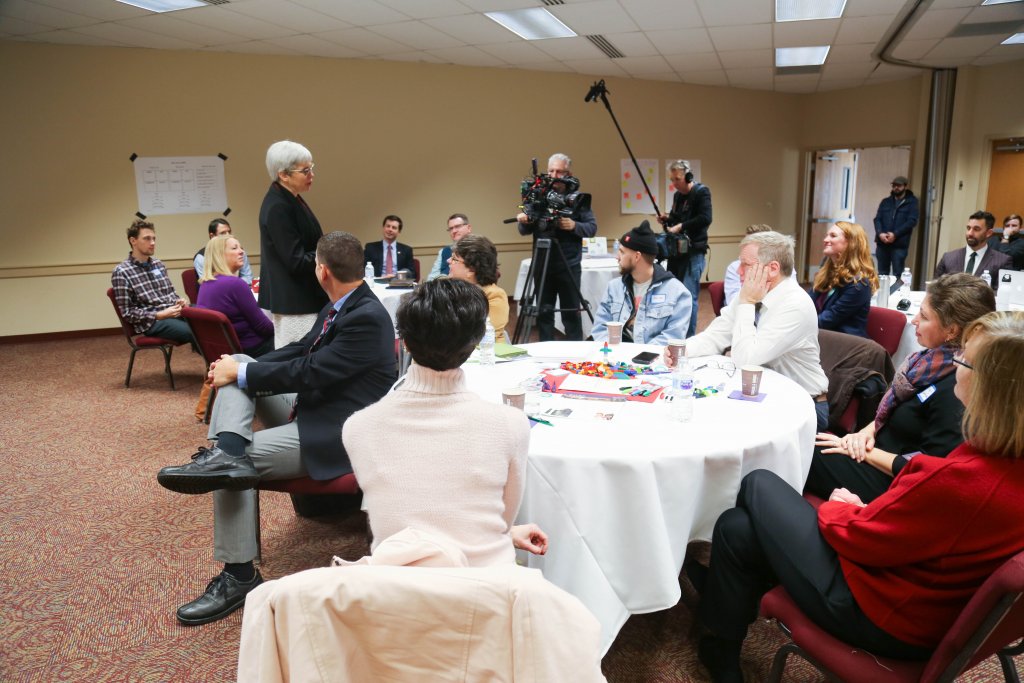 A crew from PBS Frontline that was working on a documentary on the future of work attended the event, looking for some opportunities to talk with leaders in northern Indiana.
"In December 2018 New America was seeking a partner to bring an important conversation about the potential impact of automation on Northern Indiana's most vulnerable residents and, more importantly, how community partners are coming together to rise to the challenges," said Molly Martin, director of the think tank New America Indianapolis.
"We chose Goshen College as our convening partner because of its commitment to providing greater access to high-quality postsecondary education for first-time college students and working adults alike; its commitment to closing equity gaps for the growing Latino demographic in the region; and its understanding that the most future-resilient graduate is one with skills adaptable across jobs and industries…critical thinking, cultural competency and creative problem-solving."
As part of this event, New America presented analysis on automation vulnerability on the South Bend and Elkhart metropolitan areas. They were hopeful that these data and this event might lay the groundwork for a body of design work and local engagement around automation preparedness for vulnerable communities.
"As manufacturers look to robots…the sector will need fewer people with more complex skills — people who bring critical thinking and creative problem solving to a changing sector," Stoltzfus wrote in a recent blog post about this subject. "This is what a liberal arts degree does best: provide depth as well as breadth and the capacity to transfer ideas between settings and across disciplines."
New America is a centrist think tank that focuses on a range of public policy issues, including national security studies, technology, asset building, health, gender, energy, education and the economy.