Music professor Solomia Soroka is on a mission to record music you've never heard
Solomia Soroka, Goshen College Professor of Music and one of the most accomplished Ukrainian musicians of her generation, is bringing the music of forgotten composers back to life.
She has spent the last three years uncovering and recording music by 19th- and early 20th-century American composers, most of whose music has never been recorded.
Her interest in unrecorded composers started when Soroka was a doctoral student at the Eastman School of Music in New York in 2002. During a doctoral seminar, a professor without a lesson plan told the students to "go to the library, find something interesting and write a paper."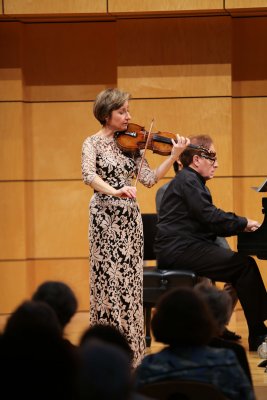 At the library, Soroka asked her friend, who was the archivist there, to help her find something interesting.
"He thought for a minute, and he brought a big folder. And there was a name on this folder: Arthur Hartmann," she said.
It turned out that Arthur Hartmann was one of the best violinists of of the early 20th-century, a friend of Claude Debussey and the first violin professor at the Eastman School of Music. He was also a composer.
"Unfortunately, after his death, his music and his name disappeared into obscurity, and his music is not played," she said.
That was her first experience discovering unknown music, but wouldn't be her last. About three years ago, Soroka was thinking about why the music of some composers is performed so often, while other music is not.
"These days, there are so many musicians and so many concerts that I always feel 'how many times can you play a piece' - like for example Brahms' Sonata - millions and millions of times it's performed and performed."
She thought, "Why don't I hear 19th-century American music played often, and why don't I know any of the violin music of the 19th-century?"
Then it hit her. She could be the one to bring this music back to life.
Soroka happened to have a sabbatical scheduled, and so set out to discover this unknown music of the 19th- and 20th-centuries, visiting libraries and archives throughout the United States.
"I didn't even think I would find that much, because American music - classical music - developed later," she said. "But amazingly enough, I found basically a huge amount of beautiful sonatas of the late 19th-century, beginning of the 20th-century."
"I was very excited, and so I played through some of the sonatas, and some of them were okay, some of there were not that good, so probably a good reason why people don't record them," she said. "But some of them were jewels."
Soroka applied and was awarded a grant to record the music she had discovered, and is in the process of recording 10 of those previously unrecorded violin sonatas by late 19th-century and early-20th-century composers, and hopes to record more in the future.In 2017, Goshen College President Rebecca Stoltzfus introduced new faculty renewal grants, dedicating $335,000 to a Faculty Renewal Fund to ensure that faculty had access to funds allowing them to pursue their scholarship and teaching.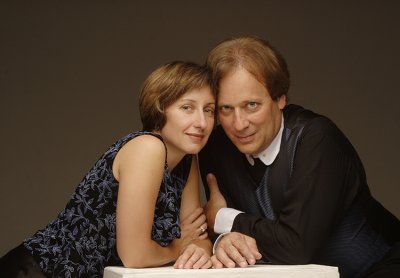 Along with her husband, pianist Arthur Greene, Soroka has performed these pieces at Goshen College, the Longy School of Music (Boston), and the University of Michigan, and plans to continue to perform these unknown sonatas throughout the United States.
The duo has already recorded Hartmann's music for Toccata Classics in London, a label that specializes in recording music that has not been recorded before. Toccata Classics has also expressed an interest in releasing more of Soroka's recordings.
Her plan is to make these recordings available online, with a website to host the recordings and biographical information about the composers, and hopes to involve students to dig deeper into these composers.
"I want to educate the American public with the music they don't know."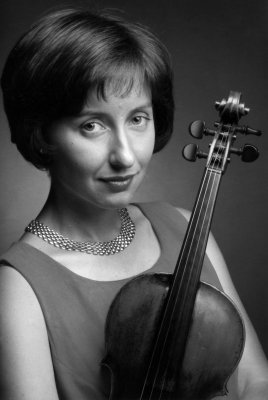 About Solomia Soroka
Soroka, born in L'viv, Ukraine, made her solo debut at age 10, playing the Mendelssohn Violin Concerto with the L'viv Philharmonic Orchestra, and has since performed with other orchestras in Ukraine, Australia and the United States.
She completed her undergraduate (1993), master's (1994) and doctoral (1998) degrees at Kiev Conservatory, and graduated with a Doctor of Musical Arts degree from the Eastman School of Music in 2002.
She won top prizes in three prestigious international violin competitions held in the former Soviet Union – the Prokofiev, Lysenko and Zolota Osin' competitions.
Soroka has appeared as soloist and as chamber musician at concerts and festivals in Australia, New Zealand, Germany, France, Italy, Czech Republic, Ukraine, USA, Canada, China, Korea, and Taiwan. She is praised for being "a truly wonderful musician" (The Press, Christchurch, New Zealand), her "technical mastery…ferocity, light and mystic lyricism" (Daily Freeman, New York), and as one who "plays with great warmth and authority" (BBC Music Magazine).
Soroka performed premieres of a number of important contemporary Ukrainian compositions for violin, including works by Borys Lyatoshynsky, Myroslav Skoryk and Yevhen Stankovytch.
Since her U.S. debut in 1997, she has performed throughout the United States. Her recitals in Washington D.C. were part of the Smithsonian Institute performing arts series and she received the following review in the Washington Post: "Soroka is a superbly equipped violinist, at ease with the technical challenges of Sarasate or of Jeno Hubay's Czardas No. 2, but even more impressive in the gentler moments….  Her tone is warm and mellow on the low strings, brilliant on the high strings, perfectly controlled and expressively used."
Soroka has toured and recorded extensively with her husband, the American pianist Arthur Greene. Their Naxos recording of Four Violin Sonatas by William Bolcom was selected as a Recording of the Month with the highest ranking for both artistry and sound quality by Classics Today, and received reviews in various distinguished journals: "Another virtuoso piece…confidently delivered by this brilliant duo" (Gramophone) And their recording of the violin sonatas of Nikolai Roslavets, also for Naxos, has received international attention. "Soroka seemed utterly confident, catching a haunting, languid quality within Roslavets's elusive harmonic idiom…" (The Strad).
In the past four years Soroka has been recording for Toccata Records, based in London, where she made four premier recordings, of music by American composer Arthur Hartmann, Ukrainian Myroslav Skoryk, and Holocaust composers Leone Sinigaglia and Bernhard Sekles. " Soroka displays elegance and refinement in the Debussy transcriptions […] and elsewhere digs in with abandon and force." (MusicWeb International).
In addition to her role as violin professor at Goshen College, Soroka is on the faculty of Castleman Quartet Program and Schlern Music Festival. She studied with Hersh Heifetz, Bohodar Kotorovych, Liudmyla Zvirko and Charles Castleman.
More information: www.solomiasoroka.com
Story, video and photos by Brian Yoder Schlabach '07