Soroka and Green to present unknown music from American composers
Rieth Recital Series: Solomia Soroka, violin & Arthur Greene, piano
Date/Time: Sunday, Oct. 27, 2019, 4 p.m.
Location: Rieth Recital Hall, Goshen College Music Center
Tickets: $12. Available online or (574) 535-7566.
---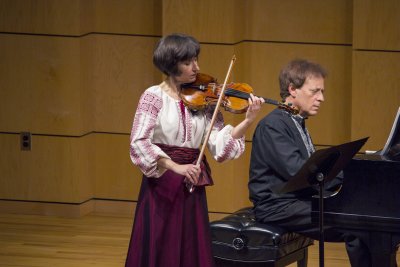 Goshen College music professor and violinist Solomia Soroka, along with University of Michigan pianist Arthur Greene, will present a unique recital of previously unknown music by American composers on Sunday, Oct. 27, 2019, at 4 p.m. in the Music Center's Rieth Recital Hall.
This program will feature unknown violin compositions by American composers of the late 19th to the beginning of the 20th century. Though few people have heard of any of these composers, each composition is an outstanding, vibrant, colorful and engaging piece of music. The duo will give the audience insight into the composers' life and work, and explain the compositions performed.
Soroka and her husband Greene recently collaborated on an album of violin/piano music by Stankovych, which was released on Toccata Classics in London. It is the first complete recording of Stankovych's violin music in the West.
General admission tickets are $12, available online at goshen.edu/tickets or by calling (574) 535-7566. Goshen College faculty/staff/students are free with ID.
Violinist Solomia Soroka, DMA, born in L'viv, Ukraine, is among the most accomplished Ukrainian musicians of her generation. She won top prizes in three prestigious international violin competitions held in the former Soviet Union – the Prokofiev, Lysenko and Zolota Osin' competitions. Dr. Soroka earned her master's degree and completed postgraduate studies in the Kyiv Conservatory, and later served on its faculty in the chamber music department. Her doctoral degree is from the Eastman School of Music. Soroka appears with concerts in Europe, Asia and the United States. She has made four recordings for Naxos, for which she received excellent reviews in major music magazines in the U.S. and Europe. For the past four years Soroka has been under contract with Toccata Classics in London, to make world premiere recordings. Dr. Soroka teaches violin, chamber music, music literature and advanced music theory at Goshen College. During the summer she conducts masterclasses in Italy and Ukraine. Soroka studied with Hersh Heifetz, Bohodar Kotorovych, Liudmyla Zvirko and Charles Castleman.
Born in New York, Arthur Greene studied piano at The Juilliard School with Martin Canin. Greene was a Gold Medal winner in the William Kapell and Gina Bachauer International Piano Competitions, and a top laureate at the Busoni International Competition. Greene has performed with the Philadelphia Orchestra, the San Francisco, Utah, and National Symphonies, the Czech National Symphony, the Tokyo Symphony and many others. He has played recitals in Carnegie Hall, the Kennedy Center, Moscow Rachmaninov Hall, Tokyo Bunka Kaikan, Lisbon Sao Paulo Opera House, Hong Kong City Hall and concert houses in Shanghai and Beijing. He toured Japan and Korea many times. He was an Artistic Ambassador to Serbia, Kosovo and Bosnia for the United States Information Agency. Greene has been on the faculty at the University of Michigan since 1990. He has won the Harold Haugh Award for Excellence in Studio Teaching. His current and former students include prizewinners in international competitions, and his former students hold important teaching posts throughout the United States.