Abner Hershberger's work to be shown in namesake gallery
Art Exhibit: Abner Hershberger: the New York Exhibit
On display: Sept. 22 - Nov. 10, 2019
Reception: Saturday, Oct. 5, 5:30-7 p.m.; artist talk at 6:15.
Location: Hershberger Art Gallery, Music Center
Cost: Free and open to the public
---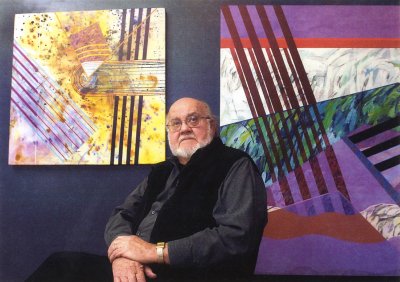 Goshen College Professor Emeritus of Art Abner Hershberger will exhibit his mixed-media paintings in the gallery that carries his name from Sept. 22 to Nov. 10, 2019. A reception and artist talk will be held on Saturday, Oct. 5, during Goshen College's Homecoming celebration.
Abner Hershberger: the New York Exhibit is a collection of paintings that were recently on display in a one-person show in New York City at the National Art Club's Gregg Gallery. That show opened on March 4, 2019, Hersberger's 85th birthday.
With work that is reminiscent of abstract expressionists Mark Rothko and Hans Hoffman, Abner Hershberger has often reflected the Midwest landscapes he encountered while plowing fields during his youth in North Dakota. In a family headed by a preaching deacon, and one of ten children, he found that learning to communicate was a lesson to be learned. He likens his work to a bird's eye (or crop dusting pilot's) eye view of the land that he circled in his John Deere tractor – creating shapes in the land.
He graduated from Goshen College in 1960 with a bachelor's degree in art, and completed coursework at the University of Notre Dame before earning a Master of Arts in Teaching degree from Indiana University Bloomington in 1965. He later earned a Master of Fine Arts degree from the University of Michigan in 1970.
Hershberger taught art at Goshen College from 1965-1999, teaching painting and printmaking and serving as art department chair for 20 years.
Hershberger uses acrylic paints and silk-screened prints to create multimedia pieces. He fuses together images of his rural childhood with abstract and colorful shapes. His pieces have appeared at international exhibitions such as ArtPrize in Grand Rapids, Michigan, and have been featured in exhibits across the country. He has showcased more than 20 solo shows, and his work is on display in dozens of permanent collections at colleges, museums and other public spaces from coast to coast.
Hershberger and his wife, Anne, a retired professor of nursing, live in Goshen, where he continues to produce, show and sell his artwork. His work can be viewed at www.abnerhershberger.com.
The Hershberger Art Gallery is open weekdays from 9:00 a.m. to 5:00 p.m., and weekends 2:00 to 4:00 p.m. during the academic school year. Located within the Goshen College Music Center, the gallery will be closed during academic holidays.