Rieth Recital Series to bring captivating classical music to Goshen for seventh season
Now in its seventh season, the Rieth Recital Series (formerly Rieth Chamber Series) will continue to provide captivating classical music in Michiana. The 2019-20 series will include a riveting performance by the Fischoff Gold Medal and Grand Prize Winning wind ensemble The Aruna Quartet, the magnificence of the Taylor and Boody "Opus 41" organ, the Sherer Trio - a collaboration with the Goshen College Music Department Faculty, and distinguished musicians sharing repertoire from the Baroque to the present.
Tickets for each performance are $12, and a series subscription for all eight concerts is available for $87, a 10% discount over individually-priced tickets for the entire series.
To purchase tickets or order the series, visit goshen.edu/tickets, or contact the Goshen College Box office; email boxoffice@goshen.edu, call (574) 535-7566, or visit the Box Office in the Music Center Lobby.
The 2019-20 Rieth Recital Series concerts include:
Matthew Hill, piano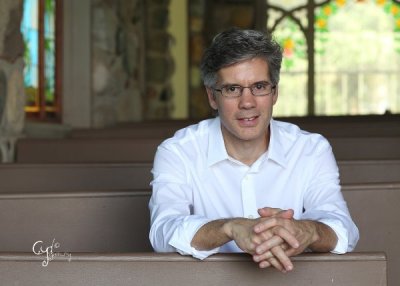 Sept. 14, 2019, 7:30 p.m.
Matthew Hill, DMA is professor of piano and department chair at Goshen College. He has performed and presented master classes in the U.S., China and Italy. He contributed "Faith, Silence, and Darkness in Messiaen's Regard du silence" for the text Silence, Music, Silent Music (Ashgate publication) and was an invited presenter/performer at the University of Kansas for "Couleurs dans le vent: Celebrating the Music of Olivier Messiaen." The ways in which music explores theological subjects, as is especially evident in the music of Franz Liszt and Olivier Messiaen, is the theme of this recital. Messiaen often associated musical sound with color in his musical contemplations, and Liszt wrote several works of significant musical imagery: a fountain in Les jeux d'eaux à la Villa d'Este, images of Saint Francis of Assisi speaking to the birds, and Saint Francis of Padua walking on the waves.
The Aruna Quartet
Sept. 20, 2019, 7:30 p.m.
The Aruna Quartet is a prizewinner in national and international competitions including the MTNA National Competition, the Coltman Competition, The American Prize and the ENKOR competition. Most recently, in May 2019, Aruna was awarded the Gold Medal and Grand Prize at the 46th Fischoff National Chamber Music Competition, held at the University of Notre Dame in South Bend, Indiana. Since forming at Texas Tech University in the Fall of 2015, the Aruna Quartet has performed a wide range of traditional and contemporary repertoire. The saxophone quartet is now actively commissioning and arranging music, presenting educational clinics, and performing on tours throughout the United States and Europe.
Solomia Soroka and Arthur Greene
Oct. 27, 2019, 4 p.m.
Violinist Solomia Soroka and Pianist Arthur Greene are well-known performers and recording artists for Naxos and Toccata Classics in London. They specialize in music that has never been performed or recorded before. This program will feature unknown violin compositions by American composers of the late 19th to the beginning of the 20th century. Not many people have heard of any of these composers, nevertheless each composition is an outstanding, vibrant, colorful and engaging piece of music. The duo will give the audience insight into the composers' life and work, and explain the compositions performed. Solomia is professor of violin at Goshen College and Arthur is professor of piano at the University of Michigan in Ann Arbor.
Norell Piano Duo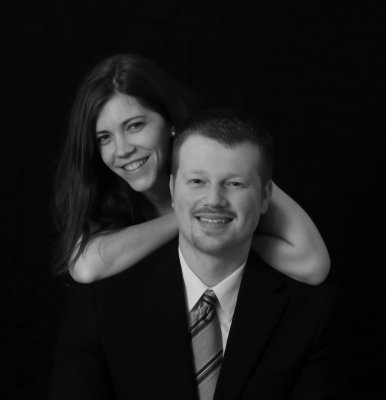 Nov. 17, 2019, 4 p.m.
The Norell Piano Duo began performing together in 2009 at LCC International University in Klaipeda, Lithuania, and has continued to present repertoire for one and two pianos across North America, most recently in Florida and at the University of Wisconsin-Madison. Luke and Mary Rose are active as solo performers, teachers and adjudicators, and they both teach on the faculty of the Goshen College Community School of the Arts, where Mary Rose also serves as director.
Craig Cramer, organ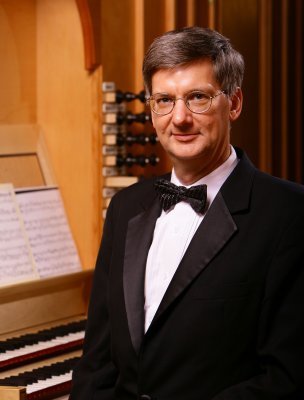 Feb. 2, 2020, 4 p.m.
Craig Cramer is professor of Organ and artist in residence at the University of Notre Dame. One of the most traveled organists of his generation, Cramer maintains an active recital career across the United States, Canada and in Europe, on some of the most important historic organs in the world. Dr. Cramer' performances are frequently heard on American Public Media's program, "Pipedreams" (www.pipedreams.com) and he has fifteen CD recordings to his credit. Cramer was instrumental in the installation of several new organs by Paul Fritts on the campus of the University of Notre Dame. Widely recognized as a pedagogue, the University of Notre Dame recently recognized Cramer with a Kaneb distinguished faculty teaching award.
Sherer Trio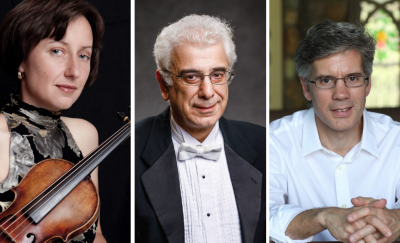 March 20, 2020, 7:30 p.m.
The Goshen College Sherer Trio brings together three of GC's instrumental faculty for an outstanding concert of chamber music on the Rieth Recital stage. A native of Ukraine, violinist Solomia Soroka is professor of music and teaches applied violin, music theory and chamber music. Cellist and Adjunct Professor David Machivariani is a native of the Republic of Georgia and teaches applied cello at Goshen College and Valparasio Unversity. Pianist and Professor of Music Matthew Hill is chair of the music department, teaches applied piano, music history, piano pedagogy and chamber music courses.
James Richardson, organ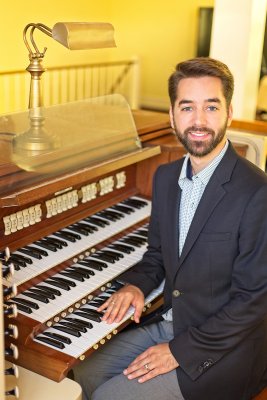 March 29, 2020, 4 p.m.
James J. Richardson is an organist, composer, and choral conductor. Self-taught in childhood, Richardson learned to play by ear and improvise on the piano at a very young age. Richardson attended DePauw University where he studied organ and harpsichord under Dr. Carla Edwards and voice with Barbara Paré. He earned a Master of Music in Organ Performance at the American Organ Institute at the University of Oklahoma (AOI at OU) under well-known performer and improviser Dr. John Schwandt. During his time at OU, he served as a graduate-student archivist for the American Theatre Organ Society (ATOS) and he helped procure a GRAMMY grant for the preservation of some of its artifacts, in addition to working in the organ shop and learning the basics of organ building and maintenance. Richardson is now the instructor of organ for Goshen College as well as the director of sacred music at St. John the Evangelist Catholic Church in Goshen, where he lives with his wife Katie and son Anthony.
The Silver Duo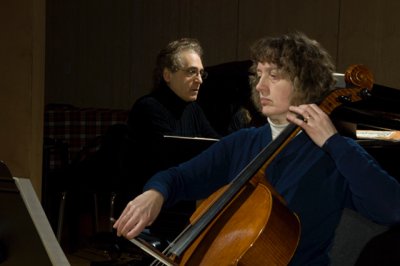 April 17, 2020, 7:30 p.m.
Noreen and Phillip Silver bring a wealth of performing experience to their highly regarded partnership The Silver Duo. They have an enviable international reputation for chamber music playing of the highest caliber. The Silver Duo, founded when Noreen and Phillip were students at the New England Conservatory of Music, has received accolades and acclaim from appreciative audiences and critics throughout Europe, Israel, the United States, Scandinavia and the Czech Republic. Their imaginative programming, in which lesser-known masterpieces are given exposure alongside established repertoire favorites, has proven very popular and made them much in demand.