Historic European Anabaptist costume prints on display in GC's library gallery
Art Exhibit: Historic European Anabaptist Costume Prints: The Paul and Jean Kraybill Collection
On display: Sept. 1 through Nov. 17, 2019
Reception: Sunday, Sept. 8, 2-4 p.m.
Location: Good Library Art Gallery
Cost: Free and open to the public
---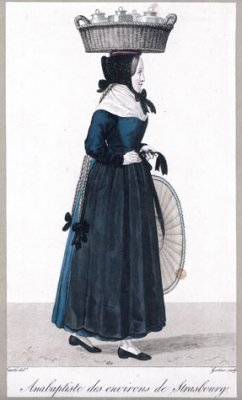 An exhibit featuring works from the Paul and Jean Kraybill Collection is on display in the Good Library Art Gallery from Sept. 1 through Nov. 17 with a reception on Sept. 8 from 2-4 p.m.
The core of this exhibit is a large collection of antique colored engravings that depict Anabaptists in Switzerland, Alsace and the Palatinate from c. 1700 to 1900. The prints were collected in Europe by Paul and Jean Kraybill and given to the Mennonite Historical Library in 2018. Smaller examples of Dutch and Russian Mennonite costumes, a few actual costumes and other contextual objects will also be on display. Special tribute will be paid to Jean Kraybill, the donor, and to Melvin Gingerich (1902-75) for his research and book, Mennonite Attire through Four Centuries (1970).
The colored engravings of costumes have been exhibited in Strasbourg, France; Mennonite World Conference in Winnipeg, Manitoba; and Eastern Mennonite University in Virginia.
Some of the prints on display are owned by the Mennonite Historical Library.