Spring 2019 Dean's List announced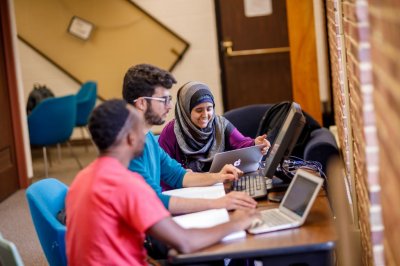 Goshen College recently recognized 202 undergraduate students for excellence in academics on the 2018-19 spring semester Dean's List.
The Dean's List includes traditional undergraduate students earning at least a 3.75 GPA, while completing at least 12 hours of course work for a letter grade. Only grades from the designated semester are included in the Dean's List selection process.
The college initiated its Dean's List in fall 1999 and it celebrates the achievement of students who have met high academic standards.
Traditional undergraduate

Seniors


Ana Andriano
Alyssa Arella
Quinlan Armstrong
Evan Beck
Alysha Brown
Morgan Catron
Jose Chiquito Galvan
Stephanie Dilbone
Christina Dukehart
Siana Emery
Benjamin Fox
Ethan Francois-Ravalier
Joshua Garcia
Roxanne Gehring
Megan Graber
Natalie Graber
Suzanna Griest
Ryan Haggerty
Emily Hilton-Nickel
Elinor Keener
Lydia Kelsey
Abigail King
Rachaelann Klink
Maryna Krasnova
Cheyenne Lambert
Elsa Lantz
John Lapp
Joshua Liechty
Sarah Martin
Sophia Martin
Carter McKay-Epp
Geoffrey Miller

Rae Ann Miller
Ryan Miller
Mariah Myers
Greta Neufeld
Eric Ibrahim Ng'Ang'A
Curtis Oesch
Marris Opsahl
Corrin Osborne
Mandira Panta
Benjamin Reimer
Allison Roehr
Luke Rush
Manisha Sapkota
Meredith Satchwell
Oliver Smith
Matthew Smucker
Calista Starr
Jenae Stutzman
Haley Tranter
Kristin Troyer
Carolina Villalobos Palacios
Maria Villasenor
Clarissa Villegas
Seth Weaver
Bridgette Webb
Olivia Wenger
Annelise Wiebe
Kelsey Winters
Katie Yoder
Trever Yoder
Rebekah Zehr
Juniors 

Nathan Berkey
Hugh Birky
Megan Boemmel
Megan Bower
Elizabeth Breckbill
Tanner Camp
Mayra Castillo
Tessa Clark
Genevieve Cowardin
Lydia Dyck
Chelsea Foster
Toby Fox
Heather Gabel
Alexandrea Gordy
Erin Graber
Mariane Grace
Amanda Heckaman
Dillon Hershey
Abby Hochstetler
Isaiah Kaufman
Ian Keim
Evan Krabill
Tyler Lautenschleger
Elisabeth Liechty
Jace Longenecker
Ian Martin
Laura Miller
Sarah Miller
Talia Miller 

Vashti Neff
Pamela Ortiz
Nathan Pauls
Janell Preheim
Fatemeh Rasoulipour
Claire Rauck
Kailey Rice
Jennifer Ritchie
Daniel Robles
Jaelyn Rufenacht
Emmalene Rupp
Emily Sandler
Luke Schrock
Jacob Sheppard
Madeline Smith Kauffman
Cailin Smith
Olivia Smucker
Jorge Soto
Kadie Spoor
Rheannon Starr
Anna Steiner
Samrawit Stoner
Amber Tate
Megan Thompson
Maartje van Bergeijk
Nicholas Walter
Jessica Willman
Shelbey Younts
Makena Zimmerman 
Sophomores

Sven Badstieber
Katie Baer
Adriana Berger
Riley Borntreger
Emma Burton
Julia Carriel
Lauren Cernak
Alejandro Corea Murillo
Meghna Das
Jesica Day
Paul Drescher
Olivia Ewry
Cade Fisher
Claire Franz
Joshua Friesen
Harrison Gingerich
Matthew Granitz
Christopher Harnish
Brooklyn Harris
Gabriel Hartzler
Simon Hurst
Kristin Jantzen
Leah Kauffman
Terra Kincy
Kyra Krall

Vianey Latisnere Reinada
Stephen Lowe
Jaime Manresa Rigo
Anna McVay
Elena Meyer Reimer
Emma Nouri
Bryan Olvera
Leah Otto
Benjamin Reichenbach
Taylor Rex
Sierra Richer
Robert Sessa
Alexander Seymour
Samantha Shank
Allyson Smith
Kyle Staelgraeve
Khampha Stempel
Josephine Strader
Brooke Stutzman
Kathryn Thornthwaite
Clara Unzicker
Joel Yoder
Elaina Youngberg
Nick Yutzy
Ainslee Zou 
Freshmen

Ebtihal Abdelaziz
Ashley Arroyo
Denver Beck
Abhishek Bhandari
Austin Bontrager
Graysen Cockerham
Rediet Delelegne
Andrew Fox
Erica Gunden
Ariana Herrera Fernandez
Jonah Hochstetler
Marcus Housholder
Anya Igel
Yujin Kim
Gabriella Klopfenstein
Katherine Landes 

Adriana Martinez Diaz De Leon
Eric Miller
Laura Olsen
Gabrielle Ott
Jarrod Price
Miranda Reyes Flores
Savannah Roth Walter
Landon Roth
Christian Saleh
Anna Smucker
Madison Sorg
Benjamin Troyer
Gabrielle Vogeler
Dakotah Weller
Kylie Whipple