Burkholder family spend a year as world wanderers
By Nick Yutzy '21
Last summer, 1993 Goshen College alumni Susan and Alan Burkholder quit their jobs and left their home in Denver with their two daughters, Elsa and Magdalena, in tow for a one-year, 'round-the-world family sabbatical.
"We love travel," Susan wrote in their blog. "We were ready to press pause on our careers for a bit. And most importantly, we want to provide some sort of intentional, cross-cultural experience for the girls at formative ages."
The Burkholders began toying with this idea more than a year ago. As a board member of Mennonite Mission Network (MMN), Susan has used those connections in choosing some of their destinations, often acting as MMN workers on "special assignment." So far they have traveled to Peru, Ecuador, Colombia, New Zealand, Australia, Indonesia, Cambodia, Laos, Nepal, South Africa and Zanzibar. As their year abroad winds down, they still plan to travel to France, Spain and Portugal before returning home.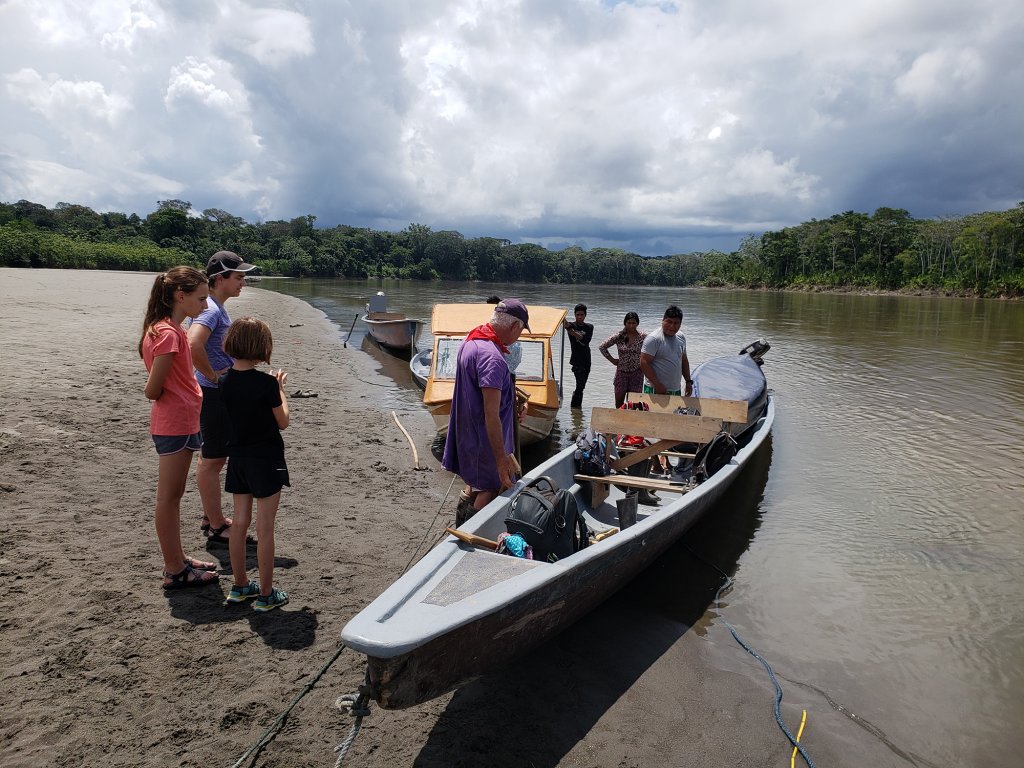 Susan first credits her and Alan's decision to take a year off in order to travel to their time spent in Guatemala with Mennonite Central Committee (MCC). Their time in Guatemala not only opened their eyes to the world, but also inspired them to do the same for their two daughters.
But also, for Susan, their passion for adventure stems from previous encounters with interculturalism.
"We may not have done MCC if it weren't for our experiences at Goshen College with SST, a spring term in Guatemala, and so many friends with international living experiences," Susan said.
They've set aside about a month for each location, and have been homeschooling their daughters on the road. Susan writes in their blog, "Admittedly, [one month] is still a quick visit, but we're hoping that it is enough to give the girls, and us too, a better understanding of the many different ways people live and work and play."
Despite the relatively brief time in each destination, the Burkholders have been challenged to reflect deeply in their down time on what they have learned so far.
"We've had time to discuss big issues that come up 一 income inequality, racism, the role of religion in society, our own thoughts on religion, black holes and gravitational wave, and single use plastic."
Travelling the world sounds attractive to many people, and some even take the task on, but Susan writes in their blog of how they hope to view the world as they visit each place. "We're trying to see the world with open eyes," she writes. "We often had deep discussions about politics, inequality and injustice. But going to places where the injustice is still at the surface makes it so palpable and memorable."
Noticing the harsh realities of historical apartheid in South Africa, seeing the countless cluster bombs launched by the United States that failed to detonate in Laos and recognizing the downfalls of single use plastic in Southeast Asia have all opened their eyes. Many experiences like these have been awakening for the Burkholders, but along with somewhat troubling insights, they have encountered equally rewarding newfound beauty.
They have explored the Amazon in Ecuador, trekked across Nepal, enjoyed the breathtaking scenery New Zealand had to offer, snorkeled in Zanzibar, bungee jumped in Queenstown, took part in a 12-day safari in South Africa and more.
The excursion took years of working, saving and planning. Both Magdalena and Elsa continue to follow a somewhat unorthodox education system they like to refer to as "worldschooling." Although it won't carry on following the lengthy expedition, the Burkholders hope to continue some of the experiential learning processes they delved into. "We've learned a lot of places can feel like home for a while," Susan said.
Follow along with the Burkholders at https://wonderwanderrtw.wordpress.com.