Summer camps offered for sports writing, musical theater, art and basketball
Goshen College will offer a number of summer camp opportunities for kids of all ages, including basketball, sports writing, musical theater and art. Learn more and sign up at goshen.edu/summercamps.
---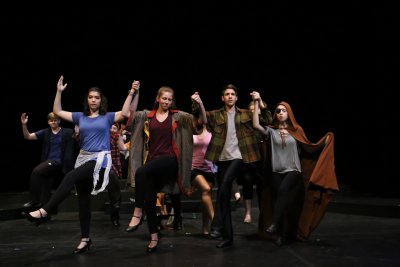 Musical Theater Camp 

Ages: Grades 9-12 (Fall 2019)
Dates: June 16-22, 2019
Cost: $500 (commuter), $575 (residential); sibling discounts available
At Musical Theater Camp students will participate in dance, acting and voice classes. Morning warm-ups will provide students with a practice routine that they can take home and implement into their own practice regime. Each student will receive one-on-one attention in a private voice lesson while being coached in our daily masterclasses, and will participate in full-cast choruses and as soloists in more intimate scenes. These scenes will be presented to the public in our Musical Theater Revue on Saturday, June 22.
Watch the video about Musical Theater Camp.
Participants will have the option to stay in the college residence halls and eat meals in the dining hall.
Students will audition prior to camp. Recorded auditions will be submitted with completed registrations, students will be cast in scenes and receive all music prior to camp.
The camp will kick off on Sunday, June 16, with an afternoon of games and a pizza party. Students will show off their skills in a quick dance class, tour the campus, and those staying on campus will move into residence halls.
Learn more or register for this camp
---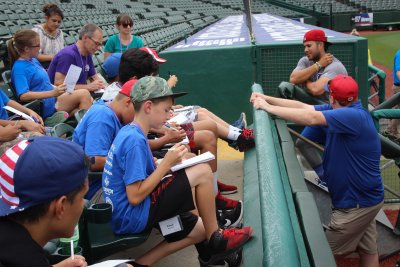 Write On Sports Camp
Ages: Grades 7-8 (Fall 2019)
Dates: July 8-19, 2019
Times: 9 a.m. – 3 p.m., Monday through Friday
Cost: Free (includes lunches and transportation from select locations)
The seventh annual Write On Sports camp runs from July 8-19 at Goshen College. In partnership with the national Write on Sports program, Goshen Community Schools and the Goshen College Communication Department, the camp for middle school students teaches writing skills by harnessing their love for sports.
Watch the video about Write on Sports.
Students will learn interviewing techniques from journalists and have a chance to interview star athletes. The teaching staff includes certified teachers from Goshen Middle School and Goshen High School, assisted by Goshen College student interns.
Field trips include a visit to Notre Dame University and a South Bend Cubs game, where students will interview team members before a game. Students will write sports stories and create videos during the two weeks, and their work will be published online and in a camp magazine.
Write on Sports, a non-profit, receives funding from individuals, foundations and corporations. It is tuition free. Goshen scholarships are made possible by the Maple Leaf Athletic Club, United Way of Elkhart County, the Windward Foundation and other donors.
Learn more or register for this camp
---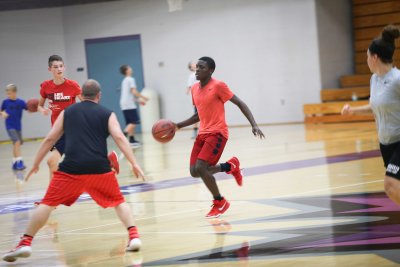 Boys Basketball Camps
Ages: High School
Dates: Aug. 3 and Aug. 4
Cost: Varies, $50, $85
Goshen College men's basketball head coach Jon Tropf, along with other Maple Leaf coaches and players, will conduct two camps on Aug. 3 and 4. They include:
High School Boys Upperclassmen Elite Camp: Aug. 3, 10 a.m.-3 p.m. (high school rising seniors) ($85)
High School Boys Underclassmen Elite Camp: Aug. 4, 11 a.m.-4 p.m. (high school rising juniors or sophomores) ($50)
Learn more or register for these camps
---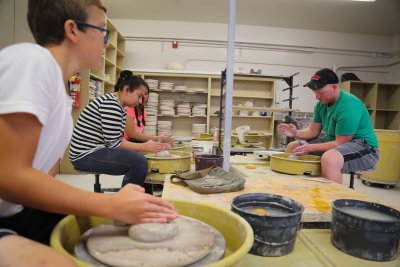 3D Art Camp
Ages: Grades 6-8 (Fall 2019)
Dates: July 8-12
Times: 10 a.m.-12 p.m. and 2 p.m.-4 p.m.
Cost: $60
Led by Seth Krabill, a 2015 Goshen College graduate and an art teacher at Prairie View Elementary, with help from GC art professor Merrill Krabill, this new 3D art camp will focus on working with clay, and include forays into other sculptural mediums.
Learn more or register for this camp
---
McCracken Basketball Camps
Ages: 8-18
Dates: June 24-27, 2019
Cost: $355-$465
Back for the third summer, this complete skills camp offers boys and girls the opportunity to compete, learn new skills, and most importantly have fun! Campers can receive the full camp experience as an overnight camper or commute as an extended day camper.
McCracken Basketball Camps Complete Skills Program offers detailed, personal instruction and drills to help players thrive, gain a deeper understanding of the game, and develop their skills at every position.
Highlights include:
Skill-appropriate drills for each player and drill group
Top competition in daily league games and scrimmages
Individual and group contests for awards
---
Additional camps may be added, check back at goshen.edu/summercamps to learn more.