'Brilliant' and 'multifaceted' jazz musician Arturo Sandoval performing May 18
Performing Arts Series Concert: Arturo Sandoval
Date & Time: Saturday, May 18, 2019, 7:30 p.m.
Location: Goshen College Music Center's Sauder Concert Hall
Cost: $40, $30, $25 | Available online or through the Goshen College Box Office (574-535-7566, boxoffice@goshen.edu)
---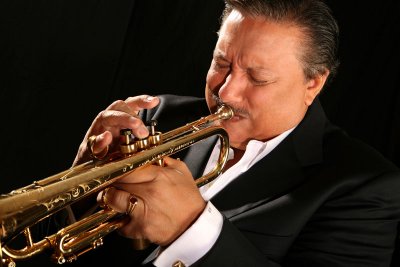 Closing out the 2018-19 Goshen College Performing Arts Series, Cuban-American jazz trumpeter, pianist and composer Arturo Sandoval will take the stage in the Music Center's Sauder Concert Hall Saturday, May 18 at 7:30 p.m.
Sandoval, a protégé of the legendary jazz master Dizzy Gillespie, has evolved into one of the world's most acknowledged guardians of jazz trumpet and flugelhorn. Born under the communist regime of Fidel Castro, he began studying classical trumpet at the age of 12, and quickly found the excitement of the jazz world.
Sandoval has been nominated 19 times and awarded ten Grammy Awards along with six Billboard Awards; His composing work on the entire underscore of the HBO movie based on his life, "For Love or Country" that starred Andy Garcia as Sandoval won an Emmy award. His two latest Grammy award-winning albums are Dear Diz (Every Day I Think of You) and Como Yo Te Siento. Sandoval's versatility can be heard on recordings with artists from Josh Groban, Tony Bennett and Stan Getz to Johnny Mathis, Frank Sinatra, Rod Stewart and Alicia Keys. He was also awarded the Presidential Medal of Freedom by Barack Obama in 2013.
Sandoval is also a renowned classical musician, performing regularly with the leading symphony orchestras from around the world. He recorded John Williams' Trumpet Concerto with the London Symphony Orchestra. He also composed his own "Concerto for Trumpet & Orchestra" which can be heard on Arturo Sandoval: The Classical Album. His classical artistry has earned him the respect and admiration from the most prestigious conductors, composers and symphony orchestras worldwide.
Filled with a virtuoso capability, he desires nothing more than to share his gift with others who feel the same intense adoration for music as he does.
Tickets are $40, $30, $25  and can be purchased through the Goshen College Box Office (574-535-7566, boxoffice@goshen.edu) or online at goshen.edu/tickets.