Faculty members complete national teaching training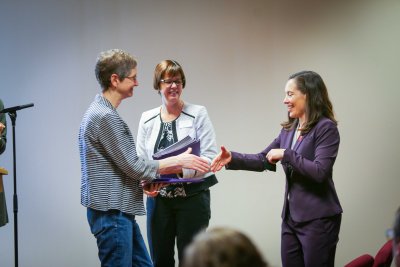 Twenty Goshen College faculty members from a variety of disciplines earned a nationally-recognized teaching credential through the Association of College and University Educators (ACUE) this spring.
These faculty have demonstrated their commitment to teaching excellence and to ensuring that Goshen College students receive the best education possible by completing ACUE's rigorous, 25-module "Effective Teaching Practices" course. The course is based on more than 30 years of research that document the evidence-based teaching practices that have been shown to improve student outcomes while also providing course-embedded career guidance.
"Faculty are passionate about their disciplines; they are experts with very specialized knowledge and interests," said Ann Vendrely, vice president for academic affairs and academic dean. "That doesn't mean that they are expert teachers. This course provided a 'crash course' in teaching and a chance to focus on that expertise."
On Friday, March 29, Goshen held a pinning ceremony with Carmen Macharaschwili, Ph.D., director of academic programs for ACUE, to celebrate faculty members' achievement and personal commitment to impacting student learning and success. Faculty members earned a nationally-recognized Certificate in Effective College Instruction co-endorsed by ACUE and the American Council on Education (ACE). It's a symbol — to Goshen College and nationwide — that these faculty members have received formal instruction in using evidence-based teaching practices.
These faculty members include:
Goshen College was chosen as one of 26 institutions across the nation to join the Consortium for Instructional Excellence and Career Guidance, a new initiative that will prepare up to 500 faculty members to use evidence-based teaching practices shown to promote student success while embedding career guidance into their existing courses.
"Goshen College exemplifies the goals of our collaboration," said Carmen Macharaschwili, regional director of academic programs for ACUE. "As nearly one-third of the faculty committed themselves to instructional excellence and career guidance, a majority of Goshen's student body is sure to benefit from their efforts. It was an honor to experience the dedication of these professors as they fulfilled our shared mission of student success."
The initiative is a partnership between the Council of Independent Colleges (CIC) and the Association of College and University Educators (ACUE), and is made possible by a $1.2 million grant from Strada Education Network, a national nonprofit dedicated to strengthening America's pathways between education and employment.
As part of the program, graduates of the ACUE course participated in "learning communities" organized by the faculty development leaders in order to share some of the strategies that they have learned. Through this mechanism, the learnings gained by the direct participants will be disseminated to a majority of the faculty. Kathy Meyer Reimer, professor of education, facilitated this program.
By participating in the program, the faculty development leaders will also integrate aspects of the ACUE curriculum into the orientation program for new faculty, both continuing and adjunct.
"This new course prepares faculty members to develop students' critical thinking, leadership, interpersonal, professional skills, and more, which are all crucial to success in obtaining and keeping a job," says Dr. Penny MacCormack, ACUE's chief academic officer. "These new modules go a step further to guide faculty members in providing specific career examples and skills assessments throughout their coursework."