The StepCrew to bring high-energy performance March 29
Performing Arts Series Concert: The StepCrew
Date: Friday, March 29, 2019
Time: 7:30 p.m.
Location: Goshen College Music Center's Sauder Concert Hall
Cost: $40, $35, $25. Purchase tickets online or at the Goshen College Box Office (574-535-7566 , boxoffice@goshen.edu)
---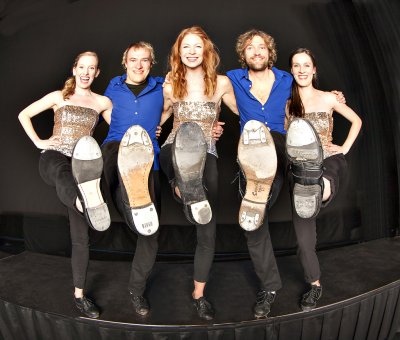 Featuring the world's top talents in Irish Stepdancing, Ottawa Valley Stepdancing and Modern Tap, The StepCrew will bring exhilarating music and dance to Goshen College Music Center's Sauder Concert Hall Friday, March 29 at 7:30 p.m.
With virtuosic dancers and musicians from the likes of The Chieftains, Cherish The Ladies and Bowfire, this cast of outstanding talent takes you on a dance journey, as champions in their respective art forms show audiences the amazing similarities and differences between these three captivating styles. As if dancing weren't enough, The StepCrew boasts three world-class fiddlers backed by an amazing five-piece ensemble comprised of some of the most talented and respected musicians in the Celtic music scene today.
This amazing company is led by Cara Butler and The Pilatzke Brothers, Jon and Nathan. Cara is best known as The Chieftains' principal Irish dancer for the last two decades, while Jon and Nathan are undoubtedly Canada's leading and most exciting Ottawa Valley Stepdancers.
Paddy Moloney of The Chieftains said "The StepCrew does not simply draw their audience in, they take them by the hand and remind us what dance is meant to be about – fun."
Tickets are $40, $30, $25 and can be purchased through the Goshen College Box Office (574-535-7566, boxoffice@goshen.edu) or online.
Upcoming concerts in the Performing Arts Series include:
Thursday, June 7, 2018, 4 p.m. - The Summit: The Manhattan Transfer meets Take 6
Saturday, May 18, 2019, 7:30 p.m. - Arturo Sandoval