Brought Home: Objects and Stories from 50 years of SST
Exhibit: Brought Home: Objects and Stories from 50 years of SST
Dates: March 3 – May 19, 2019
Reception: Wednesday, March 6, 3:30-5 p.m.
Location: Harold & Wilma Good Library
---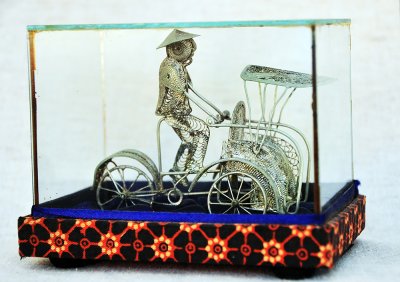 To commemorate the 50th anniversary of the Study-Service Term (SST) at Goshen College, an exhibit titled "Brought Home: Objects and Stories from 50 years of SST" will display artifacts that students and faculty leaders acquired during their SST terms and brought back home.
A public reception will take place Wednesday, March 6, 3:30-5 p.m., in the Library Gallery. The exhibit will be on display from March 3 through May 19, 2019. It is free and open to the public.
The exhibit offers a wide variety of mundane and exotic objects, fine art and folk art, including paintings, textiles, toys, carvings, costumes, jewelry, ceramics, baskets, masks and metalwork. Some were gifts from friends in the foreign country. All embody lasting stories and memories of people and events.
The items come from the earliest units, from 1968, in Guadeloupe, Costa Rica and Jamaica as well as the most recent ones in China, Tanzania, Peru, Senegal and Indonesia.
John Blosser, Professor Emeritus of Art, is curator of the exhibit, assisted by students Rachel Yoder and Katie Yoder. The exhibit is sponsored by the International Education Office and the Mennonite-Amish Museum Committee. Members of the planning committee are John Blosser, Jan Bender Shetler, Katie Yoder, Rachel Yoder, Ervin Beck and Barbara Smucker.
For open hours, call 535-7421 or 535-7346.
For more information about the exhibit, contact Ervin Beck (ervinb@goshen.edu) or Jan Bender Shetler (jans@goshen.edu).