Aguirre receives Indiana Spirit Community Service award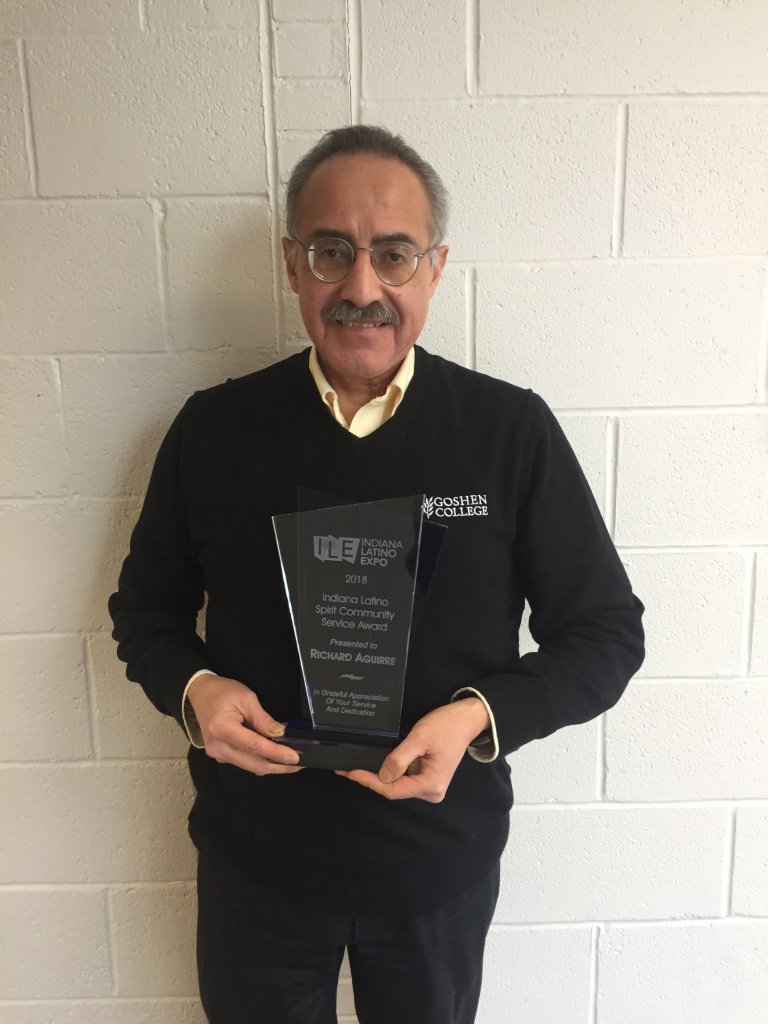 Richard R. Aguirre, community impact coordinator at Goshen College, received the Indiana Latino Spirit Community Service award from the Indiana Latino Expo for his volunteer service to immigrants and the Latino community.
The Indiana Latino Expo, a statewide nonprofit group that advocates for Latinos, held its first-ever awards gala for about 500 people at the Marriott Hotel in downtown Indianapolis on Dec. 8.
This award recognizes an individual who actively engages in activities that encourage and support building strong local communities, embodies the spirit of the community, and nurtures and expands Latino culture through their service and actions.
As community impact coordinator, Aguirre is responsible for building and maintaining relationships with Goshen College's key stakeholders in Elkhart County, Michiana and the state of Indiana. He serves as a community organizer and connects students to experiential learning opportunities to help them engage in the community.
"I'm the grandson of Mexican immigrants, people who came to this country to escape political turmoil, economic instability and poverty," Aguirre said during his acceptance speech. "My family reflects the story of immigrants, people who migrated to this country for a better life."
Aguirre called on audience members to continue advocating against the misunderstanding and fear that has led to unsuccessful efforts to build a wall between the United States and Mexico, separate immigrant children from their parents at the border and deny asylum to all refugees.
"Thanks to the commitment to our values and to the hard work of tens of millions of Americans, we need not and will not continue down that dark path," he said. "Together, we have the power to keep the American Dream alive and to ensure we will always welcome the immigrant and the refugee."
In the last few years, Aguirre has become a strong advocate for human rights and Latinx rights in the region. He helped establish an immigrant support network (Elkhart County HOPE) that is now a part of the Center for Healing & Hope. He also co-led the Coalition Against the Elkhart County Immigration Detention Center, which played a key role in CoreCivic withdrawing a proposal to build an immigrant detention center in Elkhart County. He helped establish a support network that has created the Goshen Resident ID (GRID), a legal defense fund and DACA renewal fund.
Aguirre is a member of the Mayor's Latino Advisory Committee, serving as the liaison and communication link between the Latino community and the mayor and city government. He is a board member of Goshen Center for Healing and Hope and serves on the City of Goshen board of zoning appeals. He also formerly served as chairman of the City of Goshen's Community Relations Commission.
Goshen College Dean of Students Gilberto Pérez Jr. praised Aguirre for his community work, especially his efforts to help defeat the detention center. "Richard's dedication and commitment to mobilizing and organizing the Coalition Against the Immigrant Detention Center ensured that people from the community near and far could express their opinion on the detention center. If it were not have been for Richard we would not have expressed a collective voice," Pérez said.
Before arriving at Goshen College as director of public relations in 2006, Aguirre was the senior editor for metro and sports at the Salem (Oregon) Statesman Journal. Besides helping direct news coverage, Aguirre supervised 35 full- and part-time employees and wrote a weekly column, "Capitol Watch," on state issues. Aguirre also has been a reporter and editor for the Visalia (California) Times-Delta and reported for the Dallas (Texas) Times Herald and the Santa Barbara (California) News-Press. He has a bachelor's degree in journalism, with an emphasis in public relations, from California State University, Fresno.
Aguirre is married to Judy Weaver Aguirre, a 1981 graduate of Goshen College. They have two adult children – Richard and Annie.