Sophomore Sandra Cortez honored with Realizing the Dream Award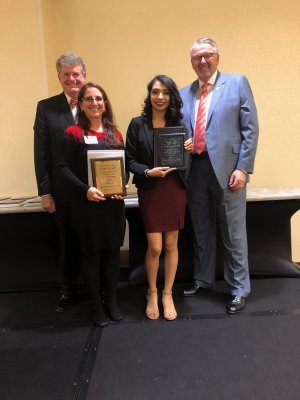 Sandra Cortez, a sophomore nursing major from Elkhart, was among a group of first-generation students from Indiana's independent colleges and universities honored at the 29th annual "Realizing the Dream" banquet on Saturday, Nov. 3 in Indianapolis.
Made possible by a grant from Lilly Endowment Inc. to the Independent Colleges of Indiana (ICI), the banquet recognized students from ICI campuses who are the first in their families to attend college, along with their inspirational teachers and families.
"I feel very fortunate to have received this scholarship," Cortez said. "As a DACA and first year student it's not always very easy finding help or resources for college. We are trying to live the dream too but we have to work harder for it. Receiving this award gives me more reason to work harder and get my degree. This encourages me to keep pushing through it even when it gets hard."
Cortez hopes to become a nurse practitioner and eventually open up her own family practice.
"I want to make my own mark as a DACA female student," she said. "I want to inspire other students like me to not give up and follow their dreams."
A 2017 Concord High School graduate, Cortez is the daughter of Maria Castañeda and José De Jesús Cortez. Cortez said she chose to attend Goshen College to be close to home and because she was impressed by the nursing program and high NCLEX pass rates.
"That definitely showed me that Goshen College prepares their nursing students and gives them the adequate skills to succeed," she said. "That's what I needed from a college."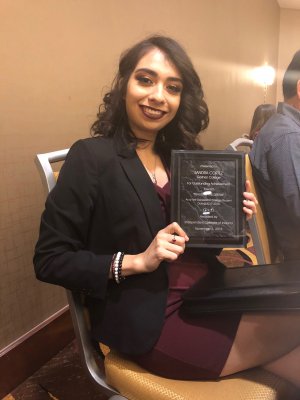 Cortez and her fellow awardees each received a $2,500 scholarship, and each student's chosen "most influential" teacher or mentor received a $1,000 professional development grant. Cortez invited Michele Zachary, emergency medical technician teacher from Elkhart Area Career Center, as her inspirational teacher.
"(Zachary) always encouraged me to work harder and continue my education," Cortez said. "She assured me that I could do it and that all of my efforts would pay off. She was one to notice my determination and never discouraged me, and that's what stuck most with me."
Goshen College faculty nominated Cortez for her outstanding academic and extracurricular achievement in her first year at college.
"Sandra is a DACA first-generation student that has worked hard to be at Goshen College in pursuit of a nursing degree," said Rocio Diaz, associate director of community engagement at Goshen College. "She finished her first year with a 3.6 GPA. Now, as a sophomore, she continues to strive for excellence in her studies. I cannot think of anyone else more deserving of this award."