Goshen College ranked among the best by U.S. News & World Report, Washington Monthly
GC ranked second among the "Top 100 National Baccalaureate Colleges" by Washington Monthly magazine and 9th among "Best Regional Colleges in the Midwest" by U.S. News.
---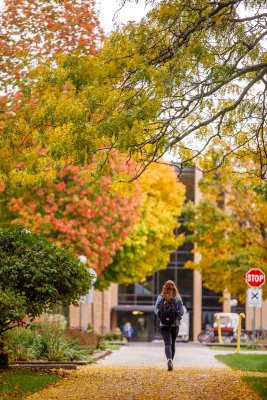 Goshen College remains among the top ten schools on the U.S. News & World Report list of the Best Regional Colleges in the Midwest, according to their annual rankings released today.
Factors taken into account, in which Goshen College scored highly, include high graduation rate, small class sizes, low student debt and first-year student academic profile.
"I am pleased that Goshen College has been recognized once again for our quality and affordability," Goshen College President Rebecca Stoltzfus said. "These rankings highlight several strengths that combine to make us distinctively Goshen: excellence in teaching, global learning on and off campus, diversity and support for students with a range of academic backgrounds."
Earlier this month, Goshen College ranked second on the list of "Top 100 National Baccalaureate Colleges" by Washington Monthly magazine, which considers civic engagement, research and social mobility in their annual rankings.
The ranking places Goshen College as the top baccalaureate college in Indiana, ahead of Taylor University (42), Huntington University (90), Indiana University-Kokomo (101) and Manchester College (147).
U.S. News & World Report
On the U.S. News & World Report ranking, Goshen College also placed among the top ten on the list of "Best Value Schools" among Midwest regional colleges and, at number six, is the top college on that list from Indiana. GC is also in the top ten in this group for the least amount of debt for graduates.
Goshen College again made the national list of Best Study Abroad programs in the country, was eighth on the Midwest regional list for most international students and 12th for campus ethnic diversity.
In other top ten rankings, Goshen College is eighth in its category for the largest proportions of international undergrads, and is also listed on "A+ Schools for B Students."
Also in the list of the top ten schools with the best undergraduate teaching, Goshen is among the colleges and universities cited most often by college presidents, provosts and admissions deans who were asked to identify schools with a strong commitment to undergraduate teaching.
Regional colleges are defined as colleges that focus on undergraduate education but grant fewer than half their degrees in liberal arts disciplines.
All Indiana colleges and universities on the U.S. News Best Regional Colleges list:
1. Taylor University (tied)
9. Goshen College (tied)
20. Huntington University
21. Saint Mary-of-the-Woods College (tied)
24. Trine University (tied)
26. Manchester University
39. Oakland City University
U.S. News groups colleges into categories based on the Carnegie Classification of Institutions of Higher Education, the most widely accepted classification system in U.S. higher education. In February 2016, Carnegie released official updates, and as a result, for the 2017 Best Colleges about 12 percent of ranked schools have moved into different categories, including Goshen College. The print edition of the "Best Colleges 2019" guidebook will be on newsstands on Oct. 16.
Goshen College's rankings among Midwest Regional Colleges:
#9 Overall
#6 "Best Value Schools"
#8 "Student Debt Load at Graduation"
#8 "Best Undergraduate Teaching"
#8 "Schools With Most International Students"
See the full U.S. News & World Report rankings at www.usnews.com/colleges.
Washington Monthly
Washington Monthly gave high marks to Goshen College in several areas, including listing GC third for students who go on to earn a Ph.D., seventh for students who participate in the Peace Corps and eighth for its graduation rate. Other areas in which the college excelled are in its graduate performance and loan repayment rates.
The Carnegie Classification of Institutions of Higher Education defines a baccalaureate college as institutions where "bachelor's degrees accounted for at least 10 percent of all undergraduate degrees and they awarded fewer than 50 master's degrees."
Goshen College was also listed as 27th of the top 100 "Best Bang for the Buck" colleges among all Midwest colleges, again receiving recognition for graduation rate, graduate performance and repayment rank.
With very different criteria than other well-known college rankings, Washington Monthly highlights colleges whose students, faculty and alumni provide "contributions to public good."
See the full rankings at www.WashingtonMonthly.com/college_guide/
Other recent rankings
Goshen College recently received high marks from additional ranking platforms, including:
See full Goshen College rankings at goshen.edu/rankings.