John S. Umble Center's 40th anniversary season to highlight the works of female playwrights
By Carter McKay-Epp '19
---
2018-19 GC theater season
Oct 5-7, 2018 | Peace Play: "History Lesson," by Frankie Little Hardin
Nov. 9-11 & 17-18, 2018 | Fall Mainstage: "Crimes of the Heart," by Beth Henley
March 15-17, 22 & 24, 2019 | Spring Mainstage: "Bright Star," by Steve Martin and Edie Brickell
April 12-14, 2019 | Spring One Acts
---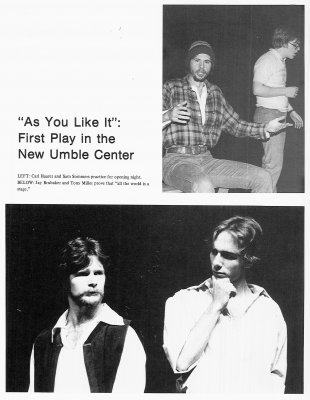 Forty years ago, in the fall of 1978, Goshen College's cast of Shakespeare's "As You Like It" took the stage for the first ever production in the newly-built Umble Center. Doug Liechty Caskey, current professor of theater, was a student at this time, but he reluctantly was not amongst the cast.
"I didn't audition because I was too scared," said Caskey. "But, I was in one of the next productions, 'Real Inspector Hound,'" he said with a smile.
Caskey and Anna Kurtz Kuk, assistant professor of theater, want to celebrate the role Umble Center has played in the development of GC's theater program. "If it weren't for the Umble Center, Goshen College might not have a theater program today," said Caskey.
The John S. Umble Center is named for John Sylvanus Umble, a Goshen College faculty member from 1925-1951. Born in 1881, John S. Umble was one of the first graduates from the Elkhart Institute of Science, Industry and the Arts, the predecessor of Goshen College. He later taught speech and English classes, and was one of the first people to introduce theater to campus. John's son Roy Umble followed in his footsteps, teaching speech, communication and overseeing the college radio station from 1946-1983, and by his retirement had directed more than 40 major productions at GC.
According to "People, Plays and Peace: A Portrait of Roy Umble," by Cathy Hockman-Wert '91, finding suitable rehearsal space for plays at the time was difficult.
"(Roy) Umble remembers trying to rehearse in one section of the gym, with basketball practice going on simultaneously in the other half. In one week of rehearsal of the 1973 production of "A Fiddler on the Roof," practices were held in six different buildings, using seven different pianos. The problem, though, gave birth to the dream of a permanent theater on campus. After 'twenty years of dreaming, ten years of planning, and two years of construction,' the John S. Umble Center was dedicated in November 1978."
Umble Center's 40th anniversary season will feature a series of successful and talented female playwrights and composers. In contrast, there were no female playwrights featured in the first Umble theater season.
"We want to be representative of who we are now and who we are looking ahead," said Kurtz Kuk on celebrating women in theater.
"Theater has had a male bias for a long time," said Caskey, "so it's exciting that we get to feature so many talented women this year."
Caskey and Kurtz Kuk are eager to make Umble's 40th anniversary season one of its best yet. The season will kick off with the winner of Goshen College's 2018 Peace Play Contest with the debut of Frankie Little Hardin's first place "History Lesson," a play about environmental issues set in an Audubon Store, a Kentucky State Historic Site. "History Lesson" will be directed by Ben Meyer Reimer '19, a senior theater and music double major who will be directing his second show at Goshen College.
The fall mainstage play will feature the work of Pulitzer Prize-winning playwright Beth Henley with GC's production of "Crimes of the Heart," which which manages a comedic tone while telling the story of three troubled sisters faced with the declining health of their grandfather, the family patriarch. The three 20-something sisters are brought together in the town of Hazelhurst, Mississippi, to tackle their respective misgivings. "Crimes of the Heart" will show Nov. 9-11 and 17-18 and will be directed by Doug Caskey.
The spring mainstage takes on Steve Martin and Edie Brickell's 2014 award winning play, "Bright Star," which will be directed by Kurtz Kuk with the help of Joshua Boggs, instructor of choral music. "Bright Star" is set in 1940s North Carolina, where literary editor Alice Murphy shares her story of loss, love and hope. After a chance encounter with a young, aspiring author just home from World War II, she relives the harrowing journey that helped shape her. As the action travels between the 1920s and 40s, Alice works to understand her past, and what she discovers has the power to transform both of their lives. A fictional story inspired by a real event, "Bright Star" is an uplifting musical journey featuring the Grammy-nominated Americana score by Steve Martin and Edie Brickell. "Bright Star" takes the Umble Stage March 15-17, 22 and 24, 2019.
Closing out Umble Center's 40th anniversary season will be a slate of spring one act plays.