From Arizona to Alaska, Barcelona to Copacabana: Alumni cross paths as global citizens
By Kristin Troyer '19
Known for widening its students' worldviews, Goshen College has accumulated friends and alumni from around the world. Alumni live in and travel to places far from campus, and sometimes these global citizens run into each other in unexpected places.
Here are a few examples: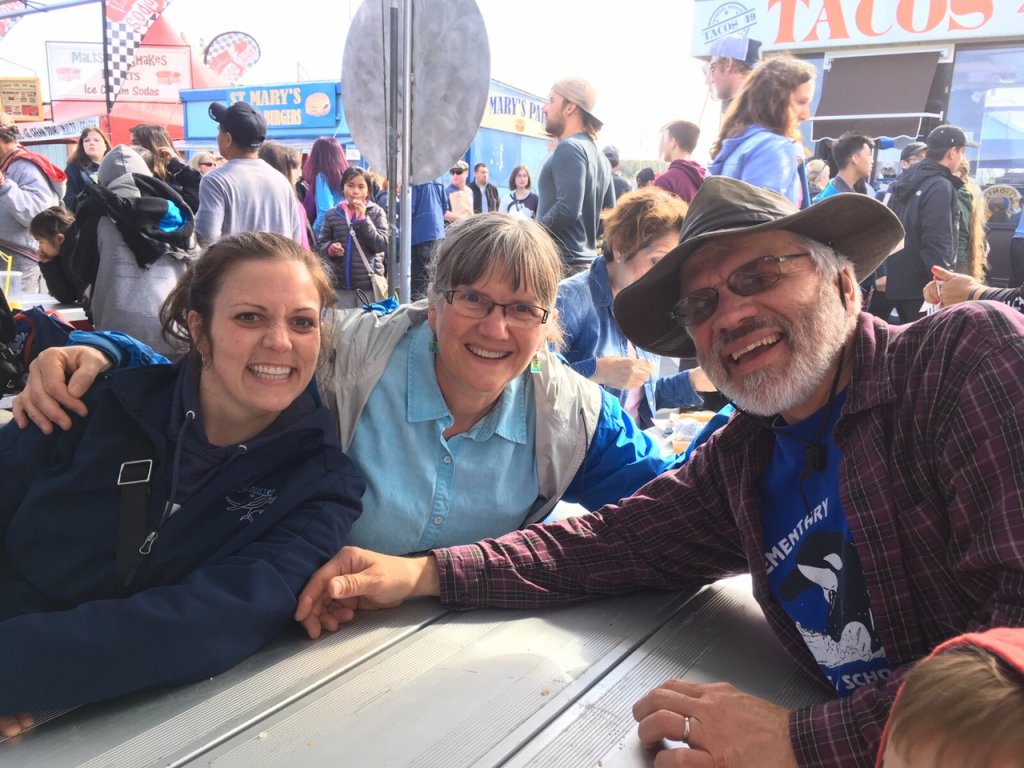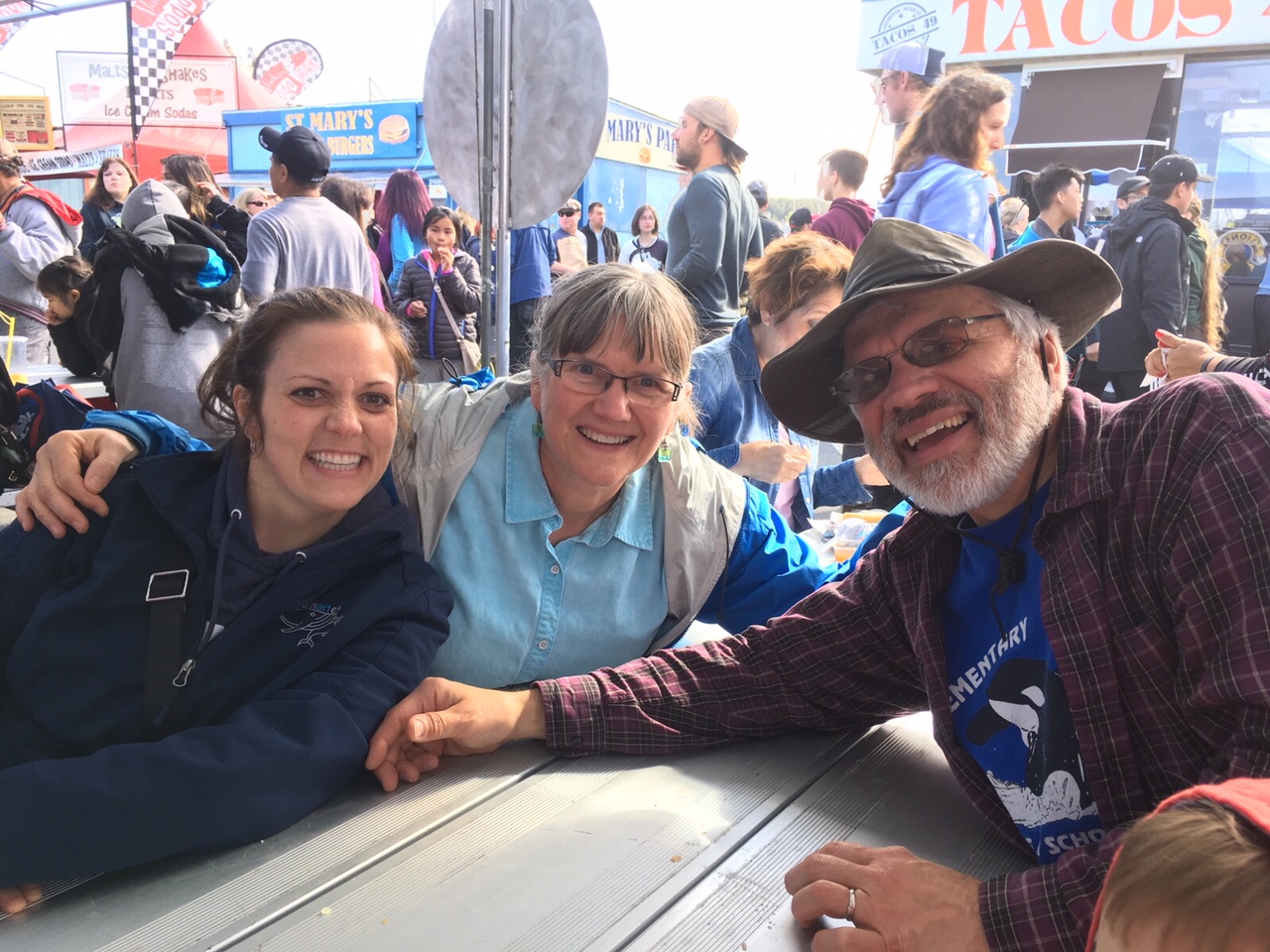 Ted '82 and Kathy Nussbaum '83 met Chrissy (Gostelli) Ensley '07 at "Crab Fest" in Kodiak, Alaska, after realizing they were all Goshen College grads. They live on Kodiak Island, population of around 6,000. According to Chrissy, they'd known each other for over a year but hadn't made the Goshen connection until Ted noticed Chrissy's GC bumper sticker.
---
Jess (Fridley) Huber '09 recently moved into a new office at the hospital she works at in Wellington, Kansas. Not even four hours after moving into this new office with windows, she was interrupted by a nurse looking for her. It wasn't because Huber was needed, but the nurse wanted to know if the Goshen College diploma hanging on the wall was from the same Goshen College she went to years ago. "Small towns without Mennonite connections in Kansas felt like a weird place to connect but the purple maple leaf can blow anywhere." Huber said.
---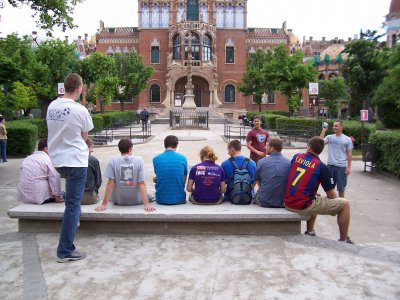 Jeff Hochstetler '08 was enrolled in Business in Spain during May Term 2006, and the group saw a couple of Goshen alumni also touring Sagrada Familia.
Just as his group of GC students were leaving the cathedral, a woman going in noticed someone's Goshen College T-shirt and stopped for small talk. When the student's said they were in Spain for a college trip, she said it wasn't surprising to run into Goshen people internationally.
Hochstetler shared that this was around the time GC's core values were being actively introduced and incorporated around campus, in the classroom and even ironically in chants at soccer games. "I think some student even made the connection about randomly seeing an alum in Barcelona was part of being a global citizen" Hochstetler said.
---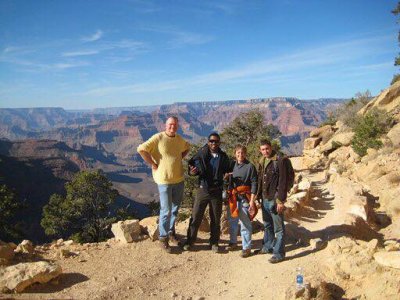 In November of 2009, Thushan Hemachandra '05 and his father were hiking in the Grand Canyon. His father, wearing a Goshen College varsity tennis sweatshirt, was about half a mile ahead. "I caught up to him chatting with the my college dorm mate Glenn Schumacher's '06 uncle and aunt, who stopped and asked my dad if he was an alum!"
---
While relaxing in Copacabana, Bolivia after a summer of travel and volunteering, another couple introduced themselves to David Glick '07 and his then-fiancee. It was fellow GC grads Isaiah '06 and Allison '06 Goertz who had been serving with MCC and noticed Glick's GC sweatshirt.
---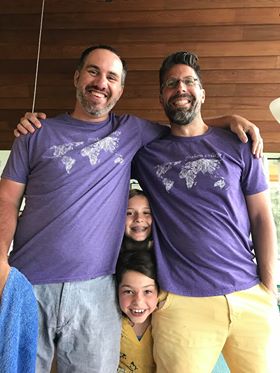 Alumni Chad Martin '98 and Ryan Sauder '97 just happened to wear matching GC shirts while vacationing together in Connecticut with their families.
---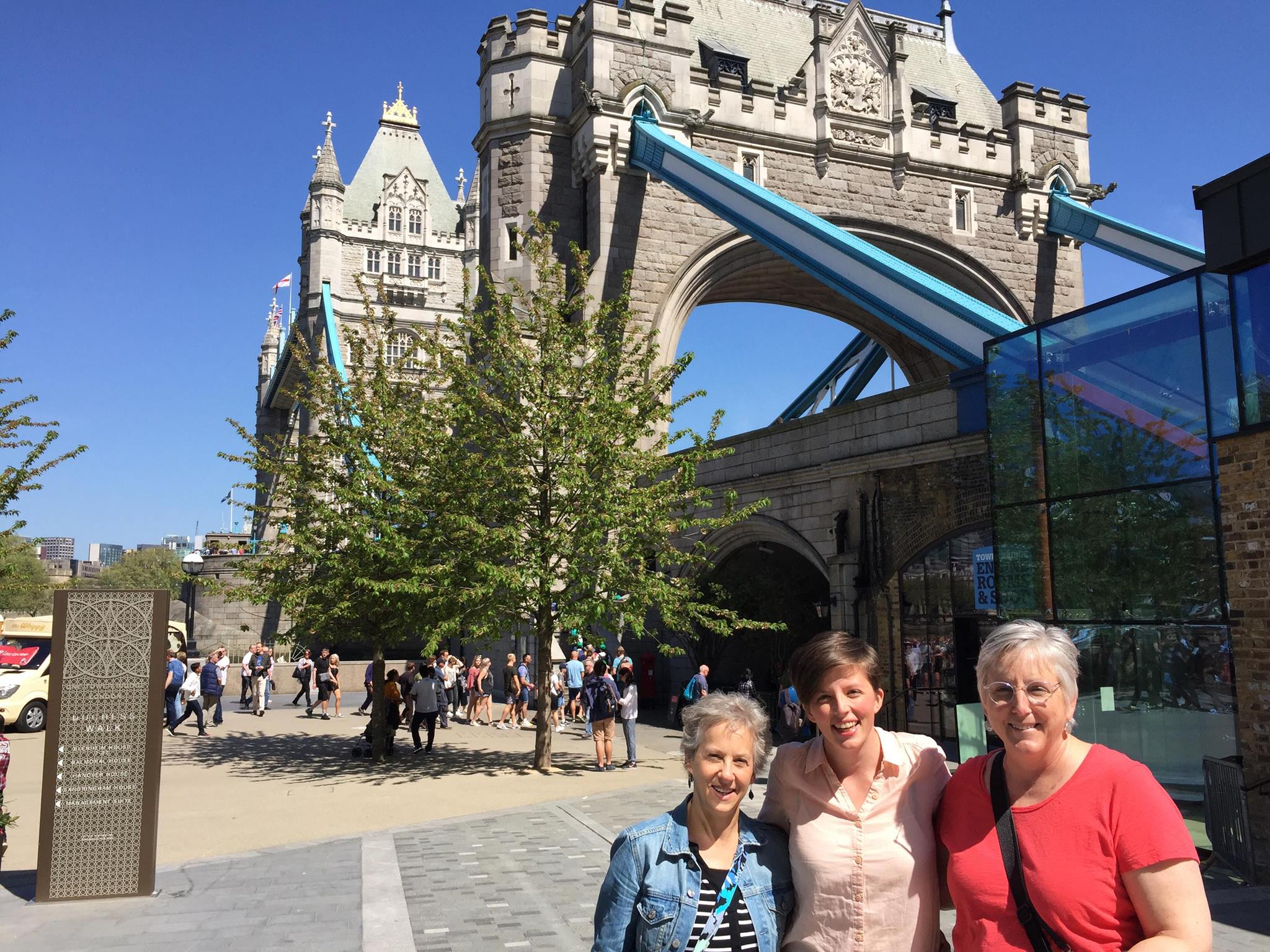 Deb Detwiler '79, professor of music, and Beth Martin Birky '83, professor of English, ran into Mary Roth '13 while Deb and Beth were leading the May term class Literature in London and Mary was traveling in the country.
---
Several GC alumni travelled to Brazil during the summer of 2014 for the World Cup. The Graber family, while attending the USA vs. Germany game, ran into Nick '05 and Jessica Yoder '05.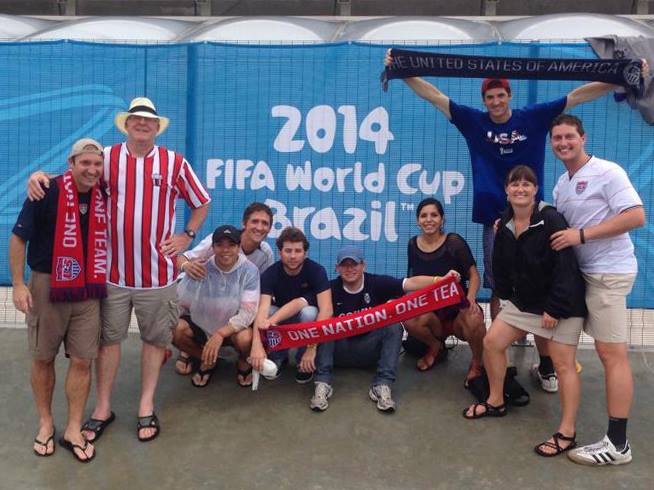 Pictured are (L-R) Dan Graber '01, Galen Graber '83 (employee, '85-'06), Joel Gonzalez '08, Ben Graber '08, Igino Musselman Chaves, Samuel Musselman Chaves, Ivannia Perez Graber '08, James Graber '06, Jessica Yoder '05, Nick Yoder '05.
---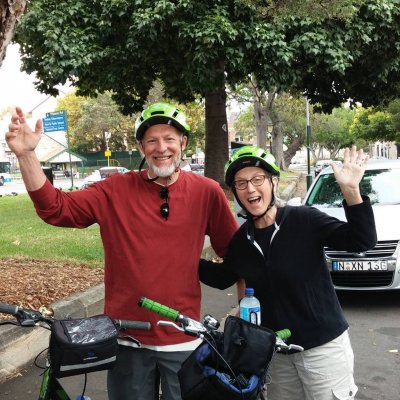 In 2015, Gloria (Miller) Holub '72 and her husband Lonnie '75 were riding their bikes on Prince Edward Island in Canada. At a rest break they struck up a conversation with another couple who asked, "Where are you from?" When Gloria replied "Indiana," he responded with "Goshen?"
"When I asked how in the world did he guess Goshen, he replied that he had attended Goshen College and was from Winnipeg," Holub said. "Small world indeed."
---
Have a GC connection story? Let us know! Email us at com-mar@goshen.edu
---