High school students share their love for performing at Musical Theater Camp
By Carter McKay-Epp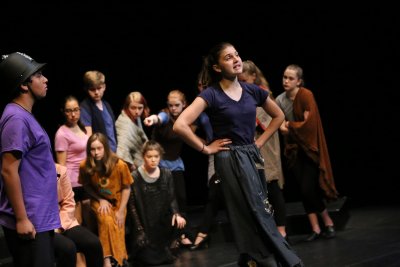 Thirty-one high school students took part in the week-long Goshen College Musical Theater Camp June 17-23, culminating in a musical theater revue showcasing a mix of short scenes and vocal performances.
Rebecca Dengler Kaufman, adjunct instructor of music at Goshen College and the camp's director, lamented that there were no longer a music camp like those offered when she was a kid, so she helped resurrect a version for today's generation of students.
Now in its third year, the camp hosted a range of students — from those finishing 8th grade to recent high school graduates. Some students had been performing and taking vocal lessons for years while others made their first stage appearances during the week.
Sophia Sherrill, a junior who now attends Goshen High School after having spent 14 years in Japan, said that music has always helped her get through the hardest parts of her life. Sherrill has loved music ever since her days as a little kid in church choir, and had also loved public speaking. In high school, she realized that in a way musical theater was an avenue to combine both of her passions into an artform — one she would grow to adore.
"I love singing with everyone and sharing it with people — just being able to create something that uplifts everyone. It's so cool to see people grow and we're all growing together," Sherrill said.
One of her favorite parts of the week was getting to know some of the Goshen faculty and students. "The faculty here are just amazing and you just feel like they really care. They don't just want us to put on a good show, they want to see us having fun doing it, and that makes the show better," she said.
Scott Hochstetler, professor of music, served as the music director for the camp while Anna Kurtz Kuk, assistant professor of theater, served as theater director for the week.
"We're working this whole week with these 31 students who love and nerd-out about theater just as much as we do," Kurtz Kuk said with a smile.
Kurtz Kuk, who recently directed the comic opera Pirates of Penzance at GC, is excited about the future of GC's musical theater minor — new in 2017 — which gives Goshen College students the opportunity to keep musical theater as a part of their lives even if they don't end up majoring in theater.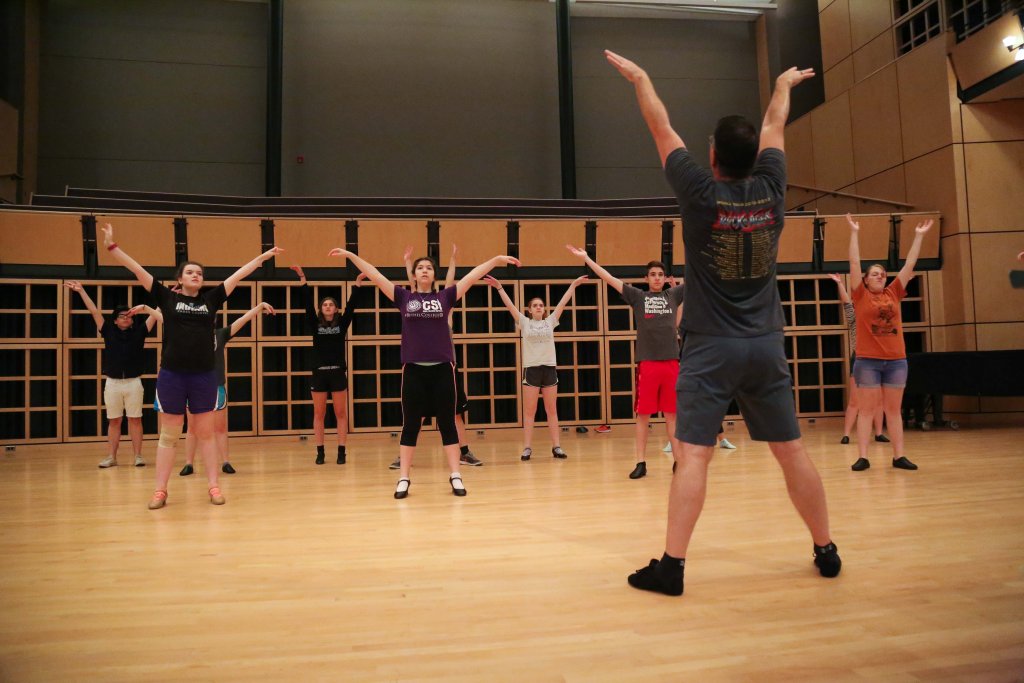 Perhaps one of the most unique opportunities the camp provided students was the ability to learn from Marc Weagraff. Weagraff is a professor of music at Baldwin Wallace University, one of the top music programs in the country. He also happens to have been Scott Hochstetler's roommate from when they both attended the University of Michigan, which is how Weagraff found his way to Goshen College.
Weagraff's students have gone on to perform in leading roles on Broadway and across the country as parts of national tours. Weagraff doesn't often get to train voices as young as those at Musical Theater Camp. "It's so much fun to be with them; they really soak up all that you show them," Weagraff said.
Several other GC faculty were in and out during the week leading various classes and interacting with the students. Jose Rocha, associate professor of music, led the campers in yoga classes every morning. These classes were meant to set the tone for the day and get students in a position to be able to best utilize their bodies and voice.
"Musical theater is dancing, acting and singing, so you have to learn more about your body and how it works and how it's moving," said Dengler Kaufman.
At Saturday's musical theater revue, the fruits of all the students' hard work paid off as they performed scenes depicting a wide variety of characters and situations. In the revue, Sherrill played a poor woman singing about the woes of life in addition to a sassy mother bossing around her daughter. "They're completely different characters and I have to switch back and forth just like that," Sherrill said.
Kurtz Kuk realizes that not all the campers will go on to become actors and singers. Yet she hopes the campers realize that whether as a hobby or profession, they can always keep music and theater as parts of their lives.