Rose Hutchinson, Goshen's oldest living alum, reflects on old friendships, tennis and studying math
April 2020 editor's note: Rose Hutchinson died April 25, 2020. Read her obituary here.
---
Rose (Adams) Hutchinson graduated from Goshen College 84 years ago in 1935. Now, at age 104, she is Goshen's oldest living alumna.
Hutchinson stays active, playing bridge, attending church and going to plays, concerts and festivals. She recently picked up watercolor painting.
"In my old age now I've become an artist. I paint beautiful pictures," she said, after taking a class and focusing on watercolors in her 90s.
Hutchinson was born on June 24, 1913, in Goshen, raised in the Methodist Church but later became a Catholic. Her father owned the Adams Store in downtown Goshen, which sold jewelry, men's clothes, shoes and other accessories, and is now home to the Goshen Historical Society Museum.
A member of the Vesperian society, one of the four literary societies on campus at the time, she got to know Evelyn Burkholder '36, who would go on to marry another classmate, Carl Kreider '36, who served as GC's longtime dean from 1944 to 1970, and twice as acting president. Evelyn also lived to be a centenarian, and died in 2017 at age 102. "She was a good friend of mine," Hutchinson said.
Other notable classmates included Roy Umble '35, who helped start the college's radio station, organized the Intercollegiate Peace Oratorical Contest and helped introduce theater to the Mennonite Church; Lois Gunden Clemens '36, who sheltered Jewish children in France during the Holocaust; and Atlee Beechy '35, a lifelong peacemaker who started GC's peace program and had a long career with Mennonite Central Committee.
Hutchinson was a math major at Goshen but admitted she'd have rather studied theology or creative writing. She was persuaded by a friend that if she wanted to be a teacher, which she hadn't really considered, then she should sign up for math.
"I just signed up," she joked. "I don't even like math."
In addition to participating in the Vesperian Society, she was four-year member of the tennis team and participated in the French Club, Ski Club and Audubon Society. The 1935 Maple Leaf yearbook reported that she "loves sports… trim and tailored newspaper reporter… holds her own in an argument… insatiable interest in U.S. mail deliveries… bakes delicious cakes."
She remembers playing tennis with Laverne Yoder '34, the daughter of then-president Sanford C. Yoder, on the Goshen tennis courts, and she still has the trophies to prove it. In 1932, following her freshman year, the Record listed her as one of the "outstanding women tennis players on the campus this year."
She met her future husband, Tom, on Goshen's community tennis courts.
"If you won you got to stay on, and we stayed on the whole afternoon," Hutchinson said. "So then he said 'well, can we meet on Wednesday now?' So I went back and met him on Wednesday and I've been with him ever since, until he died."
The two were married at Notre Dame, where Tom was studying. After the couple were married, they lived in Goshen, where Hutchinson worked as a secretary at the Snuggle Rug company, which made baby swaddles, and worked her way up through the shipping department to the marketing department. The couple later moved to Indianapolis, and then to New York City. In 1944, they settled in Bend, Oregon, where she worked as a librarian in the Deschutes County Law Library.
They were married for 50 years until Tom's death in 1993, and together had eight children. Her daughter Mary Rose died at age 18, and her son Tom Jr. died at age 65. Hutchinson now has  14 grandchildren and eight great-grandchildren. She lives with her daughter, Hilary, a school band director who had dreams to be a catholic priest.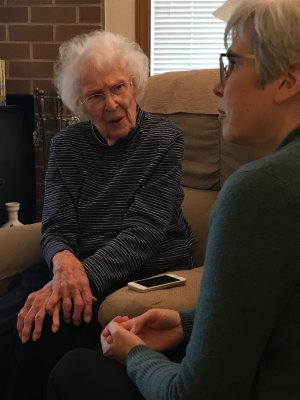 Recently, while accompanying the Goshen College Men's Chorus on their spring break tour, President Rebecca Stoltzfus visited Hutchinson in Beaverton, Oregon. After seeing the Goshen College Men's Chorus perform during their spring break tour in Oregon in February 2018, Hutchinson explained how she wished she'd joined the choir during her time at GC.
"I'd like to be a singer, I don't have a voice but I could blend in," she said.
She was unable to participate in the choir during her college years since they practiced at noon. Hutchinson had made an agreement with her dad that she could go to college as long as she would go home to get her mother's lunch ready.
She explained that with hindsight, she could have made the lunch ahead of time. "You learn as you go along," she joked. "Takes some people longer than others to catch on."
- by Megan Bower '20 and Brian Yoder Schlabach '07