College replaces 'Broken Shield' sculpture with nine-foot tall chocolate rabbit
Just in time for Easter, Goshen College has temporarily replaced its iconic "Broken Shield" sculpture at the center of campus with a nine-foot tall chocolate rabbit.
The sculpture/snack is the brainchild of senior art major CoCo Liechty-Ganache.
"My work explores the intersection of ecological stewardship and confectionary culture ," Liechty-Ganache said. "In taking on a Leporid form using a cacao-based medium,  I hope to blur the lines between art and dessert and create a dialogue regarding our shared societal sweet-tooth."
"Plus, it's nice to be able to bite off a quick chocolate pick-me-up between classes," she said.
The sculpture is titled "Sweeter Cottontail."
More than 2,000 pounds of Equal Exchange fair-trade 55% dark chocolate from Ten Thousand Villages was melted to create the art piece, with supervision from AVI Fresh dining services, who provided the kitchen space and giant rabbit molds.
"Of course we have giant rabbit molds!" said AVI Fresh resident director Jeremy Corson. "And that thing's not hollow like those cheap box-store chocolate bunnies. It's got a solid chocolate core."
The "Broken Shield" is being removed to be repainted in a provocative yet thoughtful Goshen College purple shade: PANTONE 18-3838 Ultra Violet, PANTONE's 2018 color of the year.
Much as the "Broken Shield's" design holds scriptural symbolism, so too does the chocolate rabbit sculpture, which draws from Psalm 119:103, "How sweet are your words to my taste, sweeter than honey to my mouth!"
The chocolate rabbit sculpture will be removed following May term, or when it is fully consumed, whichever happens first.
"Thankfully, because of Goshen's climate, we don't need to worry about it melting anytime soon," Liechty-Ganache said.
---
We hope you enjoyed this year's April Fools article!
---
Related posts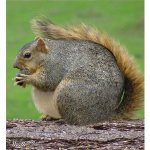 Goshen College squirrels mysteriously overweight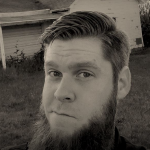 Professor calls chocolate rabbit sculpture 'modern day golden calf'