Jubilate Deo: Afternoon Sabbatical to explore the viola as a devotional voice
Afternoon Sabbatical Lecture: Jubilate Deo: Sacred Music for Viola, Voice and Instruments
Date and Time: Tuesday, March 13, 2018 at 1 p.m.
Location: Goshen College Music Center's Sauder Concert Hall
Cost: Free and open to the public
---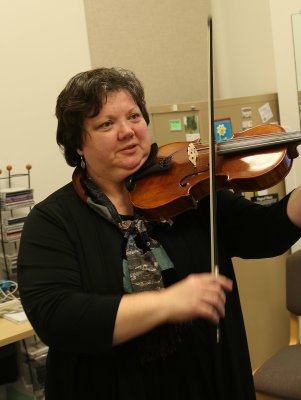 Community School of the Arts String Academy Director Rosalyn Troiano will present an Afternoon Sabbatical titled "Jubilate Deo: Sacred Music for Viola, Voice and Instruments" on Tuesday, March 13, 2018 at 1 p.m. in the Music Center's Sauder Concert Hall.
Troiano, along with colleagues and students, will examine the viola as an instrument of worship and perform original works and arrangements of music by Bach and Mozart, as well as hymn tune arrangements by Amos Burkholder.
Troiano has studied Baroque viola performance and chamber music at the Baroque Performance Institute in Oberlin (Ohio), and has taught Suzuki and traditional viola to students at the Community School of the Arts since 2004.
In 2012 she became program director of the Youth Honors Orchestra in Elkhart County, and continues to teach viola at a variety of levels.
This event is presented as part of the 2017-18 Afternoon Sabbatical program, a yearly lecture series with on-campus programs held on a Tuesday each month during the school year and bus trips for off-campus tours.
Future events in the Afternoon Sabbatical series include:
April 9, 2018, 1 p.m. — 40th Anniversary Celebration