Lyle Lovett and Shawn Colvin concert to replace cancelled Performing Arts Series show
Performing Arts Series Concert: An Acoustic Evening with Lyle Lovett and Shawn Colvin
Date & Time: Friday, March 23, 2018, 7:30 p.m.
Location: Goshen College Music Center, Sauder Concert Hall
Tickets: $60, $55, $45 | Buy tickets online (after Feb. 12)
---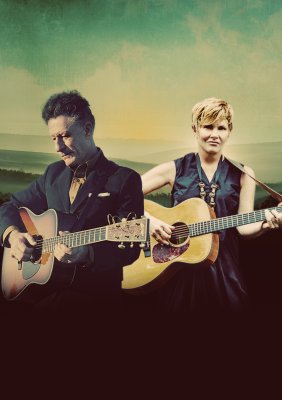 Long-time friends and music stars Lyle Lovett and Shawn Colvin will present "An Acoustic Evening with Lyle Lovett and Shawn Colvin" on Friday, March 23, 2018 at 7:30 p.m, in the Music Center's Sauder Concert Hall. This concert will replace the cancelled May 6 "Evening with Garrison Keillor."
With seven GRAMMY Awards between them, Lovett and Colvin will come together for an incredible acoustic evening of music as the two master performers and songwriters share songs and stories.
Ticket info for May 6 Garrison Keillor ticket-holders:
Patrons who would like to attend the replacement performance in their current seats, please contact the Goshen College Box Office by Friday, Feb. 9. New tickets will be provided for the same seats.
Patrons who would like a full refund, please contact our box office by phone or email and they will process the request. (Please note that refunds may take one to two weeks to complete.)
Patrons who purchased tickets in the Choral Terrace for the Garrison Keillor show will either need to upgrade to A, B or C, section seating or receive a refund, as the Choral Terrace may not be open for this event.
Because the concert date is quickly approaching, any patrons who do not exchange their tickets for the new performance will automatically receive a refund after Friday, Feb. 9. All unclaimed tickets will go on sale to the general public on Monday, Feb. 12 at 9 a.m.
Tickets are $60, $55, $45 and can be purchased through the Goshen College Box Office (574-535-7566, boxoffice@goshen.edu) located in the Music Center lobby, open M-F, 9 a.m. - 1 p.m., or online at www.goshen.edu/tickets after Feb. 12.
A singer, composer and actor, Lyle Lovett has broadened the definition of American music in a career that spans 14 albums. Coupled with his gift for storytelling, the Texas-based musician fuses elements of country, swing, jazz, folk, gospel and blues in a convention-defying manner that breaks down barriers.
Whether touring as a 'Solo' or with his 'Acoustic Group' or his 'Large Band', Lovett's live performances show not only the breadth of this Texas legend's deep talents, but also the diversity of his influences, making him one of the most compelling and captivating musicians in popular music.
Since his self-titled debut in 1986, Lyle Lovett has evolved into one of music's most vibrant and iconic performers. Among his many accolades, besides the four Grammy Awards, he was given the Americana Music Association's inaugural Trailblazer Award, and was named Texas State Musician. His works, rich and eclectic, are some of the most beloved of any artist working today.
Singer, songwriter and author Shawn Colvin won her first GRAMMY Award for Best Contemporary Folk Album with her debut album, Steady On. She has been a mainstay of the singer-songwriter genre ever since, releasing eleven superlative albums and establishing herself as one of America's greatest live performers. She triumphed at the 1998 GRAMMY Awards, winning both Record and Song of the Year for "Sunny Came Home." Colvin's inspiring and candid memoir, Diamond In The Rough, was published in 2012. Diamond in the Rough looks back over a rich lifetime of highs and lows with stunning insight and candor.
Shawn was recently recognized for her career accomplishments when she was honored with the 2016 Lifetime Achievement Trailblazer Award by the Americana Music Association.
Presenting her with this prestigious award was Bonnie Raitt. Said Raitt, "She's simply one of the best singers I've ever heard — and a truly gifted and deep songwriter and guitarist… She was groundbreaking when she emerged and continues to inspire me and the legions of fans and other singer/songwriters coming up in her wake."
Shawn Colvin's forthcoming release, The Starlighter, will be released on Amazon Music on February 23rd, 2018. The Starlighter features Shawn's tender renditions of traditional and standard children's lullabies. The result is an album that captures the magic and mystery of children's songs while also offering a moving and timeless musical experience.