Inauguration for Goshen College's 18th President Rebecca Stoltzfus to be held Feb. 17
Event: The inauguration of Dr. Rebecca Stoltzfus, Goshen College's 18th president
Date and time: Saturday, Feb. 17 at 10 a.m.
Location: Goshen College Music Center's Sauder Concert Hall
Cost: Free and open to the public | Livestreaming
---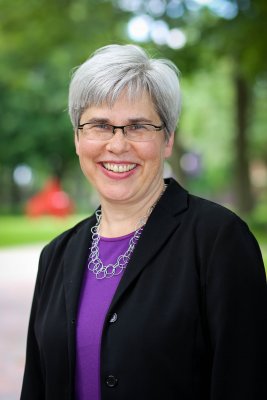 Dr. Rebecca Stoltzfus will be inaugurated as Goshen College's 18th president during a public ceremony on Saturday, Feb. 17 at 10 a.m. in the Music Center's Sauder Concert Hall.
All are invited and welcome to attend the ceremony, which is open seating. Doors to Sauder Concert Hall open at 9:15 a.m., and pre-service music begins at 9:30 a.m. A reception will follow the ceremony in the Music Center lobby at 11 a.m.
Stoltzfus is a 1983 Goshen College graduate, where she studied chemistry, before earning a master's and doctoral degree in human nutrition from Cornell University in Ithaca, New York. Before joining the Cornell faculty in 2002, she taught human nutrition at the Johns Hopkins Bloomberg School of Public Health (Baltimore, Maryland) — the top-ranked school of public health in the United States. Her ongoing research focuses on the causes and consequences of malnutrition in women and children in low-income countries. She was most recently the vice provost for undergraduate education at Cornell University. She began her duties at Goshen College president Nov. 1, 2017.
---
» Read more about President Stoltzfus
» View the full schedule and details
---
The inaugural theme is "Distinctively Goshen," reflecting on the ways that Goshen College provides a unique learning experience and backdrop for students, employees and the community.
"Goshen College brings to the liberal arts a particular quality and commitment, being rooted and established in love," Stoltzfus says. "This taproot of love shapes and defines our excellence as we seek truth, beauty and goodness. At our best, our establishment in love manifests itself in the ways that we honor the intrinsic and inalienable worth and identity of every student and every member of our campus community; hold honest dialogue in our classrooms, offices and public spaces; and our civic engagement in local and global communities."
In her inaugural address, President Stoltzfus will lay out her vision for a liberal arts experience that is 'distinctively Goshen,' which includes academic excellence, community-centeredness, global and local engagement, intercultural inclusion, creative expression and a vibrant campus experience.
The Scripture for the inauguration is Ephesians 3:16-17 (NRSV): "I pray that, according to the riches of his glory, he may grant that you may be strengthened in your inner being with power through his Spirit, and that Christ may dwell in your hearts through faith, as you are being rooted and grounded in love."
President Stoltzfus is married to Kevin W. Miller, a 1985 Goshen College graduate with bachelor's degrees in biology and nursing, and a master's degree in public health from The Johns Hopkins Bloomberg School of Public Health. He has worked as a nurse, a public health practitioner, a community health researcher and a church administrator. They are parents of two young adults, Lydia Miller '18 and Gabe Miller '20.
Stoltzfus' inauguration will be observed with a week of public events Feb. 13-18, 2018, and many of the events will be livestreamed for those unable to attend.