Annual C. Henry Smith Peace Oratorical Contest set for Feb. 13
Event: C. Henry Smith Peace Oratorical Contest
Date and time: Tuesday, Feb. 13 at 7 p.m.
Location: Goshen College Umble Center
Cost: Free and open to the public
---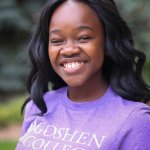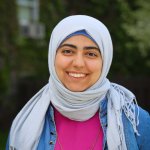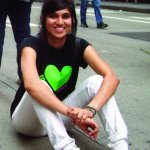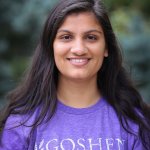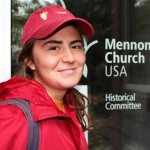 Five Goshen College students will present speeches during the 2018 C. Henry Smith Peace Oratorical Contest on Tuesday, Feb. 13. The annual event will take place at 7 p.m. in the Umble Center and is free and open to the public.
This year's participants and their topics are:
• Achieng Agutu, a senior public relations major from Kisumu, Kenya, will deliver a speech titled "The Introduction: A Story of Inner Peace."
• Sara Azzuni, a junior nursing major, will deliver a speech titled "Mother, What Was War?"
• Deeksha Pagar, a senior physics and chemistry major from Maharashtra, India, will deliver a speech titled "The Peace Within Us."
• Mandira Panta, a junior sustainability studies major from Bhaktapur, Nepal, will deliver a speech titled "Shades of Injustice."
• Katie Yoder, a junior history major from Stryker, Ohio, will deliver a speech titled "Loving Your Redneck Neighbor."
The participants will deliver 8- to 10-minute speeches on topics of their choosing that relate to peace. The speeches will be judged on originality, integration of the topic and a peace position, and general standards of delivery. Refreshments will be provided while the judges deliberate.
The judges for this contest include:
Regina Shands Stoltzfus, assistant professor of peace, justice and conflict studies at Goshen College
Allan Rudy-Froese, associate professor of Christian proclamation at Anabaptist Mennonite Biblical Seminary
Adrienne Nesbitt, a graduate of GC and event coordinator for Eyedart Creative Studio
The C. Henry Smith Peace Oratorical Contest is a U.S./Canada Mennonite Central Committee-sponsored event. Participants compete for cash prizes provided by the trust of C. Henry Smith, a Mennonite historian and professor at Goshen and Bluffton (Ohio) colleges. The purpose of the contest is to give students the opportunity to become involved with the cause for peace and develop rhetorical skills.
Speech contests have been a tradition at Goshen College since the early 1900s. The C. Henry Smith Peace Oratorical Contest provides the opportunity for the campus community to hear about contemporary peace issues. For an archive of past winners, visit www.goshen.edu/academics/communication/annual-peace-oratorical-contest